Amazon stock: Priced for perfection
It seems odd that an online retailer should be doing so well in a rough economic climate, but Wall Street likes what it's doing.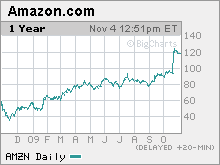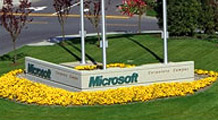 After a bleak 2008, equities are looking up. But whatever the market, our trademark long-term portfolio can help you build a nest egg for a secure future.
SAN FRANCISCO (Fortune) -- Just about a year ago, in the crater that was the stock market, shares of Amazon were $35. After a bang-up third quarter, Amazon shares now trade at $119. That is a moon-shot of 240%.
To put it another way, for the price of Amazon's gadget of the moment, its standard-size Kindle e-reader, you can now get two shares of Amazon stock and have enough left over to treat your friends to a round at another Seattle-based company, Starbucks (SBUX, Fortune 500).
So which is it going to be, stock or the Kindle?
There is no question that Amazon (AMZN, Fortune 500), led by the inestimable Jeff Bezos, is killing it. Revenue in the third quarter at $5.45 billion was up 28% year over year, handily beating Street estimates. Trailing 12-month free-cash-flow, a key measure for Amazon investors, was up 98% to almost $3 billion compared to the same period last year. Guidance for the all-important holiday quarter at $8.6 billion surpassed even the high-end of whisper estimates.
Amazon's strategy -- expanding its selection of online items, keeping its customers ecstatic, growing internationally -- seems to be playing out perfectly even through the downturn (and at the expense of competitors like eBay (EBAY, Fortune 500)).
It seems counterintuitive that an online destination that sells stuff, in the midst of the recession, should continue to grow. But in some ways Amazon has benefited from these horrific times. While its bricks-and-mortar competition crumbles, Amazon picks up customers.
Outside the United States, Amazon is picking up customers too, more easily and cheaply again, than its storefront competition, especially with its Amazon Prime service, which offers all the free two-day shipping you can use for an annual fee of $79 (borrowing from the Costco (COST, Fortune 500) membership model). That $79 has proven to be pure gold Stateside, and Amazon Prime are just starting to ramp up overseas.
"When we look at the international Prime programs, not only in Japan but also in Europe, we are seeing similarities in terms of subscriber growth as well as renewal rates," Amazon CFO Thomas Szkutak told analysts during Amazon's third-quarter earnings call.
The Street seems to like what it has been hearing. Financial analysts have been falling over themselves to upgrade the stock since its third-quarter numbers were released toward the end of October. JPMorgan's Imran Khan is among the most bullish, raising his 12-month price target to $150.
But buying in at $119 a share, about 50 times estimated forward earnings, presumes that in the near-term at least, say the next six to nine months, Amazon never wavers from perfection. A blip in the economy, a holiday season that falters, Apple (AAPL, Fortune 500) or Netflix (NFLX) putting a real dent in Amazon's media business, and the stock will take a hefty hit.
Long-term Amazon is a stock to own, but wait for a dip to invest. In the meantime, buy a Kindle, enjoy some coffee, you won't be disappointed.