Caterpillar stock: Rising from the rubble
With earnings scaled down by the recession, will the stock continue to pick up with the recovery?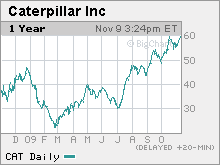 NEW YORK (Fortune) -- The maker of big machinery soared as construction boomed and commodity prices skyrocketed, boosting mining and oil drilling. When the economy tanked, Caterpillar saw sales slump, leading to workforce and production cuts.
Yet the stock has been on a tear since July, and even as the company reported third-quarter earnings 53% below a year ago, executives said the worst was over. Are they right, or is Caterpillar (CAT, Fortune 500) in a rut?
The Bear: Barry Bannister, Stifel Nicolaus
With Caterpillar, we care about big machines used in U.S. nonresidential construction, commodity-extraction machines, and engines used in oil and gas and power generation. Everything else is just wallpaper.
Demand for big machines in energy and mining is peaking, so next year they won't give you additional earnings growth. Demand for heavy machines in U.S. construction is likely to remain weak at least until late 2010.
The economic stimulus bill is not going to provide much of a boost because infrastructure spending was less than 10% of the package, and states are so strapped for cash that they can't start big projects.
The company is much bigger now in sales for services, which takes away some of your downside. They hedged themselves to avoid a disastrous year, but it hurts their upside when things start to recover. Also, Cat's recoveries are U-shaped, not V-shaped, so even when recessions end Cat doesn't recover the first year typically.
Cat is emphasizing emerging markets and light equipment, which aren't nearly as profitable as heavy-machine sales. It's talking about introducing a separate line with a separate distribution for sales into emerging markets. Building out a second low-brand for the entry-level market is not very profitable. If Caterpillar wants the market share of emerging market competitors, they're not going to go out of business without taking the industry down to a zero margin or a loss.
So if Cat hangs its hat on those areas in 2010, it may disappoint on profit margins.
The Bull: Jeff Windau, Edward Jones
In emerging markets, we see growing populations, rising incomes, more urbanization, and increasing trade. These factors drive the need for infrastructure. Among machinery companies, Caterpillar is the best positioned to take advantage of the global infrastructure build-out. It's increased its international business, with about 60% of sales now outside North America, which gives it a much broader base. Of course all of the developed nations have a significant amount of infrastructure that needs to be maintained as well.
It also has one of the strongest dealer networks in the industry. They have 180 dealers serving customers around the world which is a significant advantage when it comes to product support.
Furthermore, we like that Caterpillar is expanding its integrated services business. Services, including aftermarket parts and financing, were about 50% of third quarter sales. While we expect that number to decline as new equipment sales come back, these services are important to customers and help the business manage through economic cycles.
Although sales and earnings have significantly declined this year, we feel we're close to a cyclical bottom. As global stimulus spending kicks in and the world economy recovers, we could see several years of healthy growth. As a result, we feel it's an attractive time for long-term investors to get into the stock.