A deal on climate change? Not exactly
Why December's conference on international climate change won't deliver the goods.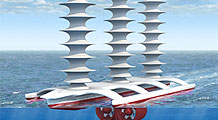 Geoengineering, or deliberately tinkering with the earth's climate, could help if global warming proves disastrous for mankind, but the ideas are untested and the risks unknown.
PARIS (Fortune) -- Lars G. Josefsson showed up at the UN General Assembly in New York City in September with a petition signed by 244,500 people that called for action on climate change, including the fixing of a global price for carbon emissions.
That wouldn't have been particularly remarkable if Josefsson were the head of Greenpeace, but he's actually chief of one of Europe's biggest electric utilities.
Power generation is, of course, a major cause of the greenhouse gases blamed for climate change, but that hasn't prevented Josefsson, CEO of Sweden's Vattenfall, from becoming an outspoken proponent of decisive measures to reduce carbon emissions.
This year he persuaded CEOs from 60 other utilities in Europe to commit to making their operations carbon neutral by 2050 -- the equivalent of a gigantic 75% emission reduction. He's become so prominent in his advocacy role that UN Secretary-General Ban Ki-moon recently made him a special adviser ahead of the international climate-change conference in Copenhagen.
Josefsson isn't optimistic that much of substance will come out of that December conference. It's already clear, he says, that there won't be a binding global deal to replace the expiring Kyoto treaty with a new one that sets limits on carbon emissions.
He and many other Europeans see the U.S. as the big stumbling block because the signs out of Congress don't augur well for bipartisan support. Josefsson says that President Obama "won't make the same mistake as Clinton," who signed the 1997 Kyoto accord but never managed to get it ratified.
The best Josefsson is holding out for is a broadly shared commitment among the participating countries to take action in which the U.S. and the rest of the industrialized world signal their willingness to impose ambitious caps on carbon emissions, while emerging markets like China and India agree that it will no longer be business as usual.
That sort of vague political agreement would enable negotiators to continue work and perhaps produce a new global accord several months down the road. Even that has only a fifty-fifty chance of happening, he reckons.
Of course, many companies are looking to make themselves greener -- and hoping for greater clarity about any future carbon regulation.
At Dell Computer, for example, more than 26% of electricity now comes from green energy, up from less than 5% just two years ago, says Mark Newton, Dell's environmental sustainability manager. Dell isn't looking to Copenhagen for some "prescriptive regulatory formula" but would welcome a market mechanism to price carbon. "Business can't make good decisions without good information," he says.
José Maria Figueres, a former President of Costa Rica who is running an observatory in Copenhagen and also advises the UN Secretary-General, divides the business world into three camps: those, like Josefsson, who are pushing hard for action; a substantial group in the middle who "want clarity and decisions"; and then a dwindling minority that "still has its head in the sand."
The Europeans are leading on regulation, he says: They've had a cap-and-trade market system running since 2005. The first few years were experimental and not particularly successful.
Giuseppe Deodati, head of carbon strategy at the Italian utility Enel, says there was initially a lot of price volatility and a fundamental imbalance between the supply of tradable carbon credits and demand for them, although that's now gotten a bit better. What's needed, he says, is a "more stable and clear regulatory framework for a longer period of time."
Josefsson's dual role as utility CEO and climate-change campaigner has inevitably created controversy in his native Sweden, as well as in Germany, where Vattenfall runs some coal-fired electricity plants. There was even grumbling about his UN petition. He shrugs off the critics and makes the point that business has a critical role to play in climate change discussions, a role it hasn't really stepped up to play so far.
"If you don't involve the real economy, you won't get anywhere," he says. "The more engagement there is from people like myself, the better it'll be."