Henderson's GM departure is no surprise
The veteran General Motors executive always seemed out of step with his new board of directors.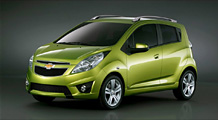 General Motors recently showed reporters and select members of the public what it plans to build over the next two years.
Find your next Car

NEW YORK (Fortune) -- As one veteran Detroit observer put it, General Motors' board of directors gave Rick Wagoner an endless amount of time to flop around, but they nearly strangled his successor Fritz Henderson on a short leash.
Long before he resigned on Tuesday, Henderson understood that he was working for a new GM -- owned by the U.S. government and watched over by a board of outsiders whom he had no role in appointing. A quick learner, Henderson also knew that he wasn't going to have many chances to get the automotive giant untracked from its old ways and headed in a new direction.
But unconsciously he continued to behave as if the old ways still applied, as if the CEO ran the show, and the board was just there to rubber-stamp his decisions.
The first tip off was the selection of his management team. Like Henderson, all but one were GM lifers who have spent as long as four decades with the company. They gave lip service to the idea that their outlook would be different this time. But once in a while their facade would slip, and there were would be glimpses of the old, insular, we-know-best GM.
GM's managers were part of a culture at GM that resolutely resisted new ideas over the years, whether they came from competitors like Toyota or internally from the Saturn experiment.
Asked why, with the plethora of outside automotive talent available in the economic downturn, none have been recruited by GM, Henderson blamed pending government curbs on executive pay. But the failure seemed especially pronounced because he was using GM insiders to deal with a board of outsiders.
In the early going, the Henderson administration seemed left-footed. A much-publicized experiment to sell cars on eBay was abruptly canceled, and a post-bankruptcy ad campaign starring board chairman Ed Whitacre got poor reviews.
More substantively, a deal to sell Saturn to entrepreneur Roger Penske collapsed, and offloading part of Opel became ensnared in European politics. Henderson failed to gauge the board's sentiment accurately and found himself trying to dump Opel when the board wanted to hang on to it. That was a battle he was never going to win.
And when word leaked out that chief financial officer Ray Young had fallen out of favor, Henderson moved very slowly in finding a replacement, both allowing Young to dangle and no doubt infuriating the board.
The collapse of the deal to sell Saab at the end of November may have been the icing on the cake. Either Henderson hadn't kept the board well-enough informed, or he looked unprepared because he didn't have a backup plan.
To be sure, GM's new Chevrolets and Cadillacs are getting a better reception from reviewers and the marketplace. But Henderson's brief tenure suggests that there is a lot more wrong with GM than just building better cars and trucks.
So the attention now turns to GM's chairman of the board and interim CEO Ed Whitacre to see how he diagnoses the company's ills -- and what kind of management team he can assemble to cure them. He will have to move more quickly and smarter than the unfortunate, unlucky Henderson.