GM's new CEO Ed Whitacre gets cracking
For better or worse, General Motor's new commander is rapidly putting his stamp on the automaker.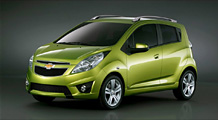 General Motors recently showed reporters and select members of the public what it plans to build over the next two years.
Find your next Car

NEW YORK (Fortune) -- Say what you will about Ed Whitacre, chairman and interim CEO of General Motors: This is a man who knows what he wants and isn't afraid to make sure that he gets it.
With his second shakeup of top management in four days, he has sent a very clear signal that, he's in charge, and those who don't understand that should expect to work somewhere else.
Former CEO Fritz Henderson was sent packing because he either didn't understand that, or acted as if he didn't. Whitacre may know nothing about the car business (as he himself has admitted) but he sure wants to be at the table when decisions are made -- which includes making some of them himself.
The GM chairman, who made his mark in telecommunications, is smart enough to know what he doesn't know. So he has made Bob Lutz his special advisor on product to keep the car guys happy.
Lutz may be occasionally guilty of excessive enthusiasm for some of GM's products but his taste buds remain well developed at age 77.
Whitacre's other special adviser, board member Steve Girsky, is an interesting choice. Girsky is a fast-talking New Yorker who spent years as a stock analyst, during which time he built one of the thickest Rolodexes in the industry.
There were concerns that Girsky may have found himself the odd man out on a GM board packed with financiers and ex-CEOs. And it is difficult to imagine this ultimate industry-insider bonding with Texan Whitacre.
But that is apparently what has happened. Besides his connections, Girsky brings unparalleled understanding of the United Auto Workers, insight that was previously absent from the GM board.
A few of the car guys around Detroit are worried that in his need to be in charge, Whitacre will make some horrible mistake -- such as approving the next Pontiac Aztek.
Coincidentally, another one of Whitacre's new appointees, Mark Reuss, was very involved with the Aztek. He was the vehicle line director, which meant that he managed the business case for the vehicle -- both the cost side and the revenue side.
The business case for the Aztek evaporated about two seconds after it was introduced, when it was described as one of the ugliest cars ever. But it apparently didn't hurt Reuss' career, since he now finds himself head of North American operations at the young age of 46.
Reuss' father Lloyd held the same job two decades ago, which makes the younger Reuss the ultimate GM insider. Whitacre apparently didn't hold that against him either.
Some GM dealers are worried about disruptions on the sales and marketing side from Whitacre's changes. But there is nothing like hot products to iron out difficulties, and GM has several of them these days, including the Chevy Camaro and Equinox, and Cadillac CTS, newly named to Car & Driver magazine's 10-best list.
The Whitacre era is off to an interesting start.