Detroit's battle-tested admen cope
In fact, there isn't nearly as much gloom and doom among the Motor City's ad agencies as you might expect.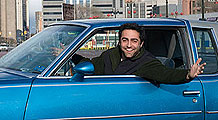 Detroit residents often are asked why they stay. 13 locals answer that question - and reveal their favorite treasures of the Motor City.
DETROIT (Fortune) -- Before the global financial crisis and the Great Recession, before millions of Americans decided not to buy cars this year, before General Motors went bankrupt and the government fired Rick Wagoner, before new GM chairman Ed Whitacre stormed into Detroit and fired Fritz Henderson, a soft-spoken Detroit advertising executive named Chris Balicki arranged to have a quotation from the legendary adman Leo Burnett painted on the wall of the Leo Burnett agency office in Troy, Michigan -- where GM is, for all intents and purposes, the only paying client.
The inscription says:
In a world where nobody seems to know what's going to happen next, the only thing to do to keep from going completely nuts from frustration is plain, old-fashioned work.
Plain, old-fashioned work.
"You stay focused on the task at hand," explains Balicki, an executive vice president who has worked on the GM account for Leo Burnett for 21 years. "Do what you do. Do what you do well." And so last winter, when their world was collapsing, the creative types at Leo Burnett put their heads down and spent long days developing a new campaign for Pontiac. They showed it to the client, and the client loved it -- but boom, the next thing they knew, Pontiac was no more. Killed after 82 years.
Now Balicki is showing me some wry and irreverent print ads that Burnett has created for the new Buick Lacrosse -- that's right, wry and irreverent ads for a Buick! -- and some eye-catching billboards for the new GMC Terrain, a pint-sized SUV that gets 32 miles per gallon. The cars have won nice reviews. But the word is that GM wants to overhaul all of its marketing. GM put the Cadillac and Chevy accounts up for review, and people can't help but wonder whether Buick and GMC could follow. It's Balicki's job to buck up the 120 people left at Leo Burnett in Troy, where there used to be more than 300. Many got into the business because they'd heard advertising was fun. But guess what? Being an adman in Detroit isn't as much fun as it used to be.
"It was a hard thing to stand up in front of people and say everything's going to be OK when you are watching the CEO of your client in front of Congress," Balicki says. "It had implications for your family. It had implications for your house price. Every aspect of your life is crumbling around you."
"At least we weren't working for the financial industry," quips Peter McHugh, Burnett's executive creative director.
"Thank God for the banks," Balicki agrees.
Plain, old-fashioned work and a mordant sense of humor. That's one way to get by if you're trying to sell dreams in Detroit. Curious to see how Detroit's admen -- yes, they are mostly men -- are faring, Fortune visited with veterans and rising stars in an industry that, at its peak, employed thousands of people in the Motor City and helped shape American popular culture. Remember "See the USA in your Chevrolet"? You do if you're over 50.
Those days are gone, of course. And it will come as no surprise that some of the mainstays of Detroit advertising have been devastated: BBDO Detroit, Chrysler's agency for decades, which once employed about 1,500 people, recently announced that it will close in January.
But here's the unexpected news. While other Detroit agencies are shrinking, they're faring no worse than their counterparts in New York and Los Angeles. And a handful are growing. Global Hue, which does multicultural marketing for Verizon and Wal-Mart, actually added staff during the recession. Detroit agencies are diversifying and embracing digital marketing. They compete for accounts everywhere, and they win more than their share. An unexpected fact: Not a single big client at Doner, another agency that is holding its own, is based in Michigan.
In short, there isn't nearly as much gloom and doom among Detroit's admen as you might expect.
Partly that's because Detroit's admen strut their stuff on a big stage. Even fast-shrinking GM had a $3 billion marketing budget last year. Balicki, a sports nut, watches NFL games with his son and sees ads that his shop put together a few days before. If you are making ads for GM, Ford or Chrysler, your mom can see your work on TV, no matter where she lives. That's cool.
Besides, people in Detroit are battle-tested. New Yorkers may have panicked during the worst days of the financial crisis. Not Detroiters. They're accustomed to the roller coaster.
"This was not new to us," Balicki says. "The faint of heart had left already. The people who are left are the ones who want to make a difference."
Toby Barlow is one of those who want to make a difference. You want creative? Sure, he's an award-winning copywriter, but that's not uncommon. He's also the author of a novel about werewolves -- written in epic verse. The 43-year-old Barlow could live or work anywhere, and he has: His resume includes stints at Hal Riney in San Francisco and TBWA/Chiat Day in New York. These days, he's living in downtown Detroit and working in Dearborn for an agency known as Team Detroit, across a highway from Ford's global headquarters.
Ask him why, and he talks about his upbringing. Born Thomas Jefferson Barlow IV, he was raised by an activist and an artist -- his father, Tom Barlow, worked for the Natural Resources Defense Council and served a term in Congress and his mother directs an art colony in the Adirondacks. Toby studied great books at St. John's College in New Mexico, helped start Vote Solar, a nonprofit that promotes clean energy, and now thinks he can have an impact by helping Ford sell cars.
"I like Bill Ford," Barlow says. "I was raised by hippies, and I like someone who had a consciousness about sustainability and a long-term view."
Besides, when he was asked to move to Detroit back in 2006, Barlow was ready for an adventure.
"When you looked at what Ford was up against at the time, they were losing billions of dollars, but they were launching interesting products like the Fusion," Barlow recalls. "If you were asked to participate in that, how could you refuse it? It was just too interesting to say no. It was like being asked to play in the biggest game or sing in the biggest opera."
Not that moving to Detroit was easy: "My very sweet and weeping girlfriend was asking -- what are you doing, why are you coming here?"
Team Detroit was formed in 2006 as a cost-cutting measure. Ford and the global marketing behemoth WPP merged five WPP-owned firms -- J. Walter Thompson, Ogilvy, Young & Rubicam, Wunderman and Mindshare -- under one roof to eliminate duplication and create an agency that could do it all.
"It's unique in Detroit," says George Rogers, president and CEO of Team Detroit, which with just under 1,000 people is now Michigan's biggest agency. "We are the 21st century equivalent of the classic full-service advertising agency."
The strategy seems to be paying off. Team Detroit attracted more new business this year than any in the past 10. "We have suffered far less than the rest of the industry," Rogers says. New clients include Bell Helicopter, Scott's Miracle-Gro and Johnson Controls.
Ford remains the meal ticket. When we spoke, Rogers was just back from Shanghai and on his way to London and Cologne, all for Ford. Barlow says: "We'd like to add more variety, but we're here to serve Ford."
That's a good place to be right now. Ford reported a $1 billion third-quarter profit, and its cars are getting good reviews. Research shows that potential new customers are waking up to Ford, in part because they like the fact that chief executive Alan Mulally didn't seek a bailout from Washington.
Team Detroit's Ford ads are straightforward. A series of 15-second TV spots features regular people describing little things they like about their cars -- keyless entry in the Flex, vehicle health checks inside the Escape, brakes that recharge the battery in the Fusion Hybrid, the reserve sensing system in the Edge. "We don't want to get in the way of the product," Barlow says. "A lot of times with cars, your product is so bad, you have to hide behind beach balls and happy families."
Barlow is not a car guy. For a time -- and this is highly unorthodox behavior in Detroit -- he biked 10 miles to his Dearborn office from his home in Lafayette Park. His two-story townhouse, designed by Mies van der Rohe, is affordable (he paid $100,000 for it), surrounded by trees and is so sleek that it was featured on the cover of Dwell. (Sample quote: "Detroit is a blank canvas waiting for some more visionaries like Mies.") Barlow has mused out loud about writing a screenplay set in Detroit, about "rebuilding community and taking responsibility," featuring a kid who turns into Bruce Lee when he hears a Hammond organ.
If that sounds strange, well, his novel in free verse, "Sharp Teeth," is about "an ancient race of lycanthropes" bent on dominating Los Angeles, and a "kind-hearted, lovesick dogcatcher and the object of his affection: a female werewolf who has abandoned her pack."
Which may help explains Barlow's love for Detroit: "For a guy who writes epic poems, it's a great place to be."
Bill Ludwig is 54. He's a Michigander through and through -- grew up here, went to college here, has a house up north and has worked for Campbell-Ewald, a pillar of the Detroit ad community, since 1982.
Campbell-Ewald is best known for its TV work, but Ludwig is doing his damn best to sound like a digital media maven.
"There's a current of conversation buzzing around any brand," says Ludwig, the firm's vice chairman and chief creative officer. "Our job is to listen to the conversation, understand what's being said, why it's being said, and try to change the conversation to create fans of the brand and endorsers of the product."
"One of the capabilities that we are at the forefront of is social media. It's not just being on Facebook or YouTube. It's looking at all media as social media."
"We don't produce ads," he goes on, glancing at his talking points. "We create content to engage consumers."
Well ... OK.
Now he's running through PowerPoint. Eye-catching billboards for Kaiser Permanente. ("We created a loved brand in a despised category.") A digital campaign for the U.S. Navy. ("96 months of record recruitment") Eco-friendly packaging for the U.S. Post Office. ("UPS is down, Federal Express is down, and they're just going gangbusters with their market share.") Spots for AllTell. ("Verizon and AT&T were outspending them 18 to 1, and we were kicking their ass in every market.") A website for OnStar. ("It's aggregating all the fans who are uploading stories and giving them a megaphone.") USAA, Wyndham Rewards, match.com, Carhartt -- all are Campbell-Ewald clients.
Some of the work is cutting edge. The Navy's YouTube channel, featuring videos uploaded by sailors from around the world, is a big hit. Navy For Moms is a robust website with blogs, videos and forums that connects mothers of kids in the U.S. Navy with mothers who have questions about Navy life for their kids. It's a brilliant way to overcome the single biggest obstacle facing recruits, namely the worry anxiety of their mothers.
About the only thing missing from Ludwig's spiel is Campbell-Ewald's biggest, best-known, most important client, Chevrolet, which has been with the agency since 1922. 1922! No wonder Campbell-Ewald is located right across the street from GM's sprawling Tech Center in Warren.
Ludwig isn't trying to downplay Chevrolet, he insists. To the contrary, he's proud of the agency's work for GM. "Campbell-Ewald and Chevy have created the most iconic advertising in the auto industry," he declares. "In my tenure here, we've done Heartbeat of America, Like a Rock ... An American Revolution." Bob Seger, another Michigander, should be eternally grateful for Like A Rock, he says. "People still sing it, ten years later," Ludwig says. "More than 800 songs have been written about Chevy." Just for fun, Campbell-Ewald once put up a billboard saying: "They don't write songs about Volvos."
The real question, though, is how long will Campbell-Ewald and Chevrolet make music together. It's not clear, for example, when the agency will handle the launch of GM's Volt, the much-anticipated plug-in hybrid. Tradition doesn't count for much anymore at GM. Chevrolet's budgets have been cut, forcing layoffs at Campbell-Ewald, which were handled clumsily. The ad blogs, which are snarky, went after Ludwig. No wonder he's sticking to his script.
Like Chris Balicki at Burnett, Ludwig takes solace from a quotation on the wall, this one from another famous adman, Elmore Leonard. Leonard, who wrote copy for Campbell-Ewald before writing novels and movies, once said:
Most cities get by on their good looks. Detroit has to work for a living.
And that's just what Ludwig plans to do. "We're going to be Chevy's agency for as long as I am here," he declares. Almost as if saying it will make it so.