The unemployment rate is falling!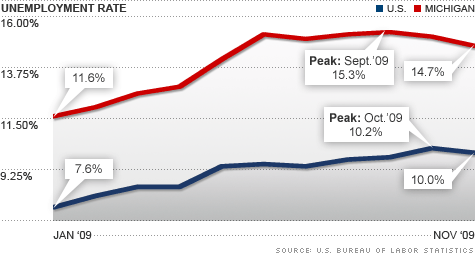 NEW YORK (CNNMoney.com) -- The balance has shifted: More states reported declining unemployment in November than posted increases, according to a government report released Friday.
The national unemployment rate improved to 10% last month as joblessness fell in 36 states and the District of Columbia, according to the Labor Department's survey on state unemployment. The rate rose in eight states and held steady in six.
The last time unemployment rates declined in more states than they climbed in was April.
"It's an encouraging sign that something different is happening, but I still believe unemployment is headed higher from here," said Well Fargo senior economist Mark Vitner.
In a normal economy, Vitner said about 100,000 people enter the workforce each month. As the economy recovers from the worst downturn since the Great Depression, that number could double each month for at least a year, he said.
That would mean that more than 2 million jobs would have to be created over the year just to keep the unemployment rate from rising.
"We're not that far from a point where job gains will outweigh job losses, but that's not enough to reduce the unemployment rate," he said
And right now, there are still 15 states reporting jobless rates above the national average. And all 50 states and the nation's capital recorded increases in their jobless rates from a year ago.
In October, 29 states and the District of Columbia posted month-over-month increases in unemployment, and 13 reported rates above the national rate, which had hit a 26-year high of 10.2%.
As a result, Vitner believes that even as layoffs continue to slow, the unemployment rate will climb and peak during the middle of 2010.
But some economists are cautiously optimistic.
"We're not getting excited for sharp declines because people will return to the workforce as we start to create jobs, and that will slow the decline," said Craig Thomas, senior economist at PNC Financial Services Group. "But we will see a continued drop in unemployment rates."
With 14,000 job losses during the month, Michigan had the highest unemployment rate, at 14.7%; although, that was down from 15.1% in October. This is the 12th straight month that Michigan, which has been ravaged by the collapse of the auto industry, has posted an unemployment rate above 10%.
But Michigan is still far from its recorded high of 16.9% unemployment in November 1982.
Vitner said the number of people dropping out of Michigan's labor force has rescued it from plunging further.
Rhode Island had the next highest rate at 12.7%, followed by California, Nevada and South Carolina, each at 12.3%.
North Dakota continued to post the lowest unemployment rate, showing 4.1% in November. It was followed by Nebraska, at 4.5% and South Dakota, at 5.0%.
A majority of states showed very slight month-over-month increases or decreases in their unemployment rates, but a few had significant jumps. The jobless rate in Kentucky fell to 10.6% from 11.3%, while it dropped to 8.2% from 8.8% in Connecticut. The unemployment rate in Florida rose to 11.5% from 11.3% the previous month.
Unemployment continued to be the lowest in the Northeast region of the country, coming in at 8.7%. The West again had the highest regional jobless rate, at 10.6%, though that was a slight decline from the previous month.