Free shipping! Rhode Island's eBay play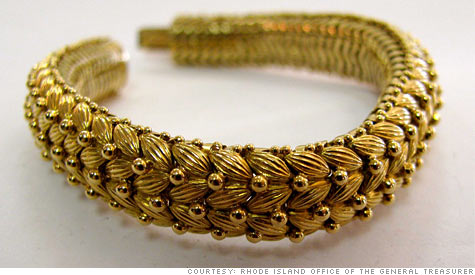 NEW YORK (CNNMoney.com) -- Need a diamond pinky ring or a gold dog pin with ruby eyes?
They can be yours if you are the winning bidder in Rhode Island's unclaimed property auction on eBay. And you won't even have to pay for the shipping.
Rhode Island is the latest state to harness modern technology to turn forgotten loot into much-needed revenue. It is auctioning 100 items worth a little over $50,000 through mid-January.
As of Christmas eve, it reaped more than $22,000 on 30 pieces. That's about 108% of their estimated value.
The most popular: A 1980 gold South African Krugerrand, which pulled in 51 bids and sold for $1,275. The most expensive: An 18-karat Italian gold bracelet, which went for $1,869 and collected 50 bids.
Most of the pieces come from safety deposit boxes on which fees went unpaid for at least three years. Rhode Island law calls for banks to turn over the property to the state, which then searches for the owners before auctioning off the items. If the owners eventually surface, they will be paid the item's value.
Until now, the Ocean State held a traditional live auction every several years. The most recent was last year, during which more than 900 items sold for $370,000. It was the state's first in a decade.
State treasury officials, however, began exploring online auction as a way to reach more bidders, garner higher prices and reduce costs. It joins a growing number of states that have turned to the Internet to auction unclaimed property.
"We will be receiving bids not only from the local area, but from across the nation and the world," said Frank Caprio, the state's treasurer. "More competition will lead to higher prices and more interest in the items."
Holding auctions online costs a fraction of the live event.
Last year's auction cost more than $60,000, which covered the auctioneer's and appraisal fees, as well as marketing and other expenses, said David Salvatore, Rhode Island's unclaimed property manager. The eBay auction should cost the state about $6,000, which includes shipping fees. Plus, the state has to pay eBay for the auction, which has totaled about $1,000 so far.
Pleased with the results of their online experiment so far, Rhode Island officials said they plan to hold eBay auctions every three months or so.
"It's fun to watch the number of bids come in and how quickly they come in," Salvatore said.
The money earned from the auction will go into the state coffers, though it won't do too much to fill Rhode Island's $200 million mid-year budget gap.
Over time, the money can add up. Texas, which pioneered the auctioning of unclaimed property on eBay in 1999, has reaped $4.4 million from the sales of 475,000 items over the past six years, said R.J. DeSilva, a spokesman for the state's Comptroller's Office.
"The fact that we're able to sell almost everything we put up reflects the fact that people are happy with it," he said.