Rhode Island dodges government shutdown
Judge temporarily blocks state's first furlough day, which had been set for Friday. Governor warns that 1,000 layoffs loom.
Map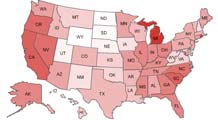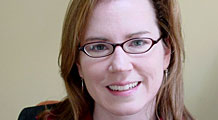 Meet some of CNNMoney.com's trusted career coaches and hear their best advice for finding a job.
NEW YORK (CNNMoney.com) -- Rhode Island will be open for business Friday.
State workers were scheduled to take their first of 12 furlough days ordered by Gov. Donald Carcieri. But a state Supreme Court justice temporary blocked the shutdown Thursday after several employee unions sued, arguing the move violated their contracts.
More states are furloughing workers these days than at any time since the Eisenhower administration, but unions are increasingly fighting back. Rhode Island workers' victory Thursday is the latest in a string of legal actions aimed at stopping the shutdowns.
Last month, a federal judge sided with government workers in Prince George's County, Maryland, who argued that a 10-day furlough violated their contract. After winning a similar ruling in July, Hawaii unions continue to battle Gov. Linda Lingle over her ongoing efforts to institute furloughs.
A growing number of states are turning to furloughs in hopes of balancing their budgets. The recession -- and accompanying decline in tax revenues -- has wreaked havoc on state spending plans.
Some 750,000 workers in 21 states are being affected by furloughs, said Sujit CanagaRetna, senior fiscal analyst at the Council of State Governments.
"It's the most number of furloughs we've seen in 50 years," he said. "It's a further indication of the gravity of the financial situation."
Most governors work out agreements with employee unions in order to avoid legal action, experts said. They argue furloughs are more palatable than layoffs.
"Usually budget deals are negotiated," said Nick Johnson, director of the Center on Budget and Policy Priorities' state fiscal project. "It's unusual to wind up in court."
But it may become more common. In Rhode Island, the two sides are returning to court next Friday for the full Supreme Court to review the unions' request.
Carcieri, however, said Thursday that he has no choice but to reduce the state payroll. He has asked his department chiefs to identify the last 1,000 people hired and begin notifying them of impending job reductions.
"Preventing the state from moving forward with the shutdown days cripples our ability to address growing budget gaps," Carcieri said in a statement.
Carcieri announced late last month that he would shut down the government for 12 days during fiscal 2010, which ends July 1. This equates to a 4.6% pay cut for public employees, but would save the state $21.6 million. The furlough was in part to slash $67.8 million from the budget.
Union officials, however, argue there are other ways to address the state's fiscal shortfall, such as raising taxes.
"You cannot balance the state budget on the backs of state workers," said J. Michael Downey, president of Rhode Island Council 94 of the American Federation of State, County and Municipal Employees.
Have you suffered a setback because of the economy? What are you doing to overcome it and get back on track? If you've been confronted with some challenge during this recession but are fighting back, send an email to realstories@cnnmoney.com and you could be profiled in an upcoming segment on CNN. For the CNNMoney.com Comment Policy, click here.

Features

These Fortune 100 employers have at least 350 openings each. What are they looking for in a new hire? More

It would be the world's second-biggest economy. See how big companies' sales stack up against GDP over the past decade. More