Mr. Sunshine's happy economic outlook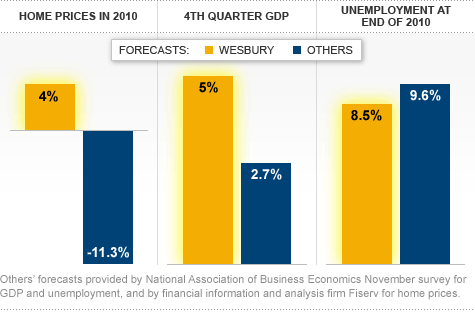 NEW YORK (CNNMoney.com) -- Economics is known as the dismal science, but not every economist is a pessimist.
Brian Wesbury might be one of the more optimistic forecasters out there. He's proud of being dubbed "Mr. Sunshine" by well-known short-seller Doug Kass. The chief economist at First Trust Advisors, a Chicago asset manager, Wesbury has one of the most bullish assessments on the economy. His new book trumpets that optimism in its title: "It's Not As Bad As You Think."
Wesbury predicts economic growth of 5% or more in the last three months of this year, nearly twice the average forecast, followed by at least 4.5% growth in 2010.
He sees job growth returning as soon as December of this year. Unemployment, now at 10%, will fall to about 8.5% by the end of 2010, he believes. That's about a percentage point better than most economists' estimates. In 2011, he says, the rate will drop to about 7%.
He's bullish on housing, too: He says things are improving so fast in real estate that by the third quarter of 2010, there could be a seller's market for new homes.
Wesbury maintains this rosy view even though he believes government action to rescue the economy hurt more than it helped.
He blames the financial meltdown not on lack of government oversight, but on mark-to-market accounting, which required banks and Wall Street firms to value the assets on their balance sheet at current market prices. Those rules, which caused massive losses when the housing bubble burst, were significantly loosened earlier this year. That easing, he argues, was the key to reopening the flow of credit and reviving the economy.
Despite his policy worries, he believes the economy can overcome the headwinds caused by government intervention to post solid growth. Here now is a question-and-answer session with Mr. Sunshine, Brian Wesbury.
How quickly do you think we'll start to see substantial job growth of 200,000 or more needed to help lead to a sustained decline in unemployment?
Typically when you are in a V-shape kind of recovery, that happens pretty quickly. I expect by very early spring or late winter we'll be seeing significant job growth. Retail sales are up at an annualized rate of 7% in the last six months. Manufacturing output is up 8%. Inventories are very low. What that means is I think we've fallen behind, companies have waited almost too long to try to catch up, so we'll see this thing accelerate pretty quickly.
What are the primary drivers you see behind that kind of growth?
Easy money by the Fed, pent-up demand, that's two of the factors. Mostly, we're rebounding from a panic. But look at the pent-up demand for cars, for houses. We're only starting 550,000 houses at an annualized rate. Just population growth alone says you need about 1.5 million a year. We're down to about a seven months' supply. That means if builders don't start right now, by the third quarter of next year there will be shortages of housing.
Do you believe that TARP and stimulus and the other money that the government has pumped into the economy has hurt the recovery?
It made people believe that we have to have government save the economy. I don't believe that. The Fed created the bubble. There's no doubt about it. Then the question is how do you deal with those problems, do you let the market deal with them or the government deal with them? We let the government deal with them. But nothing turned the economy and market around until we changed mark-to-market rules. That's when banks were able to start raising money, that's when stocks started to go up.
Is it difficult to be an optimistic supply-side economist at a time that even Arthur Laffer, the dean of supply-side economists, is writing a book called "The End of Prosperity"?
I'm not having any difficulty. What I find interesting is how negative many conservatives are. I'm a short-term bull on the economy. I'm a long-term worrier. You can worry about the policies, you fight against them, but you should be long stocks at the same time, because they're undervalued, and the economy is going to come back strong.
If we get strong growth in 2010, are you worried that it will be taken as an affirmation of the kind of government intervention in the economy that you decry?
Yes. I want to always see the economy do well. What I don't want is people to take the wrong lessons from this. That's why I think conservatives are making a huge mistake right now arguing that just Obama breathing every day will cause the stock market to go down and you should buy gold and head to the hills. The economy is bouncing back, it's going to be stronger than people think. That's only going to make it easier for (conservatives') political opponents to argue that they saved the day by spending lots of money.
In your book you try to strike down a number of generally accepted economic problems that you argue are overstated. Do you think that reports about continued tight credit for both consumers and small businesses are overstated? How can the economy see the kind of growth you're expecting if credit is so tight?
It's absolutely true that credit is tighter than it was, but it's not the sort of thing that will stop the economy. Money is like a flood. You can try to stop the water, but it is always going to find its own level somewhere. When the Fed prints this much money, it's going to find its way into the system. We're seeing the same kind of reduction of credit we've seen in other recessions in the past, and none of those stopped the recovery.
Isn't it tough to argue that you're not a starry-eyed optimist since you go to almost every Northwestern University football game and you're counting on your Chicago Cubs to end a century-long drought and win the championship this year?
Every year I predict they're going to the World Series. That way I know I'm going to be wrong about one thing. We hope that the long history is eventually broken. So this is my counter-cyclical nature. I'm an optimist on the economy and the long history of the economy shows I'm usually right. But I guess the Northwestern Wildcats and the Cubs usually don't fulfill my dreams.
Interview has been condensed and edited.