Beware the big winners of 2009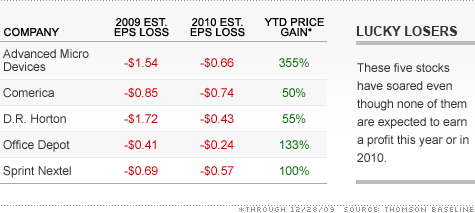 NEW YORK (CNNMoney.com) -- Looking for a hot stock in 2010? You might want to avoid some of the biggest winners of 2009.
Shares of companies in a variety of sectors have exploded since the market bottomed in March. Through Dec. 28, 49 stocks in the S&P 500 have more than doubled while 155 of the companies in this benchmark index are up more than 50% this year. By way of comparison, the S&P 500 has gained 25%.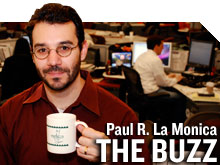 The stocks in the S&P 500 that have doubled this year now trade at, on average, 25 times earnings estimates for 2010. That is incredibly rich, especially when you consider that the P/E ratio using 2010 estimates for the entire S&P 500 is 15.
"If you see a stock that's trading at 20 or 30 times earnings you need to be careful," said Phil Dow, director of equity strategy with RBC Capital Markets in Minneapolis. "And if something is trading at 40 times earnings or higher, that's certainly nosebleed levels. You can't buy something just because the story sounds good."
A handful of this year's big winners may be merely riding the coattails of the broader bull market run. It's hard to justify why some of this year's top performers have done so well when you look at their financial results.
Some companies that have shined in 2009 are expected to earn less next year than they did this year, which makes their 2009 stock gains suspect.
Starwood Hotels & Resorts (HOT, Fortune 500), the owner of the Sheraton and W brands of hotels, and Wyndham Worldwide (WYN), which operates the Ramada and Days Inn franchises, are both expected to post double-digit percentage decreases in profits next year as the travel industry continues to struggle.
Earnings are also expected to be down slightly at aerospace equipment giant Goodrich (GR, Fortune 500) next year as 2010 sales are forecast to remain below 2008 levels.
A bunch of prominent companies whose stocks are up at least 50% are even expected to lose money this year and next year. That group includes chipmaker Advanced Micro Devices (AMD, Fortune 500), Office Depot (ODP, Fortune 500), homebuilder D.R. Horton (DHI, Fortune 500), regional bank Comerica (CMA) and Sprint Nextel (S, Fortune 500).
Of course, the big surges for some of these stocks are probably warranted. As I pointed out yesterday, the economy is improving -- even though the growth may not be as robust as some expect.
With that in mind, companies that legitimately did well this year could fare even better next year. Apple (AAPL, Fortune 500), IBM (IBM, Fortune 500) and Google (GOOG, Fortune 500) are all companies that bucked the recession in 2009 and are also expected to post solid profit increases in 2010.
"This is a modest recovery relative to historical norms, but the economy is on the mend," said Diane Swonk, chief economist with Mesirow Financial diversified financial services firm based in Chicago. "Technology is going to be big as I really think there will be increased spending on computers and other equipment."
Other big winners are turnaround stories in beaten down sectors. Ford Motor (F, Fortune 500) and Goodyear Tire & Rubber (GT, Fortune 500), which are both likely to post losses for 2009, are expected to return to profitability next year on hopes that auto sales will finally turn around.
The growing consensus that the worst is over for some other hard-hit sectors, including financial services, retail and media, have also helped lift shares of respective industry leaders such as American Express (AXP, Fortune 500), Sears Holdings (SHLD, Fortune 500) and News Corp (NWSA).
However, investors should still be wary of betting on many of the stocks that have enjoyed great success in 2009. With stocks popping as much as they have in the past nine months, it's a better time to go bargain hunting instead of chasing momentum.
Along those lines, investors might not want to ignore some of the stocks that have lagged during this year's rally, but still have strong prospects.
Drug maker Abbott Laboratories (ABT, Fortune 500), insurer Allstate (ALL, Fortune 500), McDonald's (MCD, Fortune 500) and PepsiCo (PEP, Fortune 500), are all examples of multinational giants that trade for less than 15 times 2010 earnings estimates, pay a healthy dividend and are expected to report earnings growth of at least 10% next year.
"While some leading companies have rallied, many are still reasonably priced. It's not hard to find blue chips with a global business that pay a nice dividend and trade at a reasonable valuation," RBC's Dow said.