It's unlikely that equities will enjoy a repeat of the mass revival of 2009. But we've found 10 stocks that should prosper even if the markets don't.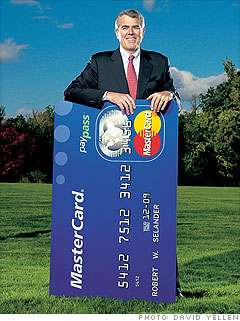 MasterCard CEO Robert Selander at headquarters in Purchase, N.Y.
Market cap: $30 billion
2008 revenue: $5 billion
P/E ratio: 18*
Dividend yield: 0.3%
For a consumer-dependent company like MasterCard, 2009 was a year of surprisingly solid results.
Amid the worst economy since the Depression, MasterCard not only eked out a 1% revenue rise in the first three quarters (because consumers used debit cards more) but also boosted operating profits 24% (by raising fees and taking a machete to marketing costs).
That's what happened when consumers weren't spending. Now there are signs that wallets may be ready to open again.
One key measure -- the gross value of MasterCard's transactions -- has stopped falling (when calculated in local currencies). That means MasterCard's revenue is poised to climb, analysts say.
Like its rival Visa, MasterCard acts as a middleman, collecting pennies from every transaction on its network. Unlike the banks that issue credit cards, it doesn't hold risky consumer loans (and it shouldn't be affected by a new law limiting the penalty fees that banks can impose).
With an estimated 725 million people using its services, MasterCard is benefiting from the long-term switch to plastic. The number of sales using a MasterCard has actually increased during the recession.
With the company's success, it's little surprise that shares have run up from $119 (when investors panicked, in the belief that consumers would never spend again) to $230.
But at 18 times next year's estimates the stock is actually well below its historical forward P/E of 27. Even without a worldwide recovery, argues J.P. Morgan analyst Tien-tsin Huang, the stock price can rise as more people use its cards. If total dollar volume increases in 2010 -- and most analysts believe it will -- MasterCard will earn more.
"You're starting to see signs of a recovery," says Huang, "but if things stay bad, they should be able to grow through that." Earnings per share are expected to rise 18% next year as sales increase by 9%.
NEXT: Amedisys
Last updated December 09 2009: 10:19 AM ET
* Price/earnings ratios based on estimated 2010 earnings.