Gift cards: Use 'em or lose money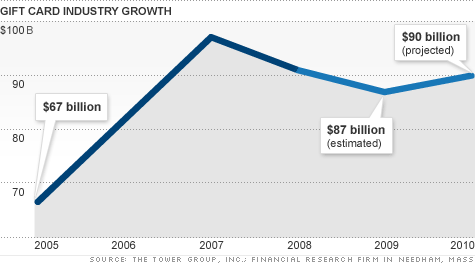 WASHINGTON (CNNMoney.com) -- Got a gift card from Wal-Mart, Best Buy or American Express this holiday season?
Use it now, consumer advocates say. That's the best way to avoid potential fees and other pitfalls that can suck up the value of consumer gift cards -- at least until the Federal Reserve imposes limitations on some of the fees next year.
"For this holiday season, it's still open season on you and your gift cards," said Gail Hillebrand, director of Consumers Union's "Defend Your Dollars" campaign.
The Fed is crafting new rules aimed at limiting fees in the first year, restricting fees to once a month after a year and preventing gift cards from expiring before five years is up.
The new rules are part of a larger package Congress passed earlier this year cracking down on credit card fees. However, the new gift card rules are still being drawn and won't take effect until Aug. 22.
During the 2009 holiday season, some $87 billion will be spent in gift card purchases, according to TowerGroup, a financial services research consulting firm. That's actually down from 2008, but it had been trending up for several years.
The biggest way companies make money on gift cards happens when a recipient spends more than the gift card's value, said Brian Riley, research director with TowerGroup.
They also make money on the interest generated from the upfront dollars collected. That's especially true when consumers forget about gift cards they've locked away in a drawer -- a more frequent occurrence of late, according to a 2007 survey by research firm Marketing Workshop Inc.
Issuers also profit when consumers fail to exhaust the entire balance on a gift card, leaving a few cents or dollars to linger. Some 40% of recipients don't use up their gift card's value, leaving an average of $2.30, according to the Marketing Workshop.
"Leaving those onesies and twosies on the card, that makes them money," Riley said.
But the biggest reason consumers should use up their gift cards quickly is because if a retailer fails, its gift cards become worthless.
Nothing compels a bankrupt retailer to honor a gift card. So, the gift card holder essentially becomes a creditor standing pretty far down the line of those seeking repayment.
Consumers lost more than $100 million in gift card value in 2008, when large retailers such as Sharper Image and Linens 'N Things failed, Riley said.
"Even nail salons go belly up," Riley said. "When that happens, that gift card becomes useless."
Fees
Some gift cards, especially those issued by banks or credit card companies for use at a variety of merchants, charge a fee on top of the value that's purchased on the gift card.
In addition, "dormancy" fees of a few dollars a month can be charged for gift cards that don't get used.
Some card issuers have recently started cutting dormancy fees. American Express announced in October that they'd no longer charge consumers $2 a month for nonuse of gift cards, although it will still cost between $3 and $7 to purchase the gift cards in the first place.
"Customers told us that monthly (dormancy) fees undermine the value of gift cards, plain and simple," said Alpesh Chokshi, American Express president of Global Prepaid, in a statement.
The new Fed rules prohibit dormancy fees until a year has passed. After that, the Fed wants to limit such fees to once a month and require them to be clearly disclosed.
But as part of those restrictions, the Fed is looking at limiting other types of fees to once a month, after a year is up, on such actions as replacing gift cards, reloading them or even inquiring about the balance.
That's got the banking industry up in arms. Different groups, including the American Bankers Association, have written the Fed trying to narrow the kinds of fees that could be curtailed.
They especially want to maintain the right to charge to replace a lost gift card. The industry says that fee covers the administrative cost of replacing the card and protects against tricksters who continually "lose" and replace cards.
"We think the replacement cost is a normal part of a transaction given the cash nature of gift cards," said Scott Talbott, chief lobbyist for the Financial Services Roundtable, a bank lobbying group.
By contrast, consumer groups have written the Federal Reserve asking them to broaden their reach when it comes to prohibiting gift card fees.
"Congress left a lot up to the Fed," said Hillebrand with Consumers Union. "We say: Use the rest of your power and finish the jobs in terms of consumer protection."
The banking groups are also asking the Federal Reserve to make new gift card laws trump tougher laws set at the state level. They support a uniform national standard.
For example, Connecticut doesn't allow any "dormancy" fees on unused gift cards, even after a year has passed. Banks would like the new Federal Reserve rules allowing one nonuse fee a month to be the law in Connecticut as well.
By contrast, consumer groups want the new rules to create a "federal floor," allowing states to pass even stronger regulations on gift cards.