Why the big phone companies are dogs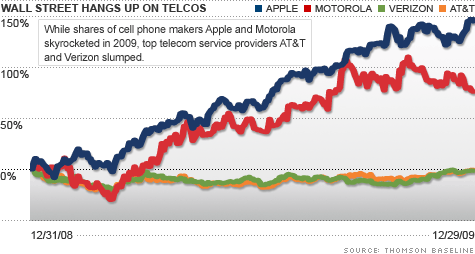 NEW YORK (CNNMoney.com) -- You'd think that 2009 would have been a great year for telecom stocks, right?
Think of all the hot gadgets: Apple's latest iPhone 3GS; Motorola's new Droid; the BlackBerry Storm 2; and several other touchscreen smartphones. But shares of the leading telecoms whose networks run these devices have missed out on the big stock-market rally.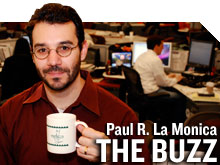 AT&T (T, Fortune 500), the exclusive iPhone carrier in the United States, is down about 1%. Shares of Ma Bell's top rival, Verizon (VZ, Fortune 500), are also down slightly in 2009.
Contrast that with Apple's stock more than doubling and Motorola enjoying a Lazarus-like comeback after a disastrous 2008.
This phenomenon isn't confined to the United States either: Shares of other leading telecom service providers around the globe have also stumbled.
The U.S. listed shares of Germany's Deutsche Telekom (DT), the parent company of T-Mobile, are down about 2%. Shares of France Telecom (FTE) are down 9%. China Mobile's (CHL) stock has fallen 11% while Japan's NTT DoCoMo (DCM) have plunged 28%.
Even one of the sector's better performers, Britain's Vodafone (VOD), has had a relatively modest stock price gain of 12.5%. (The S&P 500 is up 25% while the Nasdaq has surged nearly 45%.)
What gives? Even though many new phones are flying off the shelves and the carriers seem to be able to find a way to charge you fees for every conceivable data application imaginable, AT&T and Verizon are both expected to report a slide in earnings this year compared to 2008. Next year looks only slightly better.
Analysts are projecting just a 6% jump in earnings on a 1% increase in sales at AT&T, and a 2% rise in profits at Verizon and less than 1% increase in revenue. Unexciting growth prospects. Is there an app for that?
Simply put, growth in the cell phone units of AT&T and Verizon aren't enough to completely offset declines in other areas of their business.
Revenues from their "old" landline business already had been on the wane due to growth in wireless. The rough economy just made things worse as shrinking businesses had less of a need for phone service.
"Look at the fundamentals for Verizon and AT&T. Their corporate wireline businesses have been a drag. They have been under the strain of rising unemployment," said Steve Clement, an analyst with Pacific Crest Securities.
Along those lines, AT&T reported a 10% increase in wireless service revenue during this year's third quarter compared to a year ago, but sales in its voice (i.e. landlines) business declined 15%.
And even though wireless is now AT&T's biggest revenue generator, accounting for 40% of total sales, the old school phone business still has a big impact on the overall company. Voice revenue accounts for more than a quarter of Ma Bell's total sales.
The trend was similar at Verizon. Wireline revenues were down 5% in the third quarter while wireless sales were up 24%. But Verizon relies even more on its older businesses than AT&T. Wireline revenue accounted for more than 40% of total sales in the quarter.
Plus, the strong growth in Verizon's wireless revenue was largely a result of the acquisition of Alltel earlier this year. The third quarter 2008 results did not include Alltel. If they had, wireless sales growth would have been just 5%.
Dial B for boring
With all that in mind, it's no wonder that analysts are projecting anemic earnings growth for AT&T and Verizon during the next few years -- just 4% to 5%. Similar growth rates are expected for Deutsche Telekom, France Telecom and China Mobile.
The two U.S. phone giants have other problems too: In addition to competing against each other, they also face stiff pressure from cable companies and satellite companies like Comcast and DirecTV in other areas such as high-speed data and video services.
Clement said Verizon and AT&T may make "gradual inroads" in the video business but that increased subscribers may not necessarily lead to bigger profits since the cable and phone companies have typically had to resort to aggressive price cuts to attract customers.
Joseph Bonner, an analyst with Argus Research, said both companies also have specific customer-related issues they need to overcome. AT&T, for example, may benefit from having the iPhone in its arsenal but there is a perception that Verizon's 3G wireless coverage is better. Verizon, on the other hand, lacks a true must-have device.
"These companies have to keep proving themselves constantly. AT&T has a great phone with the iPhone but there are all these questions about network issues. Verizon has to continue to wow people with new products," Bonner said.
Still, Bonner thinks the two stocks may still be worth buying for some investors. They may never wow Wall Street with the type of profit growth that the Apples and Googles of the world enjoy, but both Verizon and AT&T do offer a bit of security for investors not willing to stomach a lot of market volatility.
Bonner said the worst of the declines in the landline business are probably behind the two companies and that this is factored into the stock prices. What's more, both have dividend yields of nearly 6%. The yield on a 10-year Treasury note, by way of comparison, is less than 4%.
"This year's rally has been for stocks that were beaten down and more risky. AT&T and Verizon both have strong dividends. They are safe havens," Bonner said.
Clement agreed, saying that the dividends make them attractive and that Verizon and AT&T should outperform other investments in a rough market.
But talk about damning with faint praise. If the best you can say about Verizon and AT&T these days is that they are probably a better bet than a government bond, it's no wonder most investors have shunned them.