Why the Droid won't save Motorola
Wall Street's excited about Motorola for the first time in awhile thanks to new smartphones. But the stock's more than doubled this year. It's time to hang up.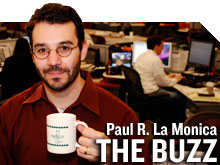 NEW YORK (CNNMoney.com) -- Motorola is obviously hoping that, to twist a famous Obi-Wan Kenobi quote from "Star Wars," its heavily hyped new phone is the Droid people are looking for.
In case you weren't watching any of the World Series (Yay Yanks!) you may have missed the massive marketing blitz that Motorola (MOT, Fortune 500) has launched for its Droid smartphone, which officially goes on sale on Friday.
The Droid is meant to be Motorola's answer to Apple's (AAPL, Fortune 500) iPhone. Verizon Wireless (co-owned by Verizon (VZ, Fortune 500) and Vodafone) will be selling the phone, which is powered by Google's (GOOG, Fortune 500) Android operating system.
The reviews for Droid that have trickled in so far have been fairly decent. But Wall Street seems extremely excited about the Droid's prospects. Shares of Motorola, which was one of the hardest hit stocks in the S&P 500 last year, have more than doubled so far this year.
So can Droid live up to its promise?
Make no mistake. Motorola needs Droid to be a huge hit. It's been a long time since the company had a phone that was considered cool and relevant. The Razr was released in 2004, which might as well be the Paleozoic era in the world of gadgets.
And even though Motorola's stock has rebounded this year as the company has returned to profitability, earnings in the past two quarters have been fueled largely by cost cutting.
Last week, Motorola posted a surprise profit for the second consecutive quarter and also raised its earnings guidance for the fourth quarter. But sales fell 27% in the third quarter from the same period a year ago. Analysts are forecasting a 16% drop in sales for the fourth quarter as well.
Mark Sue, an analyst with RBC Capital Markets, wrote in a recent research report though that he is encouraged by Motorola's big push into smartphones.
He wrote that the company is "reconnecting with carriers who are eager for something different." Sue added that the Droid and other new smartphones it plans to introduce, such as the Cliq with T-Mobile, could help Motorola's mobile devices unit get back into the black by late 2010.
Considering that the company's cell phone unit has suffered a string of operating losses that stretches back to the first quarter of 2007, a profitable quarter can not come too soon -- especially if the company wants to revisit the idea of spinning of its handset division from the rest of Motorola (Motorola also sells cable set-top boxes and communications equipment for businesses.)
But as a result of the stock's surge, Motorola now trades at about 28 times earnings estimates for 2010. By way of comparison, smartphone rivals Nokia (NOK) and BlackBerry maker Research in Motion (RIMM) each trade at only about 12 times estimated profits for 2010. Both companies have substantially higher market shares than Motorola.
Apple, which arguably deserves a premium to all of its competitors, is actually trading at a discount to Motorola. Its stock is valued at about 24 times calendar 2010 earnings estimates. (Apple's fiscal year ends in September while Motorola's ends in December so I used estimates for the calendar year in order to have an, uh, apples-to-apples comparison.)
Sure, Motorola may look cheap when looking at other valuation measures. Sue points out that Motorola's stock is trading well below its peers on a price-to-sales basis. But now that Motorola is profitable again, it seems fair to compare it to its rivals using earnings, not revenue.
And the jury's still out on just how successful the Droid and other Motorola phones will be.
Samuel Wilson, an analyst with JMP Securities, said that Motorola's reliance on Google could backfire. Wilson said that one reason Apple and RIMM have been able to do as well as they have is because they don't have to compromise.
"The problem with Android phones is this: How do you gain a competitive advantage when you rely on somebody else for a key piece of the system?" Wilson said. "Every successful smartphone vendor controls the hardware and software."
Sue conceded that competition is going to be tough and that Motorola also has to convince consumers to forget some of Motorola's flops from the past, such as the widely panned Rokr.
He wrote that although it's good news that Motorola has finally ended years of "bad habits of coloring products pink and neglecting the user interface," it's not going to be easy for the company to make a huge splash in the latest round of phone wars.
"It's a crowded space for smartphones, and consumer fickleness will mean short product cycles and Jabba the Hut like competition," he wrote.
That means that Motorola probably deserves to trade at a discount to the likes of Apple, RIMM and Nokia until it can prove that the Droid can be a huge hit. And Wall Street may be expecting the impossible.
"Expectations have radically changed for the company. At $4 a share, there were questions about whether Motorola was solvent," Wilson said. "At $9 a share, investors are expecting growth, but we have a wait and see attitude. The Street believes Droid is the new Razr and I don't think that is going to happen."
Talkback: Do you plan on buying a Droid? If not, which cell phone do you use? And why? Share your comments below.

Features

These Fortune 100 employers have at least 350 openings each. What are they looking for in a new hire? More

It would be the world's second-biggest economy. See how big companies' sales stack up against GDP over the past decade. More