New and improved mortgage forms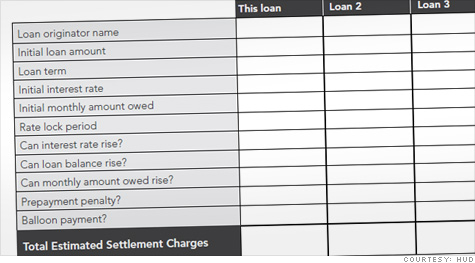 NEW YORK (CNNMoney.com) -- Starting Jan. 1, new rules go into effect that simplify and clarify exactly what mortgage lenders will charge for a loan.
The initiative from the Department of Housing and Urban Development (HUD)requires that a new "Good Faith Estimate" form be given to all applicants, one that makes it easier to compare true costs of loans from different lenders.
"The main purpose is to give consumers the tools to be able to compare apples to apples," said Robert Grosser of Luxury Mortgage, a New Jersey-based direct lender. "All lenders must use a specific form and disclose fees in the same spots on the same forms." (See the new form.)
Until now, borrowers might have focused on interest rates or monthly payments to compare mortgages options. But fees play a big part in total cost, said Vicki Bott, HUD's Deputy Assistant Secretary for Single Family Programs
There are generally two blocs of fees.
One covers origination charges, what the lender receives for providing you with the loan.
The second bloc consists of settlement fees, for say, title insurance or an appraisal.
If borrowers accept the offers as outlined, lenders must issue the loans under the costs listed -- with little room for surprise.
If the mortgage originator provides services in the second bloc, it must stick to the original fees within 10%. If, for example, the lender tells you the title insurance it arranges will cost $2,000, the final fee for that cannot exceed $2,200. (If you decide you're going elsewhere for title insurance, you're on your own.)
"It truly drives accountability," said Bott. "It makes the lender say, 'What I quoted is what you get.'"
The estimate is not iron clad, and can be altered if there's a material change in circumstances. If the appraisal comes in lower than expected, for example, that could affect the mortgage rate, though the lender must quickly tell the borrower, according to Bott.
The new 3-page form has lines covering all the settlement fees, such as the origination fee and points charged up-front to reduce the interest rate. It also clearly lists the initial loan amount, the term length in years, the monthly payment, the initial interest rate, and whether that interest rate can rise plus any prepayment penalties or balloon payments.
There's also a "shopping chart" on the third page in which up to four different deals can be placed side-by-side and their costs easily compared.
Say two lenders both offer a 5% loan on a $200,000 mortgage that has a monthly payment of $1,074 a month. One lender may charge $5,000 for it and another just $3,000. The new form should make it simpler for consumers to recognize the better deal.
"It's definitely a step in the right direction toward simpler and straightforward key information on mortgages," said Alex Pollock, an American Enterprise Institute fellow who has developed and advocated for the use of a one-page mortgage form to better help consumers understand their obligations.
He does not, however, think the new form goes far enough.
"It focuses on the question of whether this is the best deal," Pollock said. "In my opinion, it's more important to ask if I can afford this mortgage. This might be the best deal I can get but I still may not be able to afford it."