Housing outlook for 2010
This year the housing market showed signs of life. But with foreclosures and unemployment climbing, prices have further to fall.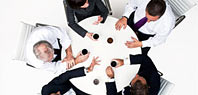 With economic uncertainty near an all-time high, we sought the advice of some of the smartest market watchers we know.
More
(Fortune magazine) -- In a dour year for the economy, the housing market has offered some glimmers of hope. Home sales have improved, recently hitting their highest level in more than two years. There's been talk of bidding wars resuming in places like Silicon Valley and New York City. And cocktail party chatter everywhere has started to turn to talk of a bottom. So at least where housing's concerned, things are looking not so bad -- right?
If that's what you think, you may not want to invite Mark Zandi to your next cocktail party. The chief economist of Moody's Economy.com, Zandi has some sobering predictions: Home prices are going to fall 5% to 10% more -- and over 30% in places like Miami -- between now and this time next year. Then they might start turning around. (Emphasis on "might.")
At the top of Zandi's list of worries are foreclosures -- specifically, the millions of loans that are in foreclosure or headed there that can't or won't be modified. According to RealtyTrac, nearly 2 million housing units in the U.S. are in foreclosure or bank-owned, and millions more are likely to join them.
Zandi estimates that 2.4 million homes will find their way into foreclosure next year. He expects banks to start putting those properties on the market more aggressively during the first half of the year, resulting in a flood of cut-rate inventory that will drag prices down.
It would be one thing if banks could sell into a hungry real estate market. But that brings us to Zandi's second concern: skyhigh unemployment.
October's 10.2% figure was higher than what most economists forecast for the peak. A soft job market, especially one this soft, means potential buyers don't have money to pour into new homes or the confidence that they'll be able to hang on to their jobs and pay the mortgage on their existing home.
Another concern: Policymakers will pull their support from the market prematurely. Aggressive government moves, like the recently extended first-time-homebuyer tax credit and the Fed's purchase of mortgage-backed securities, have been propping up the market.
The purchase plan is set to expire in March, which Zandi says could bump mortgage rates up as much as a full point. "That raises the cost of buying a home, and in this fragile market people won't buy," he says. "And that's a problem."
All those factors are figured into Economy.com's housing price outlook for 2010 -- as are local figures for income, population, interest rates, and foreclosures.
The results are broken into 100 metropolitan areas. (Last year the projections were pretty accurate, forecasting a 14.5% decline in 2009; the actual figure is likely to come in around --13.2%.)
As the sea of red above shows, the numbers are negative across the country.
The weakest areas are Florida, California, Nevada, and Arizona -- what Zandi calls the "usual suspects" -- where foreclosures are highest and likely to rise. The worst market: Miami, where the 2009 median home price of $183,530 is expected to fall 33%.
But Zandi also points to less discussed regions where prices are still inflated relative to rents, like the Pacific Northwest and New York through Virginia.
If there's a bright spot, it's pockets of the Midwest -- states like the Dakotas, Kansas, and Nebraska, which have stronger economies based on agricultural and energy industries.
Then there's Pittsburgh, which didn't have much of a housing bubble to begin with and is the only market projected to grow next year, up 0.41%.
The good news? "It's clear we're closer to the end of this crash than the beginning," says Zandi. Housing is more affordable, and construction is still low, so sales will eat up excess inventory. "We're moving in the right direction, and that's reason for optimism," he says.
Another plus: He says there's almost zero possibility of another U.S. housing bubble anytime soon.

| Rank by 2010 price change | Metro Area | 2009 median house price | Projected price change 2010 | Projected price change 2011 |
| --- | --- | --- | --- | --- |
| 1 | Pittsburgh, PA | 114,750 | 0.41% | 2.23% |
| 2 | Rochester, NY | 114,630 | -0.39% | 1.93% |
| 3 | Birmingham, AL | 139,330 | -0.78% | 1.29% |
| 4 | Memphis, TN | 107,690 | -1.53% | 2.41% |
| 5 | Buffalo, NY | 108,170 | -1.54% | 0.86% |
| 6 | Houston, TX | 146,350 | -1.75% | 0.38% |
| 7 | Kansas City, MO | 135,420 | -1.81% | 0.16% |
| 8 | Louisville, KY | 124,660 | -2.24% | 1.05% |
| 9 | Little Rock, AR | 130,380 | -2.27% | 2.01% |
| 10 | Charlotte, NC | 185,880 | -2.30% | 1.42% |
| 11 | Wichita, KS | 115,260 | -2.32% | 0.42% |
| 12 | St. Louis, MO | 115,720 | -2.39% | 0.28% |
| 13 | Dallas, TX | 149,320 | -2.57% | 0.39% |
| 14 | Fort Worth, TX | 118,920 | -2.59% | 0.44% |
| 15 | Columbia, SC | 135,980 | -2.66% | 1.96% |
| 16 | Omaha, NE | 131,290 | -2.75% | 1.46% |
| 17 | Denver, CO | 204,570 | -2.79% | 3.02% |
| 18 | Greensboro, NC | 135,920 | -2.80% | 0.95% |
| 19 | Albany, NY | 188,600 | -2.82% | 0.78% |
| 20 | Baton Rouge, LA | 160,370 | -2.85% | 0.39% |
| 21 | Tulsa, OK | 131,600 | -2.86% | 1.50% |
| 22 | Syracuse, NY | 122,420 | -2.87% | 2.32% |
| 23 | New Orleans, LA | 158,900 | -3.10% | -0.69% |
| 24 | Indianapolis, IN | 105,100 | -3.23% | 0.73% |
| 25 | Gary, IN | 101,180 | -3.30% | 0.44% |
| 26 | Austin, TX | 187,590 | -3.33% | 0.96% |
| 27 | Seattle, WA | 340,050 | -3.42% | 6.54% |
| 28 | San Antonio, TX | 148,580 | -3.71% | 0.71% |
| 29 | Grand Rapids, MI | 76,620 | -3.88% | 0.83% |
| 30 | Milwaukee, WI | 199,820 | -3.92% | -0.22% |
| 31 | Oklahoma City, OK | 127,740 | -4.02% | 0.98% |
| 32 | Greenville, SC | 140,430 | -4.10% | 1.26% |
| 33 | El Paso, TX | 131,350 | -4.27% | 1.03% |
| 34 | Chicago, IL | 200,650 | -4.30% | 2.24% |
| 35 | Raleigh, NC | 215,510 | -4.38% | 1.91% |
| 36 | McAllen, TX | 62,280 | -4.54% | 2.29% |
| 37 | Boston, MA | 315,020 | -4.56% | 3.42% |
| 38 | Cambridge, MA | 341,430 | -4.73% | 4.17% |
| 39 | Oakland, CA | 360,660 | -4.97% | 11.96% |
| 40 | Minneapolis, MN | 178,870 | -4.99% | 2.31% |
| 41 | Atlanta, GA | 117,910 | -5.12% | 1.71% |
| 42 | Lake County, IL | 223,770 | -5.39% | 1.10% |
| 43 | Richmond, VA | 203,100 | -5.50% | 1.29% |
| 44 | Tacoma, WA | 210,430 | -5.57% | 10.82% |
| 45 | Knoxville, TN | 141,240 | -5.76% | 0.90% |
| 46 | Toledo, OH | 74,940 | -6.00% | 2.40% |
| 47 | Washington, DC | 288,280 | -6.26% | 4.61% |
| 48 | Nashville, TN | 166,150 | -6.36% | 0.64% |
| 49 | Warren, MI | 142,450 | -6.40% | 2.59% |
| 50 | Columbus, OH | 129,030 | -6.54% | 2.02% |
| 51 | Cleveland, OH | 86,910 | -6.98% | 1.34% |
| 52 | Allentown, PA | 219,080 | -7.17% | -0.78% |
| 53 | Worcester, MA | 199,410 | -7.39% | 1.70% |
| 54 | Dayton, OH | 91,420 | -7.43% | 1.17% |
| 55 | Bridgeport, CT | 377,710 | -7.62% | 2.30% |
| 56 | San Francisco, CA | 510,210 | -7.97% | 14.30% |
| 57 | Cincinnati, OH | 113,320 | -8.30% | 1.19% |
| 58 | Akron, OH | 68,030 | -8.42% | 1.17% |
| 59 | Virginia Beach, VA | 202,660 | -8.58% | -2.37% |
| 60 | Portland, OR | 241,650 | -9.01% | 5.35% |
| 61 | Hartford, CT | 228,810 | -9.02% | 4.89% |
| 62 | Springfield, MA | 181,150 | -9.18% | 4.48% |
| 63 | Peabody, MA | 292,300 | -9.23% | 4.80% |
| 64 | Philadelphia, PA | 209,070 | -9.23% | 5.20% |
| 65 | Detroit, MI | 83,360 | -9.40% | 2.82% |
| 66 | New Haven, CT | 226,560 | -10.50% | 3.97% |
| 67 | Youngstown, OH | 60,330 | -10.71% | 1.61% |
| 68 | Bethesda, MD | 332,910 | -11.02% | 1.05% |
| 69 | Albuquerque, NM | 177,680 | -11.03% | 2.89% |
| 70 | Poughkeepsie, NY | 220,170 | -11.24% | 0.72% |
| 71 | Newark, NJ | 367,380 | -11.29% | 4.53% |
| 72 | San Diego, CA | 325,600 | -11.65% | 9.62% |
| 73 | Providence, RI | 208,170 | -12.09% | 3.51% |
| 74 | Honolulu, HI | 551,910 | -12.81% | 3.31% |
| 75 | Sacramento, CA | 169,100 | -12.87% | 6.10% |
| 76 | Nassau, NY | 368,260 | -13.14% | -3.65% |
| 77 | Santa Ana, CA | 436,680 | -13.15% | 6.32% |
| 78 | Edison, NJ | 323,260 | -13.25% | 2.77% |
| 79 | Wilmington, DE | 199,940 | -13.28% | 2.34% |
| 80 | Salt Lake City, UT | 215,530 | -13.31% | 2.31% |
| 81 | Baltimore, MD | 243,980 | -13.87% | 2.65% |
| 82 | Camden, NJ | 197,470 | -14.12% | 1.36% |
| 83 | San Jose, CA | 461,660 | -15.28% | 6.14% |
| 84 | New York, NY | 416,730 | -15.63% | -1.33% |
| 85 | Tucson, AZ | 170,650 | -15.93% | 2.97% |
| 86 | Stockton, CA | 166,300 | -15.98% | 10.08% |
| 87 | Bakersfield, CA | 159,070 | -16.31% | 9.82% |
| 88 | Oxnard, CA | 283,240 | -17.52% | 8.58% |
| 89 | Fresno, CA | 184,720 | -17.71% | 7.19% |
| 90 | Riverside, CA | 162,240 | -18.90% | 7.71% |
| 91 | Los Angeles, CA | 260,250 | -19.41% | 8.43% |
| 92 | Phoenix, AZ | 122,770 | -20.50% | 0.74% |
| 93 | Jacksonville, FL | 145,250 | -22.31% | 0.09% |
| 94 | Tampa, FL | 135,260 | -22.77% | 1.26% |
| 95 | Las Vegas, NV | 137,410 | -23.65% | -0.93% |
| 96 | West Palm Beach, FL | 223,470 | -23.85% | 1.39% |
| 97 | Bradenton, FL | 152,640 | -25.98% | 0.60% |
| 98 | Fort Lauderdale, FL | 187,170 | -30.16% | -1.59% |
| 99 | Orlando, FL | 142,920 | -30.73% | -2.40% |
| 100 | Miami, FL | 183,530 | -32.99% | -4.20% |
| Rank by 2010 price change | Metro Area | 2009 median house price | Projected price change 2010 | Projected price change 2011 |
| --- | --- | --- | --- | --- |
| 1 | Kansas City, MO | 135,420 | -1.81% | 0.16% |
| 2 | Wichita, KS | 115,260 | -2.32% | 0.42% |
| 3 | St. Louis, MO | 115,720 | -2.39% | 0.28% |
| 4 | Omaha, NE | 131,290 | -2.75% | 1.46% |
| 5 | Indianapolis, IN | 105,100 | -3.23% | 0.73% |
| 6 | Gary, IN | 101,180 | -3.30% | 0.44% |
| 7 | Grand Rapids, MI | 76,620 | -3.88% | 0.83% |
| 8 | Milwaukee, WI | 199,820 | -3.92% | -0.22% |
| 9 | Chicago, IL | 200,650 | -4.30% | 2.24% |
| 10 | Minneapolis, MN | 178,870 | -4.99% | 2.31% |
| 11 | Lake County, IL | 223,770 | -5.39% | 1.10% |
| 12 | Toledo, OH | 74,940 | -6.00% | 2.40% |
| 13 | Warren, MI | 142,450 | -6.40% | 2.59% |
| 14 | Columbus, OH | 129,030 | -6.54% | 2.02% |
| 15 | Cleveland, OH | 86,910 | -6.98% | 1.34% |
| 16 | Dayton, OH | 91,420 | -7.43% | 1.17% |
| 17 | Cincinnati, OH | 113,320 | -8.30% | 1.19% |
| 18 | Akron, OH | 68,030 | -8.42% | 1.17% |
| 19 | Detroit, MI | 83,360 | -9.40% | 2.82% |
| 20 | Youngstown, OH | 60,330 | -10.71% | 1.61% |
| Rank by 2010 price change | Metro Area | 2009 median house price | Projected price change 2010 | Projected price change 2011 |
| --- | --- | --- | --- | --- |
| 1 | Pittsburgh, PA | 114,750 | 0.41% | 2.23% |
| 2 | Rochester, NY | 114,630 | -0.39% | 1.93% |
| 3 | Buffalo, NY | 108,170 | -1.54% | 0.86% |
| 4 | Albany, NY | 188,600 | -2.82% | 0.78% |
| 5 | Syracuse, NY | 122,420 | -2.87% | 2.32% |
| 6 | Boston, MA | 315,020 | -4.56% | 3.42% |
| 7 | Cambridge, MA | 341,430 | -4.73% | 4.17% |
| 8 | Allentown, PA | 219,080 | -7.17% | -0.78% |
| 9 | Worcester, MA | 199,410 | -7.39% | 1.70% |
| 10 | Bridgeport, CT | 377,710 | -7.62% | 2.30% |
| 11 | Hartford, CT | 228,810 | -9.02% | 4.89% |
| 12 | Springfield, MA | 181,150 | -9.18% | 4.48% |
| 13 | Peabody, MA | 292,300 | -9.23% | 4.80% |
| 14 | Philadelphia, PA | 209,070 | -9.23% | 5.20% |
| 15 | New Haven, CT | 226,560 | -10.50% | 3.97% |
| 16 | Poughkeepsie, NY | 220,170 | -11.24% | 0.72% |
| 17 | Newark, NJ | 367,380 | -11.29% | 4.53% |
| 18 | Providence, RI | 208,170 | -12.09% | 3.51% |
| 19 | Nassau, NY | 368,260 | -13.14% | -3.65% |
| 20 | Edison, NJ | 323,260 | -13.25% | 2.77% |
| 21 | Camden, NJ | 197,470 | -14.12% | 1.36% |
| 22 | New York, NY | 416,730 | -15.63% | -1.33% |
| Rank by 2010 price change | Metro Area | 2009 median house price | Projected price change 2010 | Projected price change 2011 |
| --- | --- | --- | --- | --- |
| 1 | Birmingham, AL | 139,330 | -0.78% | 1.29% |
| 2 | Memphis, TN | 107,690 | -1.53% | 2.41% |
| 3 | Houston, TX | 146,350 | -1.75% | 0.38% |
| 4 | Louisville, KY | 124,660 | -2.24% | 1.05% |
| 5 | Little Rock, AR | 130,380 | -2.27% | 2.01% |
| 6 | Charlotte, NC | 185,880 | -2.30% | 1.42% |
| 7 | Dallas, TX | 149,320 | -2.57% | 0.39% |
| 8 | Fort Worth, TX | 118,920 | -2.59% | 0.44% |
| 9 | Columbia, SC | 135,980 | -2.66% | 1.96% |
| 10 | Greensboro, NC | 135,920 | -2.80% | 0.95% |
| 11 | Baton Rouge, LA | 160,370 | -2.85% | 0.39% |
| 12 | Tulsa, OK | 131,600 | -2.86% | 1.50% |
| 13 | New Orleans, LA | 158,900 | -3.10% | -0.69% |
| 14 | Austin, TX | 187,590 | -3.33% | 0.96% |
| 15 | San Antonio, TX | 148,580 | -3.71% | 0.71% |
| 16 | Oklahoma City, OK | 127,740 | -4.02% | 0.98% |
| 17 | Greenville, SC | 140,430 | -4.10% | 1.26% |
| 18 | El Paso, TX | 131,350 | -4.27% | 1.03% |
| 19 | Raleigh, NC | 215,510 | -4.38% | 1.91% |
| 20 | McAllen, TX | 62,280 | -4.54% | 2.29% |
| 21 | Atlanta, GA | 117,910 | -5.12% | 1.71% |
| 22 | Richmond, VA | 203,100 | -5.50% | 1.29% |
| 23 | Knoxville, TN | 141,240 | -5.76% | 0.90% |
| 24 | Washington, DC | 288,280 | -6.26% | 4.61% |
| 25 | Nashville, TN | 166,150 | -6.36% | 0.64% |
| 26 | Virginia Beach, VA | 202,660 | -8.58% | -2.37% |
| 27 | Bethesda, MD | 332,910 | -11.02% | 1.05% |
| 28 | Wilmington, DE | 199,940 | -13.28% | 2.34% |
| 29 | Baltimore, MD | 243,980 | -13.87% | 2.65% |
| 30 | Jacksonville, FL | 145,250 | -22.31% | 0.09% |
| 31 | Tampa, FL | 135,260 | -22.77% | 1.26% |
| 32 | West Palm Beach, FL | 223,470 | -23.85% | 1.39% |
| 33 | Bradenton, FL | 152,640 | -25.98% | 0.60% |
| 34 | Fort Lauderdale, FL | 187,170 | -30.16% | -1.59% |
| 35 | Orlando, FL | 142,920 | -30.73% | -2.40% |
| 36 | Miami, FL | 183,530 | -32.99% | -4.20% |
| Rank by 2010 price change | Metro Area | 2009 median house price | Projected price change 2010 | Projected price change 2011 |
| --- | --- | --- | --- | --- |
| 1 | Denver, CO | 204,570 | -2.79% | 3.02% |
| 2 | Seattle, WA | 340,050 | -3.42% | 6.54% |
| 3 | Oakland, CA | 360,660 | -4.97% | 11.96% |
| 4 | Tacoma, WA | 210,430 | -5.57% | 10.82% |
| 5 | San Francisco, CA | 510,210 | -7.97% | 14.30% |
| 6 | Portland, OR | 241,650 | -9.01% | 5.35% |
| 7 | Albuquerque, NM | 177,680 | -11.03% | 2.89% |
| 8 | San Diego, CA | 325,600 | -11.65% | 9.62% |
| 9 | Honolulu, HI | 551,910 | -12.81% | 3.31% |
| 10 | Sacramento, CA | 169,100 | -12.87% | 6.10% |
| 11 | Santa Ana, CA | 436,680 | -13.15% | 6.32% |
| 12 | Salt Lake City, UT | 215,530 | -13.31% | 2.31% |
| 13 | San Jose, CA | 461,660 | -15.28% | 6.14% |
| 14 | Tucson, AZ | 170,650 | -15.93% | 2.97% |
| 15 | Stockton, CA | 166,300 | -15.98% | 10.08% |
| 16 | Bakersfield, CA | 159,070 | -16.31% | 9.82% |
| 17 | Oxnard, CA | 283,240 | -17.52% | 8.58% |
| 18 | Fresno, CA | 184,720 | -17.71% | 7.19% |
| 19 | Riverside, CA | 162,240 | -18.90% | 7.71% |
| 20 | Los Angeles, CA | 260,250 | -19.41% | 8.43% |
| 21 | Phoenix, AZ | 122,770 | -20.50% | 0.74% |
| 22 | Las Vegas, NV | 137,410 | -23.65% | -0.93% |