Auto sales: Good end to terrible year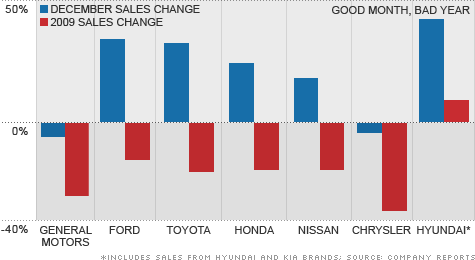 NEW YORK (CNNMoney.com) -- The auto industry ended its worst year in memory with one of its best sales months of the year.
Overall industrywide U.S. sales soared 15% compared to a year ago, the biggest percentage gain since July 2005. Total sales topped the 1 million mark for only the second time this year, trailing only August. Sales spiked that month thanks to the federal government's Cash for Clunkers program.
Most of the automakers posted better than expected results as five of the seven largest automakers reported increases of 18% or more from a year earlier.
But the boom in December wasn't enough to lift the industry out of its year-long slump. Last year was a tumultuous one for the industry to say the least as GM and Chrysler filed for bankruptcy and many auto plants and dealerships closed.
Full-year sales fell 21% from 2008 to 10.4 million, a 27-year low. Last year's sales are also far below the 16.7 million annual average during the 10 years before the start of the recession.
"I think December was a decent end to a year to forget," said Jesse Toprak, vice president of industry trends for auto price tracker TrueCar.com. "We've reached the point when year-over-year comparisons should start to look pretty good. But we shouldn't lose sight that these are still weak numbers by historic standards."
Better sales outlook. Automakers said they were hopeful that the strong sales in December, which came without the help of the Clunkers program or large incentives, might give them some momentum heading into 2010. They said they were particularly encouraged by stronger sales at the end of the month, coupled with steady improvement during the fourth quarter.
"Clearly, December came in stronger than we thought, and strengthened for both ourselves and our competitors at the end of the month," said Mike DiGiovanni, GM's executive director of industry analysis.
DiGiovanni added that he was encouraged by signs of a recovery in the economy, but he was not ready to suggest that auto sales have a smooth road ahead in 2010.
"People took advantage of the fact that they're increasingly feeling more confident about their jobs and their income," DiGiovanni said. "What we have to ask ourselves is, 'Is this going to be a continued upward trend?'"
GM said it now forecasts full-year industrywide sales in the 11 million to 12 million range, while Ford raised its forecast to 11.5 million to 12.5 million.
Ford officials said they were particularly pleased by the 1 percentage point improvement in their market share, the first gain since 1995. But executives said despite that momentum, they are still only cautiously optimistic going into 2010.
"I'm leaving my seat belt on because I think that volatility is an element of the new norm," said Ken Czubay, Ford's vice president in charge of U.S. sales.
Encouraging December numbers. Ford Motor's U.S. sales in December soared 34% from a year-ago, much better than U.S.-based rival GM, which reported a 6% decline, and Chrysler, where sales slipped 4%.
But much of GM's decline was due to a 55% plunge in sales at the company's discontinued brands -- Saturn, Hummer, Pontiac and Saab. Sales at the company's four core U.S. brands -- Chevrolet, Buick, GMC and Cadillac -- were up a combined 2% compared to a year ago.
Sales at Japanese automaker Toyota Motor shot up 32% compared to a year ago while Honda Motor's sales were up 24% and Nissan said sales were up 18%.
Korean automaker Hyundai Motor Group, which includes both the Hyundai and Kia brands, continued to make inroads in the U.S. market. Combined sales at the two brands were up 42%.
But the full year numbers were as bad as December's were encouraging. Ford's sales for the full year fell 15% from 2008, while GM suffered a 30% drop. Chrysler's full-year sales plunged 36% and the company sold fewer than one million vehicles for the first time since the 1960's. Full-year sales fell 19% at both Honda and Nissan and 20% at Toyota.
The only major automaker with a gain in sales for the year was Hyundai, which reported a 9% increase.
"Many of the automakers can celebrate a bright ending to a tough year this holiday season," said Jessica Caldwell, director of industry analysis for Edmunds.com. "However, the industry is still far below its comfort zone in terms of sales volume."