Will bonuses save the day for Manhattan real estate?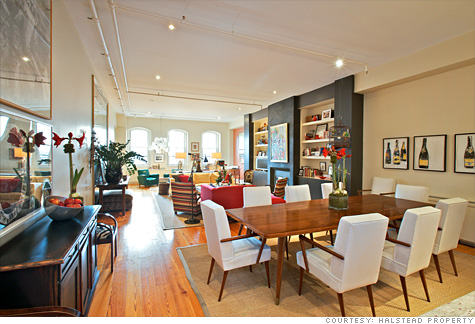 NEW YORK (CNNMoney.com) -- Bonuses are making a comeback on Wall Street and that might help stabilize the Manhattan real estate market.
While Manhattan home prices dropped between 10% and 15% in the last quarter of 2009 compared with a year earlier, the losses have started to slack off, according to a host of markets reports released Tuesday by big New York brokerage firms.
"People feel there's stability in New York. The fear factor is gone. The year 2009 started out in absolute fear. This year is starting off in hopefulness," said Pam Liebman, CEO of the Corcoran Group, one of New York's biggest real estate brokers.
For the fourth quarter, the Corcoran Group reported a median price drop of 15% year-over-year to $795,000. That was also 4% lower than three months earlier.
Prudential Douglas Elliman put the declines at 10% year-over-year and 4.7% quarter-over-quarter to $810,000.
And Brown Harris Stephens and Halstead, whose reports are both prepared by their mutual chief economist, Greg Heym, reported an 11% drop in median price year-over-year to $800,000, but a 2% gain compared with last quarter.
"Fundamentals are beginning to look a lot better," said Heym. "Price declines have been slimming, the economy seems to be in recovery and Wall Street bonuses are back."
Homebuyers are back
The biggest improvement was in sales volume, which was actually above average for the quarter. Sales grew 8% year-over-year and 11% quarter-over-quarter, according to Jonathan Miller of the appraisal firm Miller Samuel, which produces the market report for Prudential Douglas Elliman.
All those sales carved into inventory, culling 18% from what was available just a quarter earlier and 25% year-over-year, Miller said.
Homebuyers hit the market as Wall Street's fiscal health improved. Financial industry jobs pay much better than any other major New York business, with the sector accounting for just 5% of employment in the city but a whopping 25% of earnings. And those bankers pulling down big bonuses buy many of the luxury apartments sold in Manhattan's priciest districts.
There's also a domino effect: Wall Street bonuses buy restaurant meals, clothes and luxury goods of all kinds, which stimulates employment all over town. And those workers buy apartments, too -- though not usually at the same price points as the financiers.
Not to mention that higher stock prices also boosted many investor's assets and got them thinking about buying again. "The stock market rebound got people off the fence," said Miller.
Quick turnaround
New York real estate can turn around very quickly. It is and has been a very constrained housing market for a long time: There's just so little available land for development.
During good economic times, there has been a lot of money chasing few homes for sales. When prices got high enough, it compelled developers to begin building new condos, which are very expensive to construct. But when prices crashed, new development crashed, too.
New construction permits are down 90% compared with a year ago, reported Heym. With new units no longer coming onto the market and with Manhattan's population stable or even growing, the demand for the homes could intensify this year and drive prices up again.
Already, according to Liebman, "There are lots of bidding wars. But the bidders don't go wildly over the listing price like they used to."
However, any price upturn could encourage sellers who had been holding back to put homes on the market. There's no way to know how much of this "shadow inventory" could emerge, but any significant addition could dampen prices.
Miller also pointed out that job losses may continue, which could certainly harm buyer confidence, even for people still with jobs. And obtaining financing for mortgages is also still challenging.
"We don't see credit easing right now," said Miller. "We'll probably see some modest price erosion before they turn during the second half of 2010."