Record 3 million households hit with foreclosure in 2009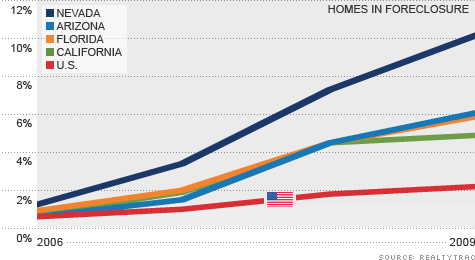 NEW YORK (CNNMoney.com) -- Almost 3 million homeowners received at least one foreclosure filing during 2009, setting a new record for the number of people falling behind on their mortgage payments.
RealtyTrac, the online marketer of foreclosed homes, reported that one in 45 households -- or 2,824,674 properties nationwide -- were in default last year. That's 21% more than in 2008, and more than double 2007's total.
The dramatic, sustained increase occurred despite efforts, such as President Obama's Home Affordable Modification Program, to reduce foreclosure filings.
"As bad as the 2009 numbers are, they probably would have been worse if not for legislative and industry-related delays in processing delinquent loans," said RealtyTrac CEO James Saccacio in a prepared statement.
There was at least one bright spot in the report: In spite of a 21% increase in filings, the number of homes actually repossessed was 871,086 -- up just 1.1% above 2008's total.
"That was driven primarily by short-term factors: trial loan modifications, state legislation extending the foreclosure process and an overwhelming volume of inventory clogging the foreclosure pipeline," said Saccacio.
Filings peaked in July with more than 361,000 homes receiving notices. After that, filings dropped four straight months.
Much of that is attributable to the government-led efforts to modify loans to make them affordable, though it is still uncertain whether the efforts have forestalled -- or just delayed -- foreclosure.
By early December more than 680,000 borrowers had gotten temporary workouts but only a few thousand had been permanently modified.
That leaves Saccacio a bit pessimistic about the future. "In the long term, a massive supply of delinquent loans continues to loom over the housing market," said Saccacio. "And many of those delinquencies will end up in the foreclosure process in 2010."
Pain central
The four states with the most foreclosure filings -- California, Florida, Arizona and Illinois -- accounted for a full 50% of the nation's properties receiving notices.
Nevada recorded the highest rate of foreclosures, at 10%, followed by Arizona, at 6.1%; Florida, 5.9%; and California, 4.75%.
But some states where foreclosure hit hard early are now faring better. Indiana foreclosures fell by 9.9%, Ohio by 10.5% and Rhode Island by 23.6%.
California, by far the most heavily populated in the union, posted the most filings with 632,573, up 20.8% from 2008. Golden State cities have also recorded some of the steepest declines in home prices, with values falling 50% or more in some Central Valley cities.