Surprise: Recessions don't spark business startups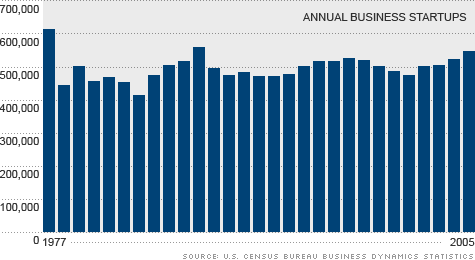 NEW YORK (CNNMoney.com) -- Think recessions spur laid-off workers to launch new ventures? Think again.
A study released this week by the Kauffmann Foundation found that the number of new businesses incorporated annually in the U.S. has remained remarkably consistent over the years.
"We have a surprisingly steady supply of new firms, despite frequent and sometimes sharp changes in economic conditions," the study's authors concluded. "No matter which data set one examines, any given year's total of new companies is consistent with other years, with annual numbers fluctuating only mildly."
Researchers Dane Stangler and Paul Kedrosky crunched data from the U.S. Census Bureau, the Small Business Administration and the Bureau of Labor Statistics, covering 1977 through March 2009. About 600,000 new businesses were formed each year during that 30-year period. The data includes formally established new enterprises as well as new franchise locations and other outposts of existing companies.
For more than a year, the potential for startup growth has been promoted as the silver lining of the recession.
The conventional wisdom goes that as people lose their jobs, they are inspired to launch that innovative little company that's been percolating in the back of their minds for years.
Recessions also lower the cost of entry for new companies and make customers more willing to explore less-expensive alternatives to current products or services they're using, said Rhonda Abrams, founder of entrepreneurial consulting firm The Planning Shop.
"I liken a recession to a forest fire -- it can be devastating, but can clear out weak and old growth," Abrams said. "Small upstart companies have a chance to get a hold better when their competitors are weakened."
But Kaufmann researcher Stangler said there just isn't data to back up that kind of 'hopeful thinking."
"It's not that the reasons behind that thinking are bad, it's just that from the evidence, we don't expect there to be a huge increase in the amount of startups or a decrease during this recession," he said. The Kaufmann Foundation, based in Kansas City, Mo., is a nonprofit organization focused on entrepreneurship research and advancement.
To check their findings from the last three decades, Stangler and Kedrosky went back even further, to census reports from the 1940s and 1950s. There, they found remarkably similar results. Only one year -- 1946 -- had a noticeable startup spike, a result the researchers attribute to the effects of the end of World War II and a flood of returning war veterans.
What's behind the consistency in startup launches? Stangler said two findings stood out: Even in down times, the U.S. has a fairly stable and consistent economy. Also, the number of working-age adults in the workforce fluctuates little.
But just because there's no data to prove that economic turmoil spurs business growth doesn't mean recession-era entrepreneurs should be disheartened, Abrams said. Citing her own research, she notes that the majority of current Fortune 500 companies were started during tough economic times.
The Kauffman Foundation has similar findings: More than half of 2009's Fortune 500 companies launched in bear markets, it reported in June.
"Even if the numbers of new companies are consistent, you have a better chance at being a big success if you form during a recession or a depression than in good times," Abrams said.
She also believes that when the dust has cleared, this recession will have spurred more new businesses than past downturns because the percentage of those who are unemployed will remain persistently high.
"More people will turn to consulting and other kinds of low-cost-of-entry businesses to tide them over," Abrams said.