Will bonus backlash pay for investors?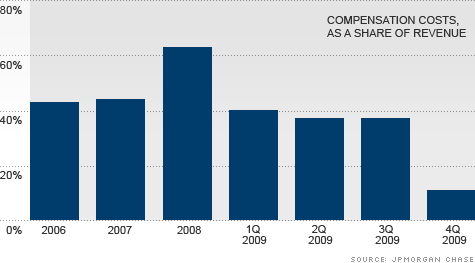 NEW YORK (Fortune) -- Thanks to the outcry against Wall Street pay, bank shareholders are in line for a little bonus of their own.
Assailed for their profligate spending just a year after a multitrillion-dollar taxpayer rescue, the big banks are trimming back on employee pay and benefits.
JPMorgan Chase (JPM, Fortune 500) set aside $1.3 billion less in the fourth quarter for its investment bankers than it did in previous quarters this year, based on compensation costs as a share of revenue.
Analysts expect Goldman Sachs (GS, Fortune 500), which earlier this year appeared on track for record bonus payouts, to have cut back on pay and perks in the fourth quarter as well - though the average paycheck for a Goldman worker is still expected to reach into the high six figures. The firm is due to report its 2009 results on Thursday.
Compensation is the banks' biggest single expense, so anything they skim off the bonus pool flows directly to the bottom line. That's welcome news for investors, at a time when trading profits are softening, bailout rage is simmering and bank taxes are in vogue in Washington.
That said, the pay savings may not translate into greater value for bank shareholders, given all the uncertainty surrounding the banks' outlook.
While slight reductions in massive pay packages may help the bottom line now, there are still looming questions about how profitable banks will be in the future, at a time of increasing pressure from shareholders, regulators and Congress.
"I applaud the banks' change in direction," said Laura Berry, executive director of the socially responsible investing group the Interfaith Center on Corporate Responsibility. "But what they're doing is not a bold demonstration of accepting responsibility or rejecting arrogance, and that's really what we need to see."
JPMorgan Chase on Friday posted a fourth-quarter profit $3.3 billion, beating analysts' expectations, thanks in part to lower compensation expenses at its investment banking unit.
That division set aside $549 million for what it calls "headcount-related expense" - salary and benefits, as well as other noncompensation costs related to employees.
That's 11% of the investment bank's revenue for the quarter - down from the 38% average over the past three quarters. If the company had paid its investment bankers at the higher rate in the fourth quarter, it would have cost shareholders an additional $1.3 billion before taxes.
None of this is to pity the poor Wall Streeter. Even with the bonus pool having been drained a bit, the average JPMorgan Chase investment banker is in line to receive $378,600 in pay and perks this year.
"That is an astonishing sum, considering the pain being borne by the rest of the economy," said Berry.
Earlier this year, Goldman was in line to pay its workers double that amount. But estimates of how much it will set aside for compensation have been creeping down, largely in response to the political flogging the banks have been taking.
Goldman and rivals such as Morgan Stanley (MS, Fortune 500) plan to pay top executives largely in stock, rather than cash. The cost of share issuances is drawn out over five years, reducing the current-year cost.
Analysts at JMP Securities, for instance, estimate that stock-based bonuses will account for a third of discretionary year-end compensation at Goldman in 2009, up from a quarter in 2008. They project that total compensation costs as a share of revenue will drop to 42% in 2009 and 2010 from an average of 45.5% over the past decade.
That will boost earnings somewhat this quarter and in coming years.
Yet even big earnings beats may not translate into impressive stock gains, after the strong runs the banks have had off last year's panic lows.
Shares in Goldman and JPMorgan each fell 2% Friday.
What's more, calls to crack down on the banks are multiplying. Both the Federal Reserve and the FDIC have taken more aggressive stances on pay. In addition to President Obama's plan to levy a fee on banks' nondeposit liabilities, Rep. Dennis Kucinich, D-Ohio, this week proposed a 75% tax on bank bonuses.
Despite those efforts and a push by regulators to reform compensation practices, few expect the bull market for Wall Street pay to end anytime soon.
"There will be a lot more deferred compensation and some more stock-based pay, but I'm not optimistic about the long-term impact," said James Wade, a professor of strategy at Georgetown University's McDonough business school. "We are going to keep seeing creative justifications for high levels of compensation."