GM looks to China for salvation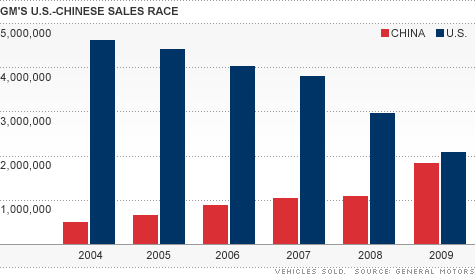 NEW YORK (CNNMoney.com) -- Can China save General Motors?
As the automaker attempts to end five years of losses, that is a key question for both its long-term outlook and taxpayers. The ability of the Treasury Department to recover the $50 billion in funds given to GM as part of its bailout will depend on the company returning to a strong, consistent level of profitability.
China passed the United States in total vehicle sales for the first time last year and experts project it will stay ahead of the U.S. in 2010, even if there is a rebound in sales here.
GM's sales in China soared 67% in 2009 while sales in the U.S. plunged 30% from 2008. The company still sold more vehicles in the U.S. than in China, but the gap is rapidly closing.
Tim Lee, the president of international operations for GM, predicted at the recent Detroit auto show that GM's sales in China could soon pass sales in the United States.
Perhaps more importantly, GM continues to gain share in China, while it has lost share in the U.S. market for decades. And in terms of profits, there really is no competition between the two markets.
GM reported that its Asia Pacific region, of which China is the largest part, produced operating profits before items of $429 million in the third quarter. At the same time, GM North America lost $651 million on that basis.
"Asia is such an important cog in their future," said Michael Robinet, vice president of global vehicle forecasts for CSM Worldwide, a leading auto consultant. "That's where the real payoff is going to come at the end of the day."
But as important as China is for GM's future, success there won't be enough to turnaround the troubled automaker if it can't end its losses in Europe and North America, according to industry experts.
"I think China can play a part in saving GM, but in order to get GM fully back to profitability, they're going to have to make money in several regions, especially North America," said Rebecca Linland, director of industry research for IHS Global Insight.
David Cole, chairman of the Center for Automotive Research, a Michigan think tank, is optimistic about GM's ability to be profitable in North America, given the cost restructuring it achieved during bankruptcy. He also expects a solid rebound in sales in the coming years.
But other experts are not as sanguine about GM's outlook in its home market.
John Casesa, an industry expert with the Casesa Shapiro Group, said while the federal bailout of GM limited the problems for the company last year, it also limited its ability to recover going forward by keeping excess capacity operating in North America. That will probably put pressure on vehicle prices and potential profits going forward.
GM also has a U.S. product mix still weighted towards light trucks instead of more fuel efficient car models, which could cause it problems and squeeze its profitability as tougher fuel economy standards take effect in coming years.
Those ongoing concerns about North American profitability make China all the more important to the company. But there are questions about just how much of a boost GM could get from China.
China can help, but it's not a savior
China is still primarily a market for sub-compact and compact cars, which sell for a price well below the average price of about $27,000 for GM vehicles sold in the United States. So even with lower labor costs in China, the profit margins on smaller cars are expected to be lower.
Also limiting the flow of profits from China is the fact that all of its operations there are joint ventures with Chinese automakers, rather than being wholly-owned subsidiaries. At best, GM can hope for half the profits from Chinese sales.
More importantly, Lee says it makes sense for GM to take the money it is making in China and use it to expand capacity there, rather than covering losses back at home.
"If we want keep up with the forecasted growth in China over the next decade, we will need to consider future capacity expansions," he said. "That's expensive."
Nonetheless, China can help GM's North American profitability by allowing the company to spread out its development costs, especially for small cars.
For example, the Chevrolet Cruze, due in U.S. showrooms later this year, went on sale in China last year. GM Vice Chairman Bob Lutz said by lowering and spreading out the fixed costs, GM will be able to do what it hasn't done in years and make money on U.S. small car sales.
"We were always able to cover our variable costs when we sold small cars, the labor and materials," he said. "What we couldn't cover were the fixed costs."