Revenge of the regional banks!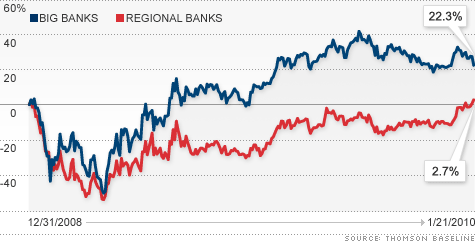 NEW YORK (CNNMoney.com) -- President Obama killed the banks and the stock market on Thursday. That's what all the headlines said. But those headlines don't tell the whole story.
Yes, the latest bank reform proposal from the White House, a new Glass-Steagall for the 21st century if you will, was not greeted warmly by investors in some bank stocks. But to simply say that bank stocks tanked and brought the market down with them is wrong.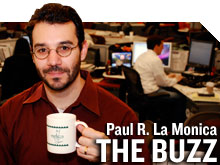 A small number of banking behemoths did plunge Thursday. Goldman Sachs (GS, Fortune 500) and Morgan Stanley (MS, Fortune 500) each lost 4%, despite Goldman's report of a nearly $5 billion quarterly profit. Citigroup (C, Fortune 500) sank 5%. And Bank of America (BAC, Fortune 500) and JPMorgan Chase (JPM, Fortune 500) both fell more than 6%.
But shares of many regional banks actually bucked the market's downward trend Thursday. I'm not talking about tiny community banks either. These are all banks that are in the S&P 500.
Stocks in Ohio banks Fifth Third (FITB, Fortune 500), Huntington Bancshares (HBAN) and KeyCorp (KEY, Fortune 500) all rose at least 5%. Atlanta's SunTrust (STI, Fortune 500) shot up nearly 5% while other banks with their homes in the Southeast, such as Regions Financial (RF, Fortune 500) and BB&T (BBT, Fortune 500), each gained about 2%.
So it looked like not all bank investors were concerned by Obama and Paul Volcker laying the smack down on the industry's Goliaths. Glass-Steagall, Glass Shmeagall!
(That's Shmeagall, not to be confused with Smeagol, the member of the "river folk" who eventually transformed into the hideous "precious"-coveting Gollum in "The Hobbit" and "Lord of the Rings" trilogy. Yes, I'm a geek.)
It makes sense that some of the regionals would rally while their bigger brethren were getting dumped.
For one, most of the regionals do not have nearly as large a presence in the types of risky activities, such as proprietary trading and running hedge funds, that Obama and Volcker specifically want to curb.
So the proposed restrictions, if passed by Congress, would not hurt the regionals nearly as much as the Wall Street titans.
In addition, regional bank stocks, on average, did not do nearly as well in 2009 as the giant banks did last year. That means that some of the regionals that lagged last year could surge this year as they play catch-up to their larger rivals.
"Last year, the 'too big to fail' concept helped the mega-banks while some smaller regional banks underperformed. Obama's proposal will neutralize the advantages that some of the too-big-to-fail mega-banks had over regional banks," said Alan Lancz, director of research at LanczGlobal.com, an independent research firm based in Toledo, Ohio.
It's even possible that while Washington wages its war against big banks, another corner of the government may continue to help out the regional banks.
Faced with a large number of smaller community banks on the brink, the FDIC has been helping some of the regional banks scoop up failed institutions.
"Regional banks should do well in 2010. There will be significant opportunities for many of them to benefit from FDIC-assisted transactions of banks in attractive growth markets," said Frank Barkocy, director of research with Mendon Capital Advisors, an investment firm that focuses mainly on financial stocks
Regional banks still have loan problems
But investors have to be careful. Another reason for the regional rally Thursday was because investors seemed to be heartened by results from KeyCorp, Fifth Third and Dallas-based Comerica (CMA). These three all reported quarterly losses that narrowed from a year earlier and hinted that credit quality was improving.
Note that I said narrower losses. Not profits. Several of the top regionals, including KeyCorp, Regions Financial and Salt Lake City's Zions Bancorp (ZION), are all expected to report losses in 2010. So much for a recovery.
"People were encouraged and surprised by the credit quality trends for some banks, especially the ones in the Midwest," said Blake Howells, director of equity research for Becker Capital Management, an investment firm in Portland, Ore. "But we are not going to see a material snapback in earnings in the near-term."
Investors seemed to realize that all is not rosy for the regionals Friday. Some of Thursday's winners lost ground even though SunTrust, BB&T and Huntington Bancshares all reported that they, too, thought the worst might be over in their loan portfolios. But BB&T was the only one that generated a profit in the quarter.
The regionals may be putting aside less money to cover potential loan losses, but it's hard to describe the current environment for credit as healthy.
Commercial real estate may not be the ticking time bomb it was one thought to be, but several regional banks could still get hurt from bad loans in that area. What's more, a stubbornly high unemployment rate could mean more delinquencies for credit cards and mortgages.
"You have to look at the regional banks on a case-by-case basis. There might be more loan problems ahead, so it's not clear sailing for the regional banks. I wouldn't necessarily jump into all of them at this point," said Lancz.
Howells agreed. He said his firm owns shares of KeyCorp and PNC (PNC, Fortune 500), but that it is not looking to buy more right now. "A lot of them have already had strong year-to-date runs," he said.
Finally, there's the simple fact that the latest plan from Obama is just a proposal that would have to be introduced in Congress and then passed into law. So it's far from certain that the big banks will wind up suffering as much as investors fear.
Even though there seems to be a lot of popular support for punishing big banks, the latest plan may face resistance from lawmakers and could take years to enact.
"So far, this is just a speech by the president. There's a long way to go toward figuring out what Congress would do," said Hank Smith, chief investment officer, Haverford Investments based in Radnor, Pa.
Reader comments of the week: There were a lot of gems to choose from this week. But here are my two favorites. Reniam Troop liked Monday's column about why we all need to pay attention to the financial woes in Greece.
"Americans tend to be introverted and not pay attention to world problems. Most remember Europe wagging their finger at us when the recession started, but we find Euro banks made the same dumb mistakes," he wrote.
And continuing on the theme of dumb mistakes, here's what Ryan Hausauer had to say about the recent run-up in shares of Motors Liquidation Company, the bankrupt entity formerly known as General Motors. "Only in today's market can something worth nothing have a market cap of $411M."