Fed bashers: Washington's odd couple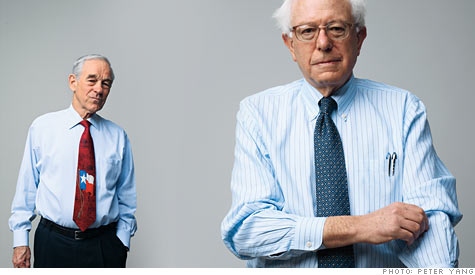 (Fortune Magazine) -- "These are vulgar, obscene people who, in many cases, I really do believe, have serious emotional problems. In this country we have people who have drug problems, people who have alcohol problems."
Just who are the addicts that Bernie Sanders, his white hair mussed, is getting all worked up about on this frigid Washington afternoon? "Compulsive moneymakers," he says. And Sanders, Vermont's independent junior senator and a onetime college radical who still pockets an authentic 1920 EUGENE DEBS FOR PRESIDENT key chain, is just getting started.
He saves his most biting criticism for a man who stands accused of embracing, coddling, and enabling Wall Street's rampant greed: Federal Reserve chairman Ben Bernanke. "There's no doubt that Bernanke is Wall Street's guy," the senator says icily. Sanders wants to block a second Bernanke term, insisting the Fed chief has presided over a financial system that "has not been as unsafe, unsound, and unstable since the Great Depression."
On the other side of the Capitol, Rep. Ron Paul, the Texas obstetrician-turned-gold-bug, peddles his own blistering critique of Bernanke and the Fed. For three decades the libertarian Republican and former presidential candidate has blamed Federal Reserve monetary policy for creating destructive business cycles.
He has likened the relationship between the central bank and Wall Street to the slogan in George Orwell's Animal Farm. ("Everybody is equal, but remember some people are more equal than others. Now, Goldman Sachs happens to be more equal than anybody else.") Greed isn't Paul's big worry -- unlike Sanders, he's an enthusiastic capitalist.
But he tells me he's certain the Fed is engaged in "shenanigans" to underwrite the risks that those well-paid capitalists on Wall Street choose to take. And so he is promoting legislation to open the agency's operations to a congressional audit.
Less than 24 months ago mainstream Americans (and many members of Congress) rolled their eyes at such saber rattling. Indeed, the political-media establishment ignored Paul when he jawboned Fed policies during the 2008 Republican primary. But then came the 2008 financial crash, the world turned, and the nation's central bank lost its aura of invincibility.
And now with populist winds howling, the Senate vote on Bernanke's second term is shaping up to be the latest headache for the Obama White House: With less than a week before his term ends, more Democratic senators say they plan to vote against giving Bernanke a second run as Fed chief.
Today the audience for the Paul-Sanders view of the Fed is a large and serious one, despite the unconventional political views of the pair -- one lawmaker hails from the right of the political spectrum, the other from the left.
Inside the House, Paul is known as "Dr. No" for automatically opposing funding any government spending not explicitly authorized by the Constitution -- including homeland security and hurricane disaster relief for his own state. In the Senate, which he joined in 2006, Sanders, an independent, rankles moderate Democratic allies with his unapologetic stance as a democratic socialist who favors single-payer health care and routinely denounces corporate greed.
Paul's support of making gold legal tender, or Sanders' assertion that the U.S. should model itself on Scandinavia, might still draw smug snickers. But no one is laughing at their joint legislative assault on the Federal Reserve -- least of all officials at the central bank itself.
Paul, who has penned a bestseller titled End the Fed, has pushed a measure to audit the Fed that's included in a financial regulatory bill passed by the U.S. House late last year. Sanders, in addition to putting a hold on Bernanke's nomination for a second term, has joined Paul in an effort to force the Fed to disclose the names of firms that received almost $2 trillion in emergency loans in 2008. (A Fed spokeswoman declined to comment for this story, but it's clear that Bernanke is sensitive to charges that the bank is unresponsive to average Americans; he's made a round of TV, town hall, and other appearances that are unprecedented for the historically cloistered office.)
Despite their divergent political philosophies, the men -- who regard each other with a mix of admiration and bemusement -- for years have joined forces to oppose any laws or regulations they consider corporate welfare. They were rarely at the center of congressional action. Now, though, their informal alliance has placed them atop a widening anti-Fed movement -- one that taps the populism fueling the tea party phenomenon -- with support stretching well beyond their home states.
"Every once in a while in American history, money becomes the issue. This is one of those times," says Paul, who can barely keep up with the media and speaking demands growing out of his anti-Fed book. Some two dozen grass-roots groups representing the left (Campaign for America's Future) and the right (Grover Norquist's Americans for Tax Reform) have thrown their support behind Sanders and Paul, underscoring the breadth of the anti-Fed zeal.
"I've been testifying since 1962," observes Allan Meltzer, a Carnegie Mellon economist and expert on the U.S. central bank. "I've never seen so much anger directed at the Fed."
Never mind that a good many people credit the Federal Reserve system, which sets monetary policy and regulates banks, with preventing financial Armageddon after the near collapse of the banking system in 2008. For a growing number of Americans and their representatives in Washington, the Fed has become a symbol of taxpayer-funded bailouts, Wall Street greed, and elites that are out of touch with American workers.
Indeed, the jaw-dropping Wall Street bonuses -- continuing apace even as unemployment remains around 10% -- seem to be behind the latest wave against the system. "The public feels like you toss the coin and heads, the big banks win; tails, the public loses," says Vincent R. Reinhart, former director of the Fed's division of monetary affairs and currently resident scholar at the conservative American Enterprise Institute. "That sense of unfairness is making people angry, and they are looking for someone to hold responsible."
Sanders' and Paul's attacks could not come at a worse time for the Fed. The central bank's regulatory turf is very much in jeopardy. Bernanke went to Congress last fall seeking more authority to root out practices that might pose another risk to the financial system -- and may wind up with less.
While the House agreed to President Obama's request to include the Fed chairman on a new panel charged with monitoring systemic risk in the financial markets, Senate banking committee chair Chris Dodd pronounced the agency's regulatory record "an abysmal failure," and he's proposed a bill to turn its supervisory authority over to a new agency.
That's not to say Sanders and Paul share a vision for how to fix the system. Paul favors abolishing the Fed. "That's further than I'm comfortable with," says Sanders, who prefers an agency fix to make it more protective of consumers and more vigilant over Wall Street.
On the role government should play in society, the two men are miles apart: Sanders wants more regulation and tighter supervision; Paul wants bankruptcy to serve as the great regulator. Sanders can't understand Paul's faith in free markets; Paul doesn't understand why leftists like Sanders have such trouble with business-created wealth.
But the two men have found common ground in the Fed's handling of the financial crisis: The events of the past 18 months have reinforced their long-held views that the Federal Reserve, as Paul puts it, "serves the wealthy, not the middle class, not the unemployed."
America's central bank, seen as inextricably linked to Wall Street's powerful financiers, has always stirred populist suspicions that the economy is rigged in favor of the rich.
In 1832, Andrew Jackson ran for a second term on a platform of shutting down the Second Bank of the United States, a precursor to the Fed. He won decisively and abolished the bank (later calling it his greatest accomplishment). It took another 81 years for Congress to reinstate the Federal Reserve, but that didn't end the attacks.
Paul Volcker suffered fierce criticism when his effort to wring inflation out of a stagflated economy helped plunge the nation into recession in the early 1980s. A homebuilders' association actually printed up wanted posters of the system's governors.
Paul and Sanders were critical of the central bank long before it was fashionable to bash the Fed. Back when politicians and pundits were heaping praise on Alan Greenspan, Bernanke's predecessor, calling him "the Maestro," Sanders tussled with the chairman. During congressional hearings Sanders, then a member of the House, alleged the Fed was protecting wealthy interests at the expense of workers. (Greenspan did little to hide his contempt for Sanders.)
And Paul's critiques of Fed policy have proven remarkably prescient. At a 2004 House hearing, he accused Greenspan of "delaying the inevitable, the pain and suffering that must always come" after a period of loose money, and complained that the Fed was discouraging savings and encouraging "a free ride." Three years later, in 2007, Paul told Bernanke that "we not only have had a subprime market in housing; the whole economic system is subprime in that we have artificially low interest rates." While a range of economists and Treasury Secretary Timothy Geithner say loose money contributed to the crash, Bernanke recently rejected that theory.
For years Paul's warnings were largely ignored. Now, he blithely notes, "conditions have changed." Likewise Sanders, a Brooklyn-born transplant to Vermont who was first elected to office as Burlington's mayor, finds it amusing that his impertinent cross-examinations of Greenspan, once derided, are suddenly resonating with voters of all political viewpoints.
Now it is Bernanke, a mild-mannered economist who took over from Greenspan in 2006, who is getting the Sanders treatment. At one Senate hearing the Fed chair placidly waited out the fiery Vermont senator's badgering and interruptions. "Do you have to be a large, greedy, reckless financial institution to apply" for the $2.2 trillion in zero-interest emergency loans the Fed provided? Sanders demanded.
Good luck getting either Paul or Sanders to say anything nice about the Fed's role in buttressing the U.S. financial system during the summer of 2008. When pressed, Sanders grudgingly says: "You can give them credit for playing an important role in preventing an international collapse." He blames the Fed for letting Wall Street have a free ride and failing to protect consumers from the fallout. "There's not a hell of a lot of difference between Bernanke and Greenspan."
If Washington's odd couple get their way, the Fed will, at a minimum, have to face more scrutiny. Paul's audit bill states that its intention is to open the Fed's books -- obtaining details on transactions with foreign banks or loans to individual financial institutions -- but not to influence monetary policy. Still, Bernanke has said he worries that the measure "would be effectively a takeover of monetary policy by Congress, a repudiation of the independence of the Federal Reserve, and highly destructive" to the dollar and stability of the markets.
Reinhart, the former monetary director, predicts a subtler chain of events: General Accounting Office investigations that rock the markets by making headlines when they are launched, when they are published, and when they lead to congressional hearings -- regardless of the conclusions of the congressional investigation.
"Markets will have more uncertainty," Reinhart says. "It does increase volatility." That's probably not something voters, with their already depleted retirement portfolios, will be happy to see.
What are the prospects for real changes in the way the Fed operates? Bernanke will probably secure a second term, despite Sanders' objections. Most likely any serious changes will come via the massive financial regulation overhauls, particularly if the Senate votes to strip the agency of its regulatory powers. (The House has voted to turn the Fed's consumer regulation authority over to a new agency.)
Paul's audit measure, which had 317 co-sponsors, still faces an uphill battle in the Senate, where 60 votes are needed. A near-term danger to the Fed's confidential discount-window operations is a case before a federal appeals court that could force the disclosure of loan recipients.
Meanwhile lawmakers from both parties will feel election-year heat from voters. In an era of deep partisan divide, Sanders and Paul have fingered the bipartisan unifier. Or as Paul puts it: "The value of money affects everyone. And when they think there are shenanigans involved, their ears perk up." And they start listening to people like Sanders and Paul.