Fed not rushing for the exits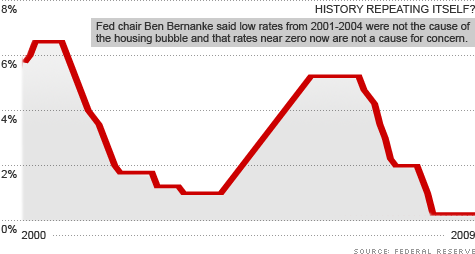 NEW YORK (CNNMoney.com) -- When the Federal Reserve meets Tuesday and Wednesday, its policymakers will be able to discuss something they haven't seen in years -- an economy that really looks like it's on the mend.
Employers added 4,000 jobs to payrolls in November, the first gain in almost two years, although that was followed by another decline in December. There are numerous signs that the battered housing market is turning around.
And economists forecast that the nation's gross domestic product, the broadest measure of economic activity, rose at a 4.5% annual rate in the last three months of 2009. That report is due out Jan. 29, two days after the Fed wraps up its meeting.
The Fed deserves its share of the credit for the improvement in the economy as it cut its key lending rate, the federal funds rate, to nearly 0% in December 2008 and pumped trillions of dollars into the economy over the last two years.
But plenty of economists and investors are worried that the Fed will be behind the curve when it comes to pulling back on those steps, which could spark a rise in inflation down the road.
Those critics are likely to go away unhappy when the Fed releases its statement Wednesday.
Economists expect the central bank to once again downplay any threat of inflation, and to repeat its forecast of "exceptionally low levels of the federal funds rate for an extended period."
And most doubt there will be any new details about plans to unwind its other programs -- such as how and when it will start paring back its holdings of $1.25 trillion in mortgage-backed securities and $300 billion in long-term Treasurys -- until sometime this spring.
"They do need an exit strategy, but this month is not when they have to do it," said Kurt Karl, chief U.S. economist for insurer Swiss Re.
Bernard Baumohl, executive director of the Economic Outlook Group, said the Fed needs to be careful. It could wind up making businesses and the markets nervous if it signals it is ready to withdraw its stimulus programs before there are more indications of a sustainable recovery.
"The Fed can not appear to be aggressive as long as unemployment is at or near double digits," he said. The national unemployment rate was 10% in December.
Baumohl believes unemployment has yet to hit its peak. He said it'll be a good six months after unemployment finally starts to decline before the Fed will move to tighten monetary policy.
"The Fed is not going to suddenly raise alarm just because there's going to be one strong GDP report," he said.
Bernanke confirmation. The Fed meeting could take place with the Senate still yet to act on confirming chairman Ben Bernanke's nomination to serve another four-year term as the head of the central bank.
His current term expires Jan. 31, and it's not clear what happens if the Senate does not vote before then. Some believe he can remain in the post until there is a vote, others believe that Vice Chairman Donald Kohn would temporarily assume the new post.
Karl and Baumohl said they think the financial markets are probably more nervous about the Bernanke confirmation vote than they are about any changes in the statement after the Fed meeting, although just about everyone expects that Bernanke will eventually be confirmed.
But Karl said that he doubts the Fed will mention anything about the confirmation in its next policy statement. He said if Bernanke is not confirmed before Feb. 1, it will probably wait until then to make an announcement about who will be in charge of the Fed on an interim basis.