GM has a permanent CEO: Ed Whitacre
NEW YORK (CNNMoney.com) -- General Motors' chairman and acting CEO Ed Whitacre will become permanent CEO, the automaker said in a press conference Monday. Whitacre also announced that GM would pay back all of its government loans, in full, by June.
GM's board of directors asked Whitacre last week if he would stay on as permanent CEO, Whitacre told reporters.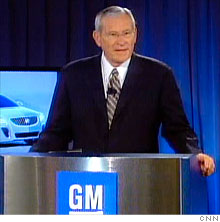 "I was both honored and pleased to accept this role," he said, "so I'm going to do it for a while."
Whitacre also promised that GM will repay all its government loans from both the United States and Canada by June. Those loans do not include money that was invested in GM in return for an equity stake in the automaker.
GM owes the U.S. treasury a total of $6.7 billion provided from the Troubled Asset Relief Program. The automaker also owes $1.4 billion in payments to the governments of Canada and the Canadian province of Ontario.
That's only a small part of the $50 billion the government has put into GM, however.
Whitacre would not say when the automaker will have an initial public offering, which would allow the government to begin selling off it's majority stake in the automaker while regaining some of the other money invested in GM as it came out of bankruptcy.
The timing of an IPO would depend on conditions within GM as well as in the market in general, he said.
Market conditions may not be good for an IPO any time very soon, said Michelle Krebs, an analyst with the automotive Web site Edmunds.com. She predicted sales will be only slightly better in the U.S. and things may be getting worse for GM in Western Europe, where it's in the midst of restructuring it's Opel subsidiary.
"I think there's just a lot to be careful about," she said.
Whitacre assumed the role of acting CEO in on Dec. 1, after accepting the resignation of then-CEO Fritz Henderson.
Henderson had only been CEO a few months after taking over from Rick Wagoner, a long-time GM employee, who was ousted as part of a massive government-supervised restructuring.
As he stepped into the acting CEO role, Whitacre had said that he was beginning an immediate search for a new CEO. GM did hire an outside search firm, Whitacre said, but ultimately decided to stay with Whitacre.
"The board looked at the potential candidates and decided this place needs some stability," he said.
Whitacre, who was once the CEO of telephone giant AT&T, was named chairman of GM's board in June 2009, when the automaker emerged from bankruptcy. The newly formed company took on only the most valuable assets of the former General Motors.
This decision does, at the very least, provide some certainty for GM's executive team, said Stephanie Brinley, an analyst with AutoPacific.
"They can get the management structure settled," she said, "and not have as much turmoil at the top."
Whitacre said he is not planning any more major changes in the company's top management. In late December, GM named Chris Liddell, then Chief Financial Officer of the software giant Microsoft, as CFO.
Shortly after taking over as CEO, Whitacre named Mark Reuss, then head of GM's Australian Holden brand, as president of GM's North American operations.
There had been concerns about having an industry outsider run a huge automaker like GM. Running a car company is nothing at all like running a telephone company, Brinley pointed out. GM has "completely different product lifecycles, completely different regulations and completely different relationships with consumers," Brinley said.
Information about Whitacre's pay will be released in coming days, Whitacre told reporters. For now, he said, his motivation is to help the company.
"You get in the middle of something and you start to like the people, you make some leadership changes and you feel comfortable with them," he said "You get to feel optimistic."
Whitacre has been careful to rely a lot on older hands in the auto industry such as vice chairman Bob Lutz, a 77-year-old industry veteran who has worked, at one time or another, for all the major U.S. automakers.
"He definitely seems to understand that there's stuff he doesn't know and he's ready to learn," she said of Whitacre.
It's clear that Whitacre has been firmly in control at the automaker, Merkle said. Bankruptcy made it possible to quickly reshape the company in a way that has been difficult in the past and Whitacre is taking advantage of that.
As CEO, and with the help of a massive government-backed restructuring, Whitacre could ultimately take credit for turning around an iconic American company