Hired! Paying it forward scores Steve Kaye a job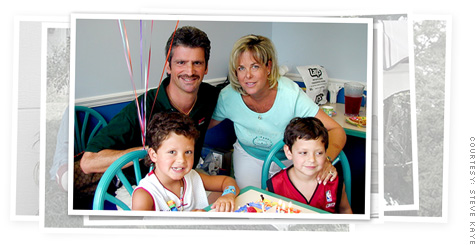 NEW YORK (CNNMoney.com) -- Job fairs are notorious for long lines and lackluster results, but that doesn't mean they can't lead you to a job.
Just ask Steve Kaye.
When the 48-year-old found himself without a job 18 months ago, he tried all the usual job search tactics, including networking and looking online. But when he looked around for a job fair near his home in Boca Raton, Fla., he saw nothing that fit his needs.
That gave Kaye an idea: Start his own fair.
The trained sales manager invited in 18 different companies -- all hiring -- along with 400 attendees. "The whole point was to get people to start talking to people," he said.
And they did: Thirty people were hired.
Kaye wasn't one of them, but he did receive accolades from the mayor and his community. And he's since gone on to coordinate more job fairs and career information sessions in his area.
Meanwhile, Kaye has worked at a law firm inputting data, which has helped him support his wife, Linda, and two children, Alex, 9, and Andrew, 7, while continuing his job search.
"I haven't made any money, just lots of good friends," he said.
One of those new friends recommended Kaye for a sales position at Successories, a company that sells motivational products. It seemed like a perfect fit for Kaye, who had learned a thing or two about staying motivated over the past year and a half.
Within a week he got a call from the head of the company and was invited in for an interview the next day.
After a short trial period, Kaye was offered a position as a full-time senior consultant. Within days, his titled was changed to vice president of sales and customer care.
Now Kaye works 15 hours a day and says "there's not a moment that I don't love coming here."
"When one is out of a job for as long as I was and being turned down as much as I was, you tend to lose hope," he added. "Life has a funny way of working itself out."
Outside the box
Our career experts agree that in these challenging times creativity is a must.
With the Florida unemployment rate at 11.8%, finding a full-time job may take more than applying online, attending job fairs and networking through the traditional means.
Barbara Safani, president of Career Solvers in New York, says Kaye's best tactic was his proactive approach. "He realized that his existing network was limited," she said, "so he took a proactive approach to expand his network."
Instead of attending a job fair with the expectation of finding a job, "leverage the experience of the job fair to build a relationship that leads to something else," Safani suggested. "Then it can be a good experience."
In addition, Safani advises others to think of helping others and networking with reciprocity in mind.
Helping others can also take the pressure off yourself, added Cathy Fahrman, vice president of Résumés by Professionals in Tampa, Fla. "Sometimes when you are out there and feel desperate you may come across as too pushy, if you are doing it from a more altruistic angle, that may come off better," she said.

Read updates on the people previously profiled in Hired! Join the Hired! group on Facebook.
Have you found a job recently? We want to hear from you. Send us an email and attach a photo. Tell us where you got hired and how you landed the job and you could be profiled in an upcoming story on CNNMoney.com. For the CNNMoney.com Comment Policy, click here.