Why the markets hate Washington
NEW YORK (CNNMoney.com) -- The markets might be a heck of a lot calmer if everybody in Washington would just shut up. Of course, that's not going to happen anytime soon.
Treasury Secretary Tim Geithner is testifying in front of Congress Wednesday about the government's mishandling of the AIG "rescue." Later on, the Federal Reserve will release its latest statement about the economy and interest rates.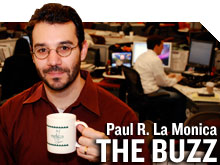 And if that weren't enough, President Obama gives his eagerly awaited first State of the Union speech Wednesday night.
"The spate of recent political events that have market implications is increasing. Politics have always mattered but they matter more than ever and it does lead to more uncertainty," said Rex Macey, chief investment officer with Wilmington Trust.
The AIG (AIG, Fortune 500) hearing is going to be mostly theater -- look-at me lawmakers doing their best to bash the easy target that Geithner is to score points with voters. The Fed is going to keep interest rates near zero and probably not disclose any new details about its other initiatives.
But the president has a chance to ease jittery investors and renew hopes that the economy and markets are really back on track. To do so though, he's going to need to talk more about real plans to jumpstart the economy and less about bashing banks and Wall Street.
"Jobs growth. That what this is about. The president has to focus on jobs and innovation," said Kate Mitchell, managing director of Scale Venture Partners, a venture capital firm in Foster City, Calif. "The populist tone conflicts with the job creation message."
Mitchell, who is also chairwoman-elect of the National Venture Capital Association, said she's worried that the perception among entrepreneurs and investors right now is that the White House is decidedly anti-business.
That could lead to more upstarts looking to create jobs abroad and also could dampen investor enthusiasm for tech stocks and other growth companies.
Mitchell's stance is not surprising since she will soon head the trade group that represents firms that have a lot to gain from a continued rebound in the Nasdaq. But she raises a good point that I agree with completely.
Right now, it looks like Washington is more interested in meting out punishment than actually thinking of ways to get the economy back on track.
It's obviously easier (and politically expedient) to wag fingers and scold than it is to come up with solutions to difficult challenges.
But it is still unfortunate. There have been some encouraging signs from corporations about where the economy is heading.
Yet, healthy results from blue chip companies such as Apple (AAPL, Fortune 500), IBM (IBM, Fortune 500) and Starbucks (SBUX, Fortune 500) as well as other data have been overshadowed by the latest tumult in the nation's capital.
Can't we all just get along?
President Obama didn't do Wall Street any favors when he proposed new bank rules last week that, if passed, could cut into some of the hefty profits enjoyed by some of the nation's largest financial institutions.
Making matters worse, there were fears last week that Fed chairman Ben Bernanke could fall victim to the growing backlash against all the big bailouts of the financial sector. Worries that Bernanke might not be reconfirmed helped lead to a mini-meltdown in stocks.
This political turmoil has the potential to further whipsaw stocks. Scott Brown's win in the Massachusetts Senate race last week sets the stage for a nasty battle between Republicans and Democrats leading up to November's mid-term elections.
As such, expect even more attempts by politicians on both sides to try and cash in on bailout rage. The wackiness may not end until it becomes clear whether Republicans will gain more seats in Congress this fall or if Democrats can sustain or add to their majority.
"It will be extremely volatile. It will be the Super Bowl of political bubbles for the next three to six months until we find closure on what the political resolve in this country is," said Keith McCullough, CEO and founder of Hedgeye Risk Management, an investment research firm.
One of Wall Street's favorite gauges of volatility, the VIX (VIX), has shot up nearly 40% in just the past week. That's not as bad as it seems: At about 25, the VIX is still well below its 52-week high of 53, and comfortably below the all-time peak of nearly 90 hit during the height of the financial panic in October 2008.
But market experts are worried that volatility is just going to increase. For starters, Macey said that he does not expect any investor-friendly initiatives from the State of the Union address.
"I don't think the president is going to change his tune too much. We know what his agenda is. He's not speaking to the markets. They're not his constituency," he said.
Bruce McCain, chief investment strategist Key Private Bank in Cleveland, added that investors, consumers and business leaders will likely remain nervous as long as it appears that the spirit of cooperation in Washington is lacking.
"If the administration and leadership in Congress could determine that they need to work on a bipartisan matter and find solutions, that could calm people down," he said. "The concern now is that extremist ideas are the only things being worked on."
McCain said he's hopeful that Obama can try and change the political tone by stressing the need for compromise in his State of the Union address. But he's not holding his breath.
"Let's just say that I'm Missourian about it. Show me. I remain to be convinced.," he said. "There is the potential for more turbulent waters heading into November."
Twitter reminder I started tweeting on Tuesday and so far, I must confess that I'm enjoying it more than I thought I would. So please go sign up to follow me @LaMonicaBuzz so you can join in on all the market hilarity.