Main Street frustration: 'Everything is going to banks'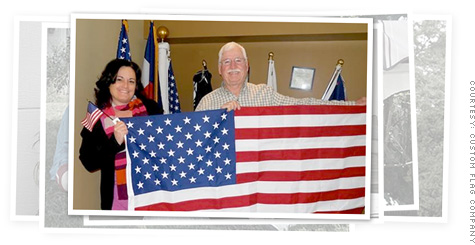 NEW YORK (CNNMoney.com) -- In his State of the Union speech Wednesday night, President Obama touted a slew of federal initiatives aimed at stimulating small business hiring and growth. Again.
Small companies employ around half of America's workers and drive most of the country's job growth. Obama talks frequently in his speeches about the vital role small companies play, and his administration has launched several efforts to bolster struggling Main Street businesses. But most of the president's small business proposals remain in limbo, caught in bureaucratic logjams and the Great Black Hole of Congress.
A year ago, Obama set the stage during his first major economic speech to Congress. "I will not spend a single penny for the purpose of rewarding a single Wall Street executive, but I will do whatever it takes to help the small business that can't pay its workers or the family that has saved and still can't get a mortgage," Obama said in February. "That's what this is about. It's not about helping banks; it's about helping people."
But small business owners across the nation say they feel left out of the stimulus and recovery action.
"Basically, it seems to me that Washington's efforts have been to help Wall Street, not Main Street," said Kim Griebling, president of Custom Flag Company in Westminster, Colo. Griebling and her father bought the company in 1998 and now employ a staff of eight. As the economy deteriorated, so did the demand for flags.
Griebling applied in September for an America's Recovery Capital (ARC) loan, an emergency financing program created as part of February's stimulus bill. The program offers qualifying business owners a small, government-backed loan on very attractive terms, but those trying to land ARC loans face a gauntlet of administrative obstacles. While bailed-out financial giants like AIG got financing fast from Washington, business owners wait months.
"People don't realize that $35,000 for a small business makes a huge difference. I am on the verge of possibly having to lay off people," said Griebling. Her loan was approved in December, but she hasn't received the money yet -- and her patience is wearing thin.
"I definitely pay attention, but I would say I am more skeptical," she says of politicians' talk of helping small companies like hers.
Geoffrey Zeamer, the owner of scientific instrument maker Abbess Instruments in Holliston, Mass., also feels that small companies are being overlooked.
"I listen very carefully and on a daily basis as to what is going on, and I have found the last year extremely disheartening because everything is going to banks," Zeamer said.
Zeamer is an engineer who has owned his 17-employee company since 1982. He thinks the government got it backward by funneling money to banks to save the economy.
"If the government really wanted to stimulate business, then you give out orders. You order more planes, trains, you buy more bridges. If you give banks money, they look out and say, 'nobody has any orders, we are not going lend out,'" said Zeamer. "That seems to have escaped them. I think it's Basic Economics 101."
Here's a rundown on where President Obama's small business proposals from throughout the past year currently stand:
Tax credits for jobs: The government's economists estimate that small businesses have created 65% of America's new jobs over the past 15 years. In December, Obama delivered a speech at the Brookings Institution in which he endorsed tax breaks to encourage small businesses to hire.
But there's a blizzard of competing proposals for what form those incentives should take, from a temporary payroll tax holiday to per-worker tax credits for new hires, and none have yet gained momentum in Congress.
In the same speech, Obama backed a trifecta of tax cuts intended to spur small business investment and capital spending. Congress hasn't yet taken significant action on any of them.
TARP for community banks: Small businesses are still struggling to access the capital they need for their day-to-day operations.
"When you talk to small business owners in places like Allentown, Pennsylvania or Elyria, Ohio, you find out that even though banks on Wall Street are lending again, they are mostly lending to bigger companies," Obama said Wednesday. "Financing remains difficult for small business owners across the country."
In October, the President proposed a collaboration between the Treasury Department and the Small Business Administration to make capital cheaper for community banks that commit to increasing their small business lending.
Under the proposed plan, banks with less than $1 billion in assets would be able to borrow money from the government at a 3% dividend rate. That's a discount on the 5% rate the Treasury currently offers borrowers through its Capital Purchase Program, a TARP (Troubled Asset Relief Program) initiative.
Three months later, the government is still drafting guidelines for the initiative.
Obama invoked the plan in Wednesday's speech.
"I'm proposing that we take $30 billion of the money Wall Street banks have repaid and use it to help community banks give small businesses the credit they need to stay afloat," he said.
Loan limits: In the same October speech, Obama also threw his support behind Congressional efforts to raise the ceiling on SBA loans. Currently, the maximum loan size available under the SBA's major lending programs is $2 million. Policymakers would like to lift that limit to $5 million.
Both houses of Congress have considered the measure, but they've failed to agree on legislation to enact it into law.
Bigger incentives for loans: Amid a slew of stalled initiatives, one program has seen success.
SBA-backed loans represent a tiny portion of the overall small business lending landscape, but they're a vital lifeline for many new and growing companies. Last year, the SBA's loan volume plunged.
February's Recovery Act set aside a $375 million funding pool to temporarily eliminate fees for a SBA loans and increase the portion of each loan that the government guarantees, up to 90%. That move proved so popular that the money allocated for it ran out around Thanksgiving. Just before Christmas, Congress appropriated another $125 million to keep the incentives running.
The data shows that lending has rebounded from last year's lows. In the three months ended Dec. 31, the SBA's 7(a) program processed more than 12,000 loans totaling $3.8 billion. That's a sharp pickup from the 9,070 loans, totaling $1.9 billion, the agency backed a year earlier.