Tiny remote-control motorbike en route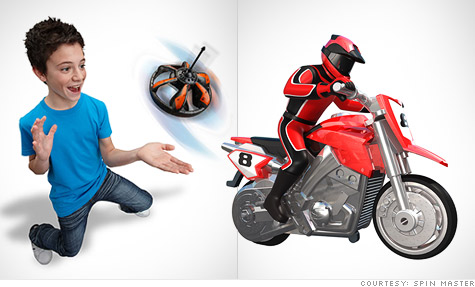 NEW YORK (CNNMoney.com) -- For the toy industry in 2010, it's a small world.
Toymaker Spin Master will contribute to the trend toward small playthings with its Air Hogs MotoFrenzy, which the company says is the world's smallest remote-control motorbike. Spin Master will unveil the toy next month at the annual Toy Fair in New York.
"The 'wow' factor with this toy is that you can't believe it balances so many cool things at such a good price," said Chris Byrne, a toy industry analyst.
"The problem with remote-controlled toys historically has been that they are so big and you needed a huge space to play with them," Byrne said. "With MotoFrenzy, kids can play with it on the dining table or the kitchen floor."
Measuring 3-1/4 inches in length and 2-1/4 inches in height, the bike will come with an action figure.
"It can ride any terrain, and do jumps and turns," said Harold Chizick, vice president with Spin Master. "But the coolest innovation is the technology in it that allows the bike to do sharp turns without losing its balance."
The bike also does "wheelies," or balance and drive on one wheel.
"Getting the bike to do that was extremely difficult in such a small toy," said James Elson, director of product development for Spin Master. "It took us over a year and a-half to develop this, and it's a source of pride for the entire team."
The Air Hogs MotoFrenzy will compete in the toy market with Mattel' (MAT, Fortune 500)s new Hot Wheels Stealth Rides, a remote-control car that unfolds from its credit card size. Mattel's coolest Hot Wheels ever: They fold
Spin Master's other innovation is called the Air Hogs Vectron Wave. It's like a remote-controlled UFO toy but without the remote control.
The toy has a built-in level sensor that allows it to detect an object underneath it and adjust its height accordingly.
"The Vectron doesn't need a remote control and moves by waving your hand or any other object underneath it," said Chizick.
"This is a great item," said Byrne. "Spin Master has added a whole new level of creativity to the remote-control category of play. They have reinvented it and are doing it well."
Both the Air Hogs MotoFrenzy and the Air Hogs Vectron Wave will be priced at around $25. MotoFrenzy is expected to be in stores this fall, while Vectron Wave is in stores now.