Guitars and drums join the flat toy wave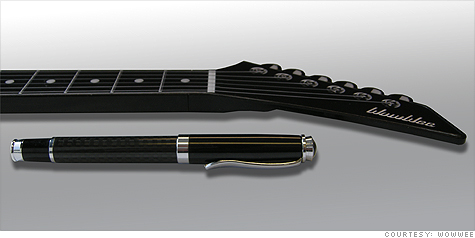 NEW YORK (CNNMoney.com) -- Parents have reason to rejoice this year, because it looks like bulky is out and flat is in - with toys, that is.
The latest in the trend is Paper Jamz, about to be unveiled by WowWee Toys at the industry's annual Toy Fair in New York later this month
Paper Jamz is a line of six toy guitars, six drum sets and an amplifier. Despite its name, the toys aren't exactly paper-like or paper-thin, but pretty close.
The guitars are less than an inch thick, the drums are just over an inch thick and all the different models are completely flat. The amplifier is made of cardboard.
Paper Jamz follows on the heels of the first-ever folding Hot Wheels cars, being rolled out by No. 1 toymaker Mattel (MAT, Fortune 500), which transform from flat into a 3D remote-control vehicle with the push of a button.
iPod-maker Apple (AAPL, Fortune 500) is partially to credit for this trend taking hold in some of the coolest new toys for 2010.
Marc Rosenberg, a spokesman for WowWee, admitted that Apple's products have served as an inspiration not just to toymakers but across industries, showing "the marriage of design, shape, color meshed with form."
"Their products tend to stand apart, and that's what we're aiming for with Paper Jamz," said Rosenberg.
From an investment perspective, flat toys are also cheaper to make. For WowWee, flat toys mean less raw materials used and lower production costs.
Each Paper Jamz instrument comes with three songs built into it, and the guitars and drums all have the same set of songs.
Instead of using actual strings to play the guitar, you strum the chords drawn on the surface with your fingers.
With the nine-piece drum sets, kids play the different components -- the cymbals, the bass drum and such -- with a touch of their fingers. There's also a karaoke mode in the toys, and kids can also jam freestyle and create their own music.
"It's also one of the coolest innovations in toys, kind of like an air guitar but it actually plays," said toy expert Chris Byrne. "It really is a fun product and the price is affordable in this environment."
"Think about it, for $65 parents can buy their kids a full drum set, a guitar and an amplifier," said Rosenberg
Paper Jamz, aimed at eight to 12 year olds, is expected to hit stores in early fall. Each guitar and drum set will sell for about $25. The amplifier will sell for about $15.