Brother, can you spare a dividend?
NEW YORK (CNNMoney.com) -- Cisco Systems has nearly $40 billion in cash. Maybe when Cisco gets to $50 billion it will finally feel comfortable using some of that moolah to pay a dividend.
Investors in tech stocks have been waiting a long time for some of the industry giants to start issuing quarterly payouts as a reward. Some, most notably Oracle (ORCL, Fortune 500), Microsoft (MSFT, Fortune 500) and Qulacomm (QCOM, Fortune 500), have initiated dividends in the past few years.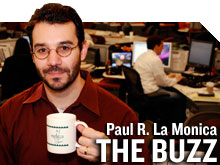 But Cisco (CSCO, Fortune 500), along with Apple (AAPL, Fortune 500), Google (GOOG, Fortune 500) and other cash-rich companies remain notable holdouts.
I understand the argument against techs paying a dividend. It goes like this. Growth companies are better off using their cash for purposes other than paying a dividend.
A dividend, conventional wisdom goes, is a sign that a company thinks it no longer has anything better to do with its money and is now -- gasp! -- maturing. The horror! The horror!
One way techs use their cash is to buy back stock, which also rewards investors by reducing share count and boosting earnings per share.
Acquisitions and investments in research and development, which should also boost future profits, are other things that growth companies cite as being a more productive use of their cash.
To that end, Cisco says on its investor relations Web site that while the company "routinely" evaluates whether to pay a dividend, it believes that the stock buyback program and strategic investments "are in the best interest of our shareholders."
That all makes sense in theory. But those arguments are largely bunk.
For one, investors aren't penalizing companies for paying dividends. After the market chaos of the past few years, there's something to be said for the predictability of a quarterly payout.
In the past few days, companies ranging from Hershey (HSY, Fortune 500) to media titan News Corp (NWSA). and defense contractor L-3 Communications (LLL, Fortune 500) all raised their dividend, and their stocks went up the day of the announcement.
"I don't think investors look at dividends as an old world company thing anymore. Increasingly investors want something you can hang your hat on. You can't restate or take away dividends that have been paid," said Jeffrey Kleintop, chief market strategist with LPL Financial, a broker-dealer based in Boston.
Of course, companies can slash or stop paying future dividends when they run into trouble. Just ask shareholders of big banks.
But honestly, should Google, Apple and Cisco be worried that they are going to one day implode and no longer be able to afford a dividend? That's a poor excuse to not pay one now that their businesses are clicking.
If anything, it's a positive to tell investors that you can pay a dividend in addition to using cash to keep investing in the business.
"It's a barometer of profitability and confidence that management has. It's a commitment," Kleintop said.
As for using cash for better purposes such as buybacks and mergers, that doesn't ring true either.
The positive impact of a buyback is often mitigated by the fact that many of these companies have to buy back stock in order to offset the massive amount of cheap shares they issue to executives as part of their compensation packages.
And what really gets me is the notion that if you spend a billion or so to pay a dividend you can no longer invest as much in mergers and R&D. That's simply not true.
Hewlett-Packard, for example, pays a dividend. It's not a big dividend -- at 32 cents a share it yields just 0.7% -- but it is a dividend nonetheless.
HP (HPQ, Fortune 500), like Cisco, has made several big acquisitions in the past five years. Mercury Interactive, Opsware, EDS and 3Com all cost HP more than $1 billion.
But check this out. HP's earnings have grown, on average, 25% a year for the past five years compared to just 11% growth for Cisco. Not surprisingly, HP's stock has outperformed Cisco's over the past five years by a wide margin.
In late 2008, Cisco CEO John Chambers said the company would pay a dividend before he retires. But last year, Chambers said he intended to stick around for at least another three to five years. But why wait so long?
Cisco can afford a reasonable dividend and still have plenty of cash left over. If it paid a dividend that yielded about 1%, it would only need to dole out 6 cents a share per quarter, or 24 cents annually.
According to its most recent earnings report, Cisco has about 5.9 billion shares outstanding. So a dividend of 24 cents would cost it just $1.4 billion.-- and Cisco generated $2.5 billion in operating cash flow in its most recent quarter.
Ken Kamen, president of Mercadien Asset Management in Princeton, N.J., said he understands why some companies would be reluctant to pay dividends because they want to preserve cash in what's still an uncertain economic recovery.
But, because laws enacted during the Bush 43 administration that lowered the tax rate on dividends are due to expire in 2011, Kamen said companies with strong balance sheets and that really don't need all that cash should start paying dividends before they become subject to a higher tax rate.
"You can't blame any company for keeping cash on their balance sheet in this environment," Kamen said. "But for companies with absurdly big cash levels it seems insensitive to not have a dividend when you know there's currently a lower tax rate "
Is $40 billion an absurd amount of cash to have? What do you think?
-- The opinions expressed in this commentary are solely those of Paul R. La Monica.