Prius recall: What you should do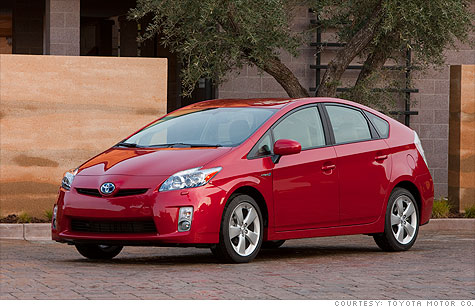 NEW YORK (CNNMoney.com) -- Toyota has recalled 2010 model year Priuses as well as the closely related Lexus HS250h hybrid luxury car.
If you have one of these cars, here's what you need to know.
What cars are involved? 2010 model year Toyota Priuses manufactured before January 27 and all Lexus HS250h's manufactured before February 8.
Only the 2010 model year is involved because previous generations had different brake system software.
How many vehicles are involved? About 150,000 vehicles are involved in the U.S. and about 400,000 worldwide.
What's the problem? The anti-lock braking causes the cars to have an "inconsistent brake feel" during slow and steady application of the brakes on rough or slippery surfaces. The ABS is operating as it's supposed to, Toyota says.
How can I be sure I'm affected? Beginning in late February, Toyota will send letters to owners of affected vehicles. Owners will be able to get the problem fixed at no cost.
The repair, which involves loading new anti-lock brake software onto the car, will take about 30 minutes to perform, Toyota says.
But what if my brakes feel funny? Just keep pressing firmly on the brake pedal. Don't pump brakes, keep the pedal firmly pressed down.
Is it safe to drive my car? Your 2010 Prius is safe to drive, Toyota says, as long as you are aware of the potential problem and drive accordingly.
Is this related to the sudden acceleration issue? No, the company says.