Toyota recalling 437,000 hybrids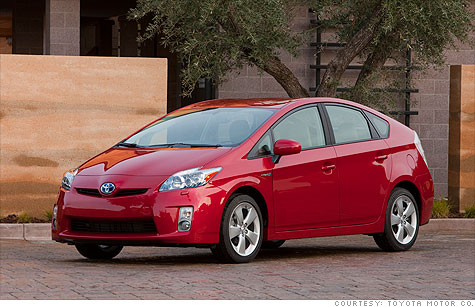 TOKYO, Japan (CNN) -- Toyota's president apologized profusely Tuesday as he announced the global recall of more than 400,000 of the automaker's 2010 hybrid models, including the popular Prius, for problems in their anti-lock braking systems.
"We do apologize for the inconvenience and concerns we've given to the customers," President Akio Toyoda said in making the recall announcement from the automaker's headquarters in Tokyo. "Quality is our lifeline for Toyota."
The company will work to recover its customers' trust, Toyoda said.
The automaker filed recall papers early Tuesday afternoon with the Ministry of Land, Infrastructure and Transport. Recall papers will be filed in the United States sometime Tuesday.
The worldwide recall involves 437,000 vehicles, including the Toyota Prius and Sai, along with the Lexus HS250h. The Sai is sold primarily in Japan.
Sales of the Sai and Lexus HS250h will be halted until a fix is in place.
"When I spoke with Toyota President Akio Toyoda last week, he assured me that his company takes U.S. safety concerns very seriously," said U.S. Transportation secretary Ray LaHood in a statement Tuesday. "The U.S. DOT will remain in constant communication with Toyota to hold them to that promise."
The DOT's National Highway Traffic Safety Administration said that in the mean time, owners should immediately contact their Toyota dealers if they are concerned about a car's braking performance.
Last week, the company acknowledged a problem with the software that controls the anti-lock braking system of the 2010 Prius and said it had already corrected the problem in cars that started to roll off the assembly line in Japan last month.
As recently as Friday, Toyota (TM) said a solution was near for the 200,000 of the 2010 model year Prius vehicles that have been sold in Japan and the 103,000 sold in the United States.
The Prius is the automaker's best-selling vehicle in Japan and its No. 4 seller in the United States.
The NHTSA announced last week that it was opening a formal investigation into braking problems with the 2010 Prius. Nearly 125 Prius owners had lodged complaints about the problem.
The problem causes the brakes to take about a second to take hold when the car is on a road in poor condition. Potholes, snow or rain can trigger the glitch. A car traveling just 30 m.p.h. can travel almost 50 feet in the one second that the brakes are not working.
The fact that there have been so many problem reports with relatively few of the affected 2010 models on the road suggest the problem is far more common than Toyota's other problem with sticking accelerators, which triggered a recall of 8.1 million vehicles.
-- CNNMoney senior writers Peter Valdes-Dapena and Chris Isidore contributed to this report.