The burger and beverage recession
NEW YORK (CNNMoney.com) -- Want more proof that the U.S. economy is still in a fragile state? Consider this. People are still holding back on buying burgers, soda and beer. So much for fast food, soft drinks and booze being recession-proof.
Sure, the worst of this downturn may in fact be over, but don't tell that to Coca-Cola (KO, Fortune 500), McDonald's (MCD, Fortune 500) and Molson Coors (TAP, Fortune 500). All three reported Tuesday morning that demand for their products is stronger abroad than it is in the United States.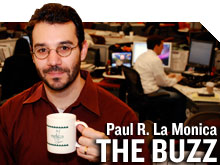 Coke enjoyed a solid jump in fourth-quarter profit that was led by robust sales growth in markets such as India, China and Brazil. But North America revenue fell 4%. In its earnings release, Coke cited "macroeconomic pressures impacting consumer spending" for the drop.
McDonald's said that same-store sales, a key measure of growth at restaurants open at least a year, rose more than 4% in Europe as well as in its Asia/Pacific, Middle East and Africa division.
But people weren't bah da bah bah bah lovin' it in the U.S. Same-store sales were down 0.7%. In a statement, Mickey D's tried to spin this news in a positive light, saying this sales decline wasn't as bad as other companies in the fast food industry.
Finally, Molson Coors reported that demand for its beers in international markets in the fourth quarter was frothy, with volume rising 14% thanks to healthy sales in Europe, China and Latin America.
Yet, sales fell in the U.S. during the quarter. Molson Coors' CEO described consumer demand as "sluggish."
What's this all mean? Well, it appears that U.S. consumers are still serious about keeping an eye on their budgets.
Even though the economy grew at a solid pace in the fourth quarter and retail sales were fairly strong during the holidays, consumers still don't appear to be confident enough to go back to their spendthrift ways -- not even for relatively inexpensive creature comforts such as a Big Mac or six-packs of Coke Zero or Coors Light.
"People may have saved throughout the year so they could afford to buy gifts. But they are still hanging on to their wallets pretty tight," said Terry Clower, director of the Center for Economic Research and Development at the University of North Texas.
The most recent jobs report may have provided some hope to consumers that the economy is improving. But it's hard to get too excited when the nation still lost 20,000 jobs in January and the unemployment rate was 9.7% -- even if that's down from 10% in December.
It's going to take more months of steady declines in the unemployment rate and actual job growth before most consumers will be willing to declare that the economy is back on track.
"We're going to slowly get better employment numbers. That means we'll eventually get better spending," said Kurt Karl, chief U.S. economist with Swiss Re.
Lessons learned?
But even then, it may take some time before consumers are ready to loosen the purse strings. It does seem that the Great Recession may have scared people straight when it comes to spending.
"People aren't as panicked, but they are still hanging on to their wallets pretty tight," Clower said. "The big question hanging out there is whether this recession has been long enough and deep enough to change consumer spending for an extended period of time."
Karl agreed. And for the foreseeable future at least, he's not forecasting a return to wanton, reckless spending.
"I'm not expecting a strong year from consumers," he said. "They are going to be cautious about their debt levels and their spending and we're going to see that for many years to come."
Now the good news for multinationals such as Coke and McDonald's is that international growth is making up for weakness in the U.S. But how long that will last is an open question.
Emerging markets such as China and India may continue to be hot spots, but it seems safe to worry that growth in Europe might cool a bit in the coming months due to fears about the fiscal nightmare that Greece, Spain, Italy and other European nations find themselves in.
Also, the recent strength of the dollar could eat into sales and profits. Multinationals have benefited from the weakness in the greenback, since sales from abroad that get translated back into dollars are higher when the dollar is weaker.
So at the end of the day, your Cokes, Pepsis, Mickey Ds and Burger Kings of the world can only bank on emerging markets and favorable currency trends for so long. Sooner or later, consumer spending in the U.S. is going to have to pick up in order for them to keep doing well.
"These companies sell to middle-income America, but that group of people doesn't want to spend. And that's reasonable," said Ned Hill, the dean of Cleveland State University's Maxine Goodman Levin College of Urban Affairs. "Companies that depend on an optimistic consumer are going to be slow to recover."
-- The opinions expressed in this commentary are solely those of Paul R. La Monica.