What Europe credit crisis?
NEW YORK (CNNMoney.com) -- Let's try and make sense of this. Europe is supposed to be a financial mess. That's all we've been hearing about for weeks.
So if that's the case, how did London-based Barclays wind up reporting a record profit in 2009? The news from Barclays (BCS) helped ignite a big rally in European bank stocks Tuesday.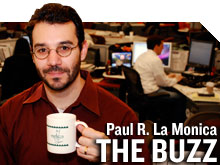 The New York Stock Exchange-listed shares of Barclays shot up 11.5% in mid-afternoon trading while other big European banks, such as Royal Bank of Scotland (RBS), Switzerland's UBS (UBS) and Credit Suisse (CS) and Germany's Deutsche Bank (DB) all rose sharply as well.
It may seem odd that big European banks are rallying just as some worry that the crisis in Greece may lead to more problems for other debt-strapped PIIGS nations (Portugal, Ireland, Italy, Spain) as well as the fiscally healthier countries in Europe.
And it's not as if some of the big banks headquartered in those countries were participating in the financial sector rally Tuesday. Shares of National Bank of Greece (NBG) were down 5%. Allied Irish Bank (AIB) was flat. Spain's BBVA (BBVA) and Banco Santander (STD), while up, were not gaining as much as some of their peers elsewhere in Europe.
But looking at Barclays more closely, it's clear why the bank did so well. The company benefited from some of the same trends that helped the likes of Goldman Sachs (GS, Fortune 500) and JPMorgan Chase (JPM, Fortune 500) last year -- a boom in investment banking as the financial markets roared back to life.
In a surreal twist, Barclays got a healthy boost to investment banking revenue thanks to its acquisition of the North American remains of Lehman Brothers. Barclays also enjoyed a big one-time gain from selling its Barclays Global Investors asset management unit to BlackRock (BLK, Fortune 500) last year.
So Barclays won't have a similar gain from an asset sale this year to boost profits. It's also unclear if the bank, or others with big investment operations for that matter, can build on last year's success now that volatility has returned to the markets.
Then again, the banks in the "more developed" nations of Europe may be getting a lift on the notion that they simply won't get hurt too badly if the PIIGS nations run into more trouble.
According to a report issued Tuesday by EPFR Global, a firm that tracks fund flows around the world, European mutual fund managers were already starting to move away from the most problematic European spots in December -- before the concerns about a Greek debt default really reached a fever pitch -- and into more stable European markets.
EPFR Global said fund managers shifted a big chunk of their holdings away from stocks in Greece and into companies in the United Kingdom and the Netherlands. The firm said allocations for Greek stocks fell to their lowest levels in more than three years.
Along those lines, John Praveen, chief investment strategist with Prudential International Investments Advisers, wrote in a report Tuesday that he thinks the U.K. stock market looks more attractive than the rest of Europe.
Praveen cited recent reports about manufacturing strength in Britain as a sign "the industrial recovery is gathering momentum" in the U.K. He added that he believes the Bank of England will hold interest rates steady until later this year, which should probably keep bank investors happy.
But at the same time, global bond fund managers also drastically scaled back their exposure to debt from the five PIIGS countries in December, according to EPFR Global's report
So it's fair to wonder if Barclays or other European banks can continue to report robust levels of growth if the credit woes of the PIIGS wind up becoming a contagion. Praveen conceded in his report that the "Greek debt crisis is a negative for European banks."
And even if the EU does wind up coming to the rescue of Greece as expected, there are likely to be strict conditions tied to any bailout. That could lead to cutbacks in spending by the governments of Greece -- and eventually the other PIIGS. In turn, that could lead to a consumer slowdown.
It's one thing to dismiss Greece as not being that important in the grand scheme of things, but a pullback in consumer spending in several European nations all at once could definitely hurt their trading partners, i.e. the more affluent European nations.
And it's hard to imagine how banks based in those more wealthy countries can avoid taking a hit to their loan portfolios and profits if the European economy remains mired in a slump.
-- The opinions expressed in this commentary are solely those of Paul R. La Monica.