The boy who cried housing recovery!
NEW YORK (CNNMoney.com) -- Lowe's reported a better-than-expected profit for the fourth quarter on Monday, and the nation's second-largest home-improvement retailer indicated that 2010 would be a better year for the housing market.
It's tempting to dismiss more good news about the housing market as simply another head fake -- "The boy who cried housing recovery!"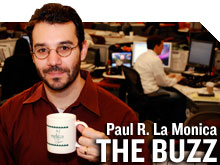 But it might be finally time to say the market is slowly but surely getting better.
Just don't get too excited about the news. Lowe's said it now expects sales to be up 4% to 6% this year. Wall Street had been expecting a 3% jump. In a statement, Lowe's (LOW, Fortune 500) CEO Robert Niblock added that "the worst of the economic cycle is likely behind us."
Lowe's top rival Home Depot (HD, Fortune 500) reports its fourth-quarter results on Tuesday morning. So analysts will be eager to hear if Home Depot CEO Frank Blake shares Niblock's optimism.
Still, even before we find out about Home Depot's outlook, it's worth noting that other companies with ties to the housing market are also starting to show signs of a turnaround.
Several top homebuilders, including Lennar (LEN), D.R. Horton (DHI, Fortune 500) and KB Home (KBH), reported surprise fourth-quarter profits after years of red ink.
To be sure, much of the profits were a result of a change in tax law that benefited the builders. But several of the builders also said that new-home orders were improving. That's a good sign.
With that in mind, The SPDR S&P Homebuilders (XHB) exchange-traded fund, which tracks 26 companies in the housing sector, is up more than 6% this year. By way of comparison, the S&P 500 is flat.
Despite its name, the ETF does much more than track homebuilders. Home Depot and Lowe's are both in the fund, as are retailers Bed Bath & Beyond (BBBY, Fortune 500) and Wiliams-Sonoma (WSM), and fiberglass maker Owens Corning (OC, Fortune 500).
So is the worst for this group finally past? Probably. But that doesn't mean a robust recovery for housing is in the cards just yet. That may also mean that housing stocks could be ahead of themselves.
Stephen Carl, head equity trader with The Williams Capital Group, an investment bank in New York, points out that the better results for many housing companies is simply a reflection of them "pulling out of a morass."
"Housing numbers are going to get incrementally better but the recovery is going to be a slow mountain to climb. It will take some time and extend over quarters or years," Carl said.
Ted Parrish, co-manager of the Henssler Equity fund, also said it may be too soon to bet on a big, rapid rebound in housing.
The government will report new-home sales figures for January on Wednesday. Economists are expecting a 4% increase in the month to 355,000 new sales. But that would follow a nearly 8% drop in December.
"New-home sales are pretty anemic still. I'm not expecting robust growth for a couple of years," Parrish said.
He worries that new home sales will remain soft, especially after the first-time homebuyer tax credit expires in April. What's more, mortgage rates may begin to steadily rise later this year as the Federal Reserve begins to unwind its portfolio of mortgage-backed securities and consider interest rate hikes.
Parrish owns Lowe's in his fund but said that the reason he likes it is because it is less dependent on builders than Home Depot. He also said Lowe's could do better in a sluggish housing market because people are more apt to make repairs to the home they're in than look to buy a new one.
Along those lines, Lowe's Niblock also pointed out Monday that "consumers are gaining the confidence to take on more discretionary projects." That's not the same thing as consumers gaining confidence to buy a house.
Experts think it's also important to note that even when sales are improving, it may not necessarily be a sign of strength in the housing market. Alan Rosenbaum, CEO of GuardHill Financial, a mortgage bank based in New York, said rising sales may be simply a reflection of the glut of existing homes on the market.
"Reports about housing sales are conflicting right now, but the numbers are skewed because of foreclosures on the market. There are transactions taking place at fire sale prices," Rosenbaum said.
And housing prices will remain the biggest factor that determines whether the recovery is legitimate or not. According to the National Association for Business Economics, there is good news and bad news on that front.
The economists surveyed by NABE for its most recent outlook, released Monday, indicated that "the housing market rebound is considered ongoing and sustainable," and estimated that home prices would rise 1.6% this year and another 2.6% in 2011.
NABE called the price rebound "an important watershed for the economy" but pointed out that "such increases would barely keep up with inflation."
Of course, any improvement in the housing market should be cheered. Just don't mistake recovery for a renaissance.
-- The opinions expressed in this commentary are solely those of Paul R. La Monica.