How well is the SEC protecting you?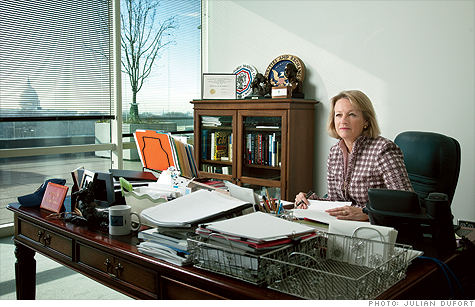 (Money Magazine) -- In January 2009, when Mary Schapiro took over the Securities and Exchange Commission, the agency was the butt of jokes. Though the SEC's whole purpose is to police the securities industry, it had missed massive abuses such as Bernie Madoff's decades-long Ponzi scheme and Allen Stanford's alleged $8 billion scam.
Many feared that an insider like Schapiro, 54 -- whose résumé includes chairwoman of the Financial Industry Regulatory Authority (the industry's self-regulating body), head of the Commodities Futures Trading Commission, and SEC commissioner -- wouldn't be tough enough to make drastic reforms.
In Schapiro's office overlooking the U.S. Capitol, senior writer Donna Rosato asked the nation's top securities cop to explain the changes she's making and what the SEC is doing to protect investors now.
What have you done to make sure a Bernie Madoff won't happen again?
We're attacking it from multiple perspectives. We passed a rule that will help ensure that when investors entrust their assets to an investment adviser who doesn't use a truly independent custodian [an entity unaffiliated with the adviser that holds clients' assets], their money is safe.
In the Madoff case, there was no obligation for his accounting firm to examine the custodian and broker-dealer to see if the customers' assets were really there. Now, more than 1,800 money managers who hold client assets or have access to them by power of attorney are subject to annual surprise inspections to make sure they're not stealing.
What else?
We get thousands of tips every year, and we didn't have a centralized system to handle them. Within my first quarter, we hired a consulting firm to help us build a system to input, triage, and track the tips, to figure out which ones we can pursue that are likely to have real impact on investors.
I'm not sure the examiners who received the data from the Madoff whistleblower truly understood what they were looking at. We've bolstered our in-house training significantly and revamped a lot of our examination procedures so verification of customer assets is a routine part of our exams. The caveat is that we are way outgunned when it comes to human resources.
Do you have the staff and budget to protect investors?
We clearly don't in order to do the job I want to be done. We are 3,800 people total, and we regulate 35,000 public entities: 12,000 public companies for their disclosure, 11,300 investment advisers, 8,000 mutual funds, 5,000 broker-dealers, 600 transfer agents, exchanges, clearinghouses.
And we are smaller than we were in 2005. We got our budget increased [23%, to $1.1 billion] for fiscal 2010, and we're working hard with Congress and the administration to increase it much more substantially in upcoming years.
How do you respond to critics who say the SEC is still too cozy with Wall Street?
I don't agree. If you look at the enforcement cases we've brought in my first year, we're aggressive. Maybe we haven't always been in years past. But there's no lack of will or commitment at this point.
We've brought new leadership to the enforcement division. We've taken a layer of management out of that division so we can put those people on the front line. We've more than doubled the number of Ponzi schemes we've shut down in the past year.
Lots of those don't get as much attention as Madoff because we've shut them down earlier, before investors lost many millions. And we are writing rules that the industry hates but we think are the right thing for investors.
Such as?
We plan to make it easier for shareholders to nominate directors to boards of companies they're invested in. That would make directors more accountable for things like high executive compensation and risky corporate decisions.
We also want to institute a rule that would prevent short-sellers, who profit when the market falls, from flooding the market with sell orders and exacerbating losses for other investors.
But the short-selling rule has been bogged down. So have several other initiatives you proposed, such as better disclosure of conflicts of interest for credit-rating agencies. How will you make sure those happen?
I disagree with the characterization "bogged down." We can't just write a rule and pass it. We are obligated by law to propose a rule, publish it for public comment, evaluate those comments, and then go forward with the final rule. It is not at all unusual for rules to take a year -- in some cases longer -- to be finalized.
That said, we've gotten several completed this past year. One is a requirement for money-market funds to invest in higher-quality assets and assets that can more easily be converted to cash.
Another is a rule that the annual proxy statements investors receive contain better information about things such as board nominees' qualifications, the company's compensation policies, and how those policies might reward risk taking.
When will the other rules you proposed last year go into effect?
We hope that a lot of them, including the short-selling rule and the rule that makes it easier for shareholders to nominate directors, will be over the finish line in the first quarter of the year.
What are your top priorities in 2010?
Among my priorities I want the state and local governments that issue municipal bonds to disclose more current information to investors, such as any changes in their credit rating or any defaults they make on a payment. I also want to require that investors find out more about commissions and conflicts of interest before they buy a mutual fund or another security. And it's time to shine the light very brightly on 12b-1 fees [which are built into a mutual fund's expenses to cover the fund firms' sales and marketing costs]. The fees are huge: $13 billion a year.
Will you kill 12b-1 fees?
It's possible. But I'd establish limitations at a minimum, and much better disclosure.
So your main goals for 2010 are just about disclosure? What are you working on to actively protect individual investors?
Don't minimize the importance of disclosure -- it is the lifeblood of our financial system and allows investors to make informed decisions.
But we are doing a lot more. For example, the changes we're proposing to 12b-1 fees aren't just about disclosure.
And we have a task force working on stronger regulation of life settlements [life insurance policies that are securitized and sold on Wall Street]. Many seniors may not fully appreciate the implications of selling their policy to someone who is purchasing it for investment purposes. They may lose the ability to get life insurance in the future.
You've talked about the need for a strong fiduciary duty standard for all securities pros. What's happening?
All financial professionals should be required to put a client's interest ahead of their own. That includes telling a client about commissions and other compensation and avoiding potential conflicts of interest.
Congress has to pass a law to give us the authority to change the standard for brokers. We have a task force internally that, depending on which legislation is passed, is figuring out how we'll implement it.

Send feedback to Money Magazine