Are we protected enough?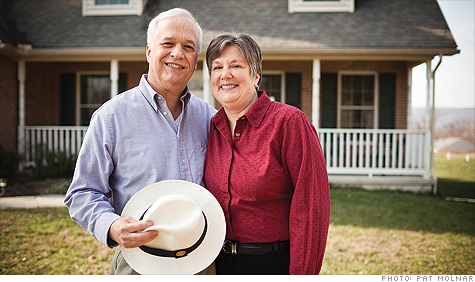 (Money Magazine) -- Jim and Carol Nelson are living the life they'd like to continue through retirement: combining travel with charitable work. Though Carol still works to maintain health insurance for the couple -- Jim retired from banking in 2003 -- the Nelsons are able to get away two to three times a year to go on missions with their church and Rotary International. Recently they assisted doctors in a poverty-stricken area in Ecuador, following that up with a vacation to the Galápagos Islands.
Despite funding such trips from their own pockets, they've touched little of their retirement savings. They live off Carol's $40,000 salary and $20,000 a year drawn from an IRA. Carol plans to hang on to her job for the next two years to qualify for more lucrative retirement benefits. When she does retire, she and Jim will start taking pensions and Social Security, adding up to $56,000 annually, before taxes.
Expecting their living expenses to grow to $85,000 with increased travel, they plan to derive the difference from their portfolio. But their nest egg, now about $1 million, is some 20% off its 2007 highs. And after the shock of the past two years, Jim is concerned about whether it's invested correctly.
"We have a lot of our money in individual stocks, many in small banks, something I think I know about after a career in banking," he says. "But the volatility of the market the past few years is making us wonder: Are we putting too much of our money at risk?"
What the planner says
No doubt about it, the Nelsons' savings are in jeopardy, says State College, Pa. planner Jeff McClarren. The couple have 65% of their portfolio in equities, and a third of that -- $375,000 -- is in individual stocks, which are more volatile than a diversified mutual fund.
With Jim already in retirement and Carol shortly to join him, that's too aggressive, says McClarren: "The risk of major losses outweighs the opportunity for major gains."
The other portfolio issue the Nelsons need to address is the longevity of their savings. Between taxes and inflation, McClarren projects that they'll run out of money by Jim's 93rd birthday. There's a good chance he'll see that day, given that his 95-year-old father is thriving.
What they should do
CUT BACK ON STOCKS. The Nelsons must reduce their equity allocation to 50% , which includes trimming single stocks to 5% of their portfolio, says McClarren. They can diversify what's left by upping exposure to foreign stocks.
PROTECT AGAINST INFLATION. They can redeploy some money from stocks into Treasury inflation-protected bonds via Vanguard Inflation-Protected Securities Fund (VIPSX).
BUILD A BOND LADDER. McClarren suggests they put 40% of their portfolio into a bond ladder -- buying Treasury STRIPS that mature every year for the next decade and redeeming them at maturity for living expenses. (These bonds are sold at significant discount but pay no interest.) This creates a secure stream of income. "And if the market's volatile, the Nelsons can let their stocks ride," says McClarren.
HEDGE AGAINST HIGHER TAXES. With their income rising in retirement, the Nelsons will be in a higher tax bracket. McClarren advises them to convert some of their existing IRA into a Roth IRA (and cover the tax bill they'll incur from their cash accounts). Roth withdrawals are tax-free, so this shelters some of their nest egg from a bigger tax bite later.
PLAN TO SPEND LESS. If the Nelsons cut their income needs to $80,000 a year, they could still have as much as $350,000 when Carol is 95. Another option: Draw $85,000 the first few years and dial back later, says McClarren.