California's high speed rail dream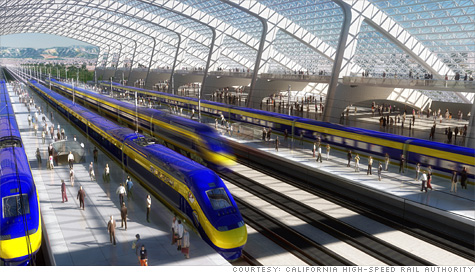 NEW YORK (CNNMoney.com) -- California's high speed rail plan is eye candy for anyone who likes big, fast shiny things.
If built, it would connect Los Angles to San Francisco via one of the fastest trains in the world. Traveling along its own separate track, proponents say the bullet train would hit speeds exceeding 220 miles per hour, stopping periodically to pick up passengers in a network of sparkling steel and glass stations.
Total travel time for the trip: Just over 2 and a half hours - nearly twice as fast as driving. Projected one-way ticket price: $55 - less than half the cost of a flight.
Last month the state came one step closer to building this mammoth project when it won over $2 billion in stimulus money from the federal government.
Yet the total cost of the system - which has plenty of critics - is expected to top $40 billion. Some say it could be $50 billion or higher.
With California's budget in shambles and the situation not much better in Washington, there's at least an outside chance the rest of the money will never materialize. The same could be said for a high speed rail project in Florida and planned track upgrades around the country that also won federal funding.
So what exactly is California doing with that $2 billion, and who's making sure it won't be wasted on so many miles of track to nowhere?
"Unless they go forward on a step-by-step basis, there is a risk this money will not be well spent," said Emil Frankel, a former transportation expert in the administration of George W. Bush and now director of transportation policy at the Bipartisan Policy Center, a Washington-D.C.-based think tank.
California Dreamin'
Officials at the California High Speed Rail Authority are confident the funding will come through.
The plan is to leverage $9 billion in bonds California voters recently approved for the project to win matching federal grants worth some $19 billion over the next several years. An additional $12 billion is expected from the private sector, basically up front investments from firms that build and maintain the train in exchange for long-term service contracts. If the first phase is successful, there are additional plans to expand service to Sacramento and San Diego.
The first phase is supposed to be finished by 2020, and cover its operating expenses once built.
"Clearly, there's some will for this," said Jeff Barker, deputy director of the rail authority, citing interest from corporate partners and voter support for the bonds. "It's not as risky a proposition as it was even two years ago."
Plenty of critics disagree.
First off, the $19 billion in federal funds has yet to be approved - it's contained in a multi-year transportation bill that many say stands little chance of passing as written.
Second, many doubt whether California could build the line it is proposing and, even if it did, that fares would cover the operating expenses.
Disputes have arisen with property owners over the track's route, potentially forcing a slower or incomplete system.
That, along with a host of other things, may lower ridership, which is the main gauge used to project whether the train will be a success or failure. If people take the train, it will make money and lower pollution and congestion. If no one takes it, it will be a dirty, expensive waste.
"Ridership projections are absurdly high, so much so that they could well rank among the most unrealistic projections produced for a major transport project anywhere in the world," said a lengthy 2008 study on the train by a consortium of taxpayer groups including the Reason Foundation, the Howard Jarvis Taxpayer Association, and Citizens Against Government Waste.
The report also talks about funding for the train.
"There are no genuine financial projections that indicate there will be sufficient funds," the authors - longtime transportation experts - wrote. "It is possible that the system will either be built only in part or not at all."
Baby steps
Aware of these hurdles, both federal and California officials say there are safeguards in place to make sure the $2 billion isn't wasted.
The prime safeguard is a requirement that the stimulus money spent be "independently useful," meaning that it will still do some good even if the high speed train isn't built.
The California rail authority, which has until 2012 to spend the money and hasn't determined what part of the system it will invest in yet. There are a couple of projects in mind. One seems to be independently useful, the other maybe not so much.
The money may be spent on upgrading existing tracks between San Francisco and San Jose or between Los Angeles and Anaheim.
The upgrades could include electrifying the rails to eliminate slower, dirtier diesel engines, straightening the tracks to increase speed, or building tunnels or bridges for road crossings, which can raise speeds and also improve safety. These improvements would benefit either high-speed or existing lines.
"That's certainly dual use," said Samer Madanat, director of the Institute for Transportation Studies at the University of California Berkeley.
Madanat also suggested the money could be used to better connect city transit systems with the regional ones, a signature feature of Europe's public transport system that helps make it successful and one generally lacking in the United States. After all, who wants to take the train to L.A. if you have to rent a car once you get there?
But the money could also spent on a 100 mile high-speed test track in the middle of the state, especially if the environmental permits for the existing line work don't come through by 2012, said the rail authority's Barker.
The test track would be built alongside existing freight lines, and improvements in the overall railroad bed may justify the "dual use" clause, said Barker.
The Federal Railroad Administration, which oversees the grant money, would only say they are working with California in developing an oversight plan.
"That would be a poor place to start," said Berkeley's Madanat, noting that high speed trains exist in many parts of the world and don't need that much testing in the United States. "The demand is very limited [in the middle of the state], and where would those people go" with just 100 mile of track?
Madanat wouldn't comment whether he thinks the whole system will eventually get built, saying it's a political decision as opposed to a technical one.
Not that injecting politics into a debate about a project this size is a bad thing, he said. "It's not like we're talking about changing the traffic light timing here."