Bulls are back. Send in the bears?
NEW YORK (CNNMoney.com) -- The S&P 500 and Nasdaq are up for the year after a rough stretch from mid-January to early February. The Dow had joined them earlier Wednesday before pulling back.
Now what?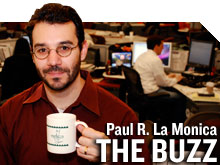 Investors had been freaking out about Greece, and growing evidence that the U.S. economic rebound wouldn't be very sharp, the much hoped for V-shaped recovery. But a sense of calm has returned over the past few weeks.
Fears of a massive wave of defaults in Europe no longer dominate the headlines and investors seem to be taking comfort in a weak U.S. economy -- that just means interest rates will stay near zero for the foreseeable future.
Consumer spending was strong in January (perhaps too strong) and companies are showing increased confidence in the economy by stepping up the pace of mergers.
John Derrick, director of research with U.S. Global Investors in San Antonio, said he thinks that investors will continue to accentuate the positive. He said that the market volatility from earlier this year -- the S&P 500 fell 8% from Jan. 19 through Feb. 5 -- has to be put into broader context.
The market rallied hard in 2009 as global financial meltdown worries ebbed. So it's only natural for stocks to pull back, he argued.
"This is just a normal part of the cycle. Markets don't go up forever," he said. "The economy is roughly six months into a recovery and that recovery will continue for at least another six months. Longer-term, the market should continue to improve, but stocks may go up in fits and starts."
John Norris, managing director of wealth management with Oakworth Capital Bank in Birmingham, Ala., also thinks stocks have a little more room to run. But he's hardly a wide-eyed optimist.
He said that stocks are the "path of least resistance" now. Basically, the U.S. stock market is the least troubled of any major asset class.
"Where else would you want to invest? Bonds have had a nice run but nobody's enamored with Treasurys anymore because of the capriciousness in Washington. You have to be in stocks by default," he said.
Norris said the good news about stocks is that the market is not "overly expensive" right now. But he's quick to add that stocks aren't "overly cheap" either. The S&P 500 trades at about 15 times 2010 earnings estimates.
His main worry is that sooner or later, investors will probably begin to worry once again about how the economy is not poised for a dramatic rebound this year.
"Nobody sensible thinks were poised for rapid growth. You'd have to be a fool to not be worried about the future," he said. "The economy is probably growing around 2.5%. That's tepid growth and the markets will eventually realize that."
Doug Roberts, chief investment strategist for ChannelCapitalResearch.com, an investment research firm based in Shrewsbury, N.J., also said investors are unsure about how strong and sustainable the recovery will be.
"People have already seen Act One. We know that we've bottomed. But what's going to be the second act?" Roberts said. "The government has stabilized all the banks and other major financial players. We're not going back to Armageddon but at the same time, the economy and market could bounce around here for a while."
Derrick added that the risk he worries most about is that the Federal Reserve and other central banks around the world could nip the global recovery in the bud. That makes the outlook beyond the end of 2010 much less certain.
"The biggest threat to the market is a reversal of stimulus. Some countries are already raising interest rates and reserve requirements to try and slow things down a bit," he said.
Add that all up and it looks like stocks are probably headed for an eventful, but ultimately flat, year.
"I'd be flabbergasted if we had a market return anywhere close to what it was in 2009," Norris said.
Wish you were here. If you follow me on Twitter (and if you don't please get yourself to LaMonicaBuzz ASAP!) you'll know that I promised a shout-out yesterday to the first person to directly identify the source of this song lyric, "He loved to drive in his Jaguar." It was in a tweet about Tata Motor's earnings. (The Indian automaker owns Jaguar.)
Doug Haslam, come on down! He was the first to correctly point out that the lyric was from Pink Floyd's "Welcome to the Machine." Nicely done, DougH. Have a cigar!
-- The opinions expressed in this commentary are solely those of Paul R. La Monica.