I'm a Medicare doctor. Here's what I make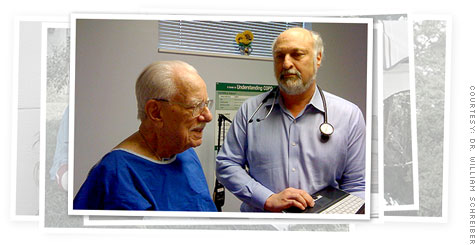 NEW YORK (CNNMoney.com) -- When you think of low-paying jobs, doctor doesn't usually come to mind.
But with a 21% cut in Medicare payments slated to take effect later this month, physicians who say they are making an OK living may be reduced to income levels that no longer make their profession viable. That's especially true for those still paying medical school costs and other training.
"The cuts will hit me," said Dr. William Schreiber, a primary care physician based in North Syracuse, N.Y.
Schreiber sees 120 patients a week. About 30% of them are enrolled directly in Medicare, while another 65% have private insurance plans that peg their payments on Medicare's rates. Only 5% pay on their own.
As a result, Schreiber expects the cuts to take away $3 out of every $5 he currently earns. And, as a primary care physician, he already wasn't earning anything near the salary of a specialist.
"After the costs of my own benefits are deducted, that will leave me with the equivalent of a minimum wage job," he said.
Unless Congress acts to adjust Medicare payments without considering the impact of rising health care costs, Schreiber said he could be forced into bankruptcy or shut his practice.
Cost of care
Schreiber, who employs two nurse practitioners, agreed to break down the costs associated with running his practice.
He spends about $60,000 a month on "fixed costs" to run his practice. "That's more or less my breakeven point," he said. "If I spend more, I'm in the red for the month."
Business costs include rent, payroll, utilities, medical and office supplies. Because he maintains electronic health records for his patients, Schreiber also pays for equipment maintenance and other management services associated with patient billing.
Fixed costs for a private practice also include malpractice insurance. He pays about $7,000 a year for himself and $2,000 each for his two nurse practitioners. Schreiber admits that his cost for malpractice insurance is relatively low, compared to specialists such as ob/gyns, who pay upward of $100,000 a year. (Rx for money woes: Doctors quit medicine)
Finally, his fixed costs include benefits to cover his employees, including himself.
Those costs go against the $800,000 or so in revenue, which includes about $100,000 in income, he said his practice collects in a given year.
Nearly a third of that money, the sum that would be cut 21%, comes from Medicare.
What Medicare pays
Overall, Medicare pays between 63% and 72% of the costs for one of Schreiber's patients -- although the Center for Medicare and Medicaid Services applies different payment rates in different states.
According to Schreiber, four billing codes make up the "bread and butter" of claims submitted to Medicare.
The first code represents a simple visit, which might include blood pressure and cholesterol checks. Schreiber gets about $44 from Medicare for the $70 fee he charges.
The second and third codes correspond to a sick visit, when he spends 15 to 20 minutes evaluating a patient for symptoms such as coughing or shortness of breath. Schreiber charges $92 for a sick visit, of which Medicare pays about $58.
The last billing code is a complex visit. "This is where a patient comes in with many problems like heart disease, hypertension, diabetes," he said. Such a visit requires about 30 minutes of his time.
Schreiber charges $120 for these visits, and Medicare pays $88 of that.
"Medicare reimbursements aren't bad. That's why everyone takes them," Schreiber said.
For his privately insured patients, Schreiber gets paid an additional 10% to 20% above Medicare rates.
But an approximately $5,000 monthly cut in Medicare payments and a related reduction in rates from private insurers would change his financial picture dramatically.
The cuts -- which took effect Monday but were deferred to the end of March when the Senate approved an extension Tuesday -- can't come from the fixed costs. So, Schreiber said, they would have to come from the amount he clears a month.
"If I am now getting paid 21% less on what Medicare reimburses me, it turns Medicare into a losing proposition," he said.
Despite his concerns, Schreiber said he's not dumping his Medicare patients yet.
"I'll see what we are going to do," he said. "It's not a case of closing my doors to Medicare to get back at someone for cutting my salary."