Jailhouse docs choose inmates over insurance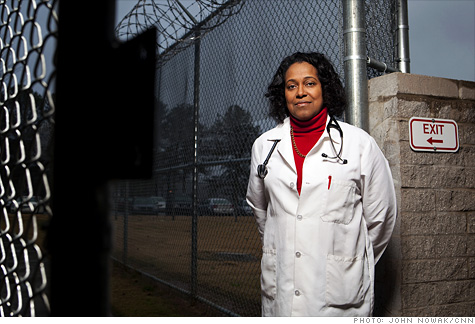 NEW YORK (CNNMoney.com) -- More doctors are dropping their private practices, choosing to go to work behind bars treating murderers, rapists and other hardened criminals.
Better pay, better hours, retirement benefits and free malpractice insurance are just a few of the reasons why physicians are picking prisoners over civilian patients.
In 2009, private contractor Prison Health Services (PHS) saw a 77% increase over 2008 in the number of respondents applying for job opportunities.
At the University of Massachusetts Medical School, this year 22 of 150 new students chose the correctional health care clerkship as their first choice, more than double the typical response.
"Students are looking for an employer who offers flexible work hours and a steady paycheck. Correctional health care offers both," said Dr. Michelle Staples-Horne, medical director for the Georgia Department of Juvenile Justice, adding that doctors who have stayed with a government agency long enough also benefit from pension plans.
Typically a salaried job with steady work hours, correctional physicians can earn starting salaries of around $140,000, according to Staples-Horne, roughly the same as the average school loan for graduating med students.
A dangerous job?
Dr. Kurt Johnson dumped his practice and became a jailhouse doctor in November. Johnson operated a solo practice in Laramie, Wyo., for six years. Two years ago he started working part time for Brentwood, Tenn.-based PHS, a division of America Service Group (ASGR), which provides doctors, nurses and other health care professionals to detention centers around the country.
"I never thought of correctional health care as a career. It wasn't even on my radar in [medical school] training," said Johnson, now a regional medical director for PHS.
At his private practice he had to cram in dozens of patients daily, sometimes for only five minutes, just to earn enough to cover his overhead expenses.
He was constantly filing insurance paperwork, and malpractice insurance was eating into his income.
With correctional health care, Johnson has a steady paycheck of about $175,000 -- roughly 20% more than he made in private practice.
"Since I was a PHS employee, my malpractice insurance was covered through them. I felt like they had my back," he said.
But he's still getting used to the sound of the prison doors slamming shut. "It's an impressive sound. It gives me goose bumps at times."
He has treated death row inmates. "It's intimidating," he admits, but says he's never felt physically threatened by his patients.

Staples-Horne agrees that doctors typically didn't consider prison to be an ideal or safe setting to practice medicine. She admits that there is risk, but points out that most doctors don't have the benefit of high security that prisons provide.
"Doctors are often safer in this setting than in an emergency room when you don't know any thing about the person coming in," she said. "You don't know if they have a weapon, if they are violent or aggressive."

Doctors say the medical problems affecting inmates can range from simple ailments to serious, chronic problems such as drug and alcohol addiction, heart disease, cancer and AIDS.
Health care on the inside
Dr. Ryan Herrington is a regional medical director with Correctional Medical Services, a St. Louis-based contracted health care provider.
Herrington, a general physician, closed his private practice in Ohio and started working full time in the prison system in April. Anecdotally, Herrington said there is growing interest among doctors seeking opportunity in the corrections environment.
He feels he now has "the financial stability that was harder to attain in private practice."
But Herrington said his own interest in public health also influenced his decision. "These patients have problems that are complex," Herrington said. "They have gone through a tremendous period of time with no health care prior to incarceration."
PHS's Dr. Johnson is mostly happy with his decision. His prison work allows him to spend more time with his wife and three children. In fact, he credits his patients for making him a better doctor.

"I'm trying to make this a career," said Johnson. "So I've also honed my BS detector quite a bit. Now I know when they're trying to get one over me."


Are you stuck in a lousy 401(k) plan at work but want help maximizing your retirement savings? Send us an email at makeover@moneymail.com. For the CNNMoney.com Comment Policy, click here.