Bears vs. bulls as anniversary looms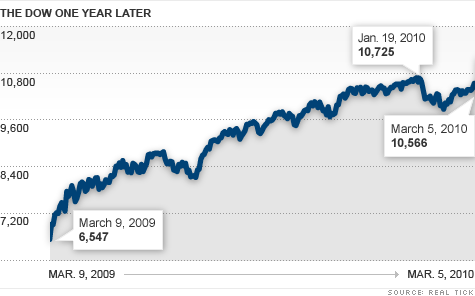 NEW YORK (CNNMoney.com) -- A year after the financial crisis hit its nadir and the market plunged to a 12-year low, stocks have recovered but investors remain wary.
The week ahead brings few economic reports that could challenge the market's current roadblock: a recognition that a recovery is underway, but the pace is going to be slower than investors had hoped. Nonetheless, there's enough on the calendar to keep the issues in focus.
"We're seeing signs that this recovery is gaining some momentum, but it's going to take a few more months to really be on a sustainable tract," said David Chalupnik, head of equities at First American Funds.
"There's still a lot of uncertainty about the depth of the recession, the amount of stimulus in the financial system and all the issues overseas," he said.
A trio of reports last week showed the pace of job losses is slowing, highlighted by the government's non-farm payrolls report for February. Relief about that report was enough to nudge the Nasdaq to a 2010 high, allowing the tech-heavy index to close at its highest point since Sept. 2008. The Dow and S&P 500 remain below their peaks of 2010, hit in late January.
Rocky start: Year-to-date stock market action has been pretty circuitous, with the major gauges spending the latter half of February digging out from the selloff in January.
Worries about a debt crisis in Europe, China's moves to slow its booming economy and signs that the U.S. housing market remains in trouble have all contributed to a sense that caution is the best bet.
"There are some underlying signs that are very positive, but I still think and most of my colleagues still think that we could see a summertime or mid year correction," said Joe Clark, market analyst at Financial Enhancement Group.
The wariness is unsurprising in the wake of 2009's big runup, fueled by optimism about an economic recovery -- and the impact of trillions of dollars of government stimulus being injected into the system.
The broad S&P 500 jumped 23% in 2009. It soared 70% between its March 9 close, which was a 12-1/2-year low, and its 2010 high hit on January 19. The Dow industrials rallied 19% last year and 64% from low to high. The Nasdaq rose 44% last year and is up 83% from low to high. The Nasdaq's March 9 close was a 6-1/2 year low.
"Most of the returns have been made, which is what historically happens in they year after hitting major lows," said Tyler Vernon, chief investment officer at Biltmore Capital. "But I don't think there's a need for a big pullback just yet."
"When the Fed signals that it's about to start raising interest rates, that will be another big hurdle," he said. "Until then, you're going to continue to see this push-pull."
On the docket
A light week for economic news picks up on Wednesday.
Wednesday: January unemployment rates on a state-by-state basis will be released in the morning.
Wholesale inventories are expected to have risen 0.2% in January after falling 0.8% in December, according to a consensus of economists surveyed by Briefing.com. The report from the Census Bureau is due shortly after the start of trading.
The weekly crude oil inventories report is due in the morning, while the February Treasury budget is due out in the afternoon, but neither is usually a market mover.
Thursday: The weekly jobless claims report from the Department of Labor is due out in the morning. The number of Americans filing new claims for unemployment is expected to have fallen to a 460,000 unit annual rate from 469,000 the previous week.
Continuing claims, a measure of Americans who have been receiving benefits for a week or more, are expected to have fallen to 4.495 million from 4.5 million in the previous week.
The Census Bureau is expected to report that the January trade gap widened to $41 billion from $40.2 billion in December.
Friday: February retail sales are expected to have risen 0.2% after rising 0.5% in the previous month, according to forecasts. The Commerce Department report is due out shortly before the start of trading.
Sales excluding autos are expected to hold steady after rising 0.6% in the previous month.
The University of Michigan's consumer sentiment index for March is due after the start of trading. The index is expected to have risen to 73.7 from 73.6 in the previous month.
January business inventories are expected to have risen 0.1% after falling 0.2% in December. The Census Bureau report is due out after the start of trading.