Ford shares: Buy or sell?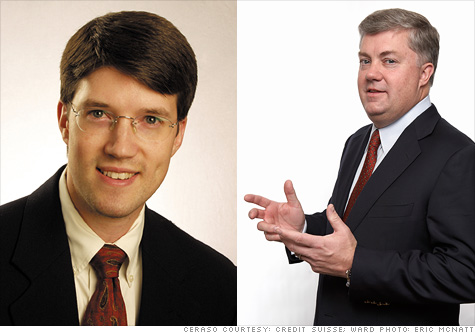 NEW YORK (Fortune) -- Ford is back. The automaker recently reported its first annual profit in four years; sales are improving; and investors have pushed up its stock 550% in the past year.
Just recently Ford passed GM in monthly car sales for the first time in 12 years.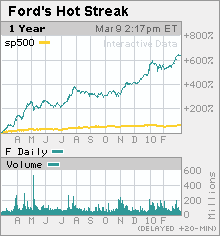 Shares have climbed high but do they have room to climb higher? Two analysts each have their own take.
Bear: Chris Ceraso, Credit Suisse
"Ford is doing a great job -- the cars are better and costs are lower. The bear case is that valuation has moved unrealistically high.
"When we do the math, the stock is trading at an implied profit margin for Ford's automotive business of 10%. Ford averaged 4% in the 2000s; it was as high as 10% in the late 90s when U.S. car sales were 17 million a year and the Ford Explorer was extremely profitable.
"That was a unique time. I don't think it's going to be repeated. Ford is now introducing some very good mid-size and subcompact cars like the Fiesta -- but these are categories with a dozen strong competitors.
"Some investors may not realize that Ford's share count has more than doubled in the past two years. Ford's market capitalization is now higher than it has been since 2001 -- when Ford had 22% market share in the U.S. (It's now almost a third lower.)
"For the short term, we're not calling for an outright short on the stock. We rate Ford neutral, and think it could decline to $10 in the next year."
Bull: Michael Ward, Soleil Securities
"The global auto industry has started to recover from one of the worst industry declines on record. During the downturn, Ford has successfully restructured costs and positioned new vehicles such as the Fiesta to capitalize on an improving industry environment.
"It's working: the company earned $1.1 billion in pretax profits in North America in the second half of 2009 despite the weakest market since 1982; in the same period in 2008, Ford lost $5.9 billion.
"Historically, Ford shares have been valued at three to four times trailing earnings before interest, taxes, depreciation and amortization. But in the early stages of a recovery a higher multiple is typical because the market is considering earnings two years ahead. Our $13-per-share target price assumes a multiple of five times expected 2011 EBITDA, or nine times expected earnings per share.
"Like Lee Iacocca and Chrysler in the 80s, this is a story people want to believe -- it's an American turnaround. That's an important part of the stock market."