Exxon's growing reliance on expensive oil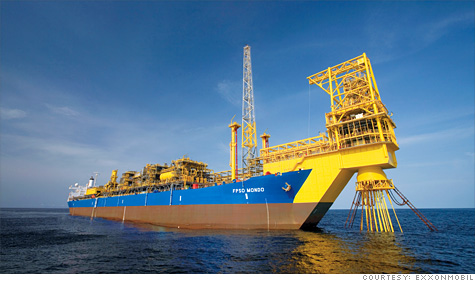 NEW YORK (CNNMoney.com) -- Exxon Mobil outlined plans Thursday that rely heavily on oil from tough to reach places, extracting it from the depths of the ocean, the frozen Arctic and the tar sands in Canada's frozen tundra.
But oil pumped in these places tends to be much more expensive than oil from more conventional sources.
In a presentation to analysts at the New York Stock Exchange, executives from the world's largest publicly traded oil company highlighted eight projects that started up in 2009. Three of them are what most would consider unconventional: A liquefied natural gas terminal off the Italian coast, a liquefied natural gas terminal off the English coast, and a shale natural gas facility in Colorado.
Of the eight major projects the company plans to start up in the near future, six were unconventional. They include two liquefied natural gas facilities, in Qatar and Texas, an Arctic oil production facility in Sakhalin Island off Russia's far east coast, two deep water projects off Angola, and an oil sands project in Alberta, Canada.
In fact, some three-quarters of the company's oil reserves are in these more expensive production areas.
What is unconventional?
Exxon boss Rex Tillerson said what's considered conventional and unconventional is a matter of opinion, and that the company only considers 10% of its reserves to be truly unconventional. But Tillerson said the move to more unconventional sources is happening.
"We anticipate it will grow in the future, and we hope it will grow with the positions we've taken," he said.
But Exxon isn't alone. Easily accessible oil is becoming harder to find, and nations that have it are demanding a bigger cut of the profits. The entire industry is confronted with drilling for more expensive oil. It's one of the main reasons why most analysts don't expect oil prices to return to the $20-range of the late 1990s.
Liquefied natural gas is harder to bring to market than regular gas. First the gas must be converted to liquid to transport it from its source in remote areas to where it can be used, generally close to major population centers. Then it must be converted back into a gas for usage.
Oil sands are a heavy, tar-like substance that requires lots of processing to turn into a usable oil. Shale gas lies in rock that must be cracked with chemicals and water to bring it to the surface. Projects in deep water or the Arctic require expensive infrastructure to reach the oil.
This all raises the cost. It's thought that oil in Saudi Arabia, which is relatively easy to produce, can be pumped for as little as $5 a barrel. Costs vary greatly for unconventional projects, but can be $40 a barrel or higher.
What about gasoline prices?
When it comes to gasoline prices, Tillerson said he doesn't expect to see much of an increase this summer, mainly due to lack of demand.
"Given the state of the economy, my guess is people aren't feeling a whole lot better about this year's vacation than they were last year," he said. "If there is any uptick, I'd expect it to be very modest."
On Iraq, he said the security situation seems to be improving and was hopeful Exxon can fulfill its commitment to develop a key Iraqi oil field in the coming years.
Exxon was one of several companies to recently win oil contracts in Iraq. The government there hopes the country can eventually produce as much oil as Saudi Arabia.
"They've been more enthusiastic about our joint work than we anticipated," said Tillerson, referring to the Exxon's partnership with Iraq's national oil company. "We feel reasonably positive about moving forward."
While Exxon (XOM, Fortune 500) is bullish about using natural gas to make electricity, Tillerson did not hold out much hope for using the fuel to power cars and trucks, as some in Congress, along with oilman T. Bone Pickens, have suggested.
He said natural gas is not a dense enough fuel to use in most cars and trucks, would require significant investments in infrastructure to distribute, and that it would take more time to fill up each vehicle.
"I can't make the math work on why anybody would do that," he said.