$642 million to clean up Lehman -- and counting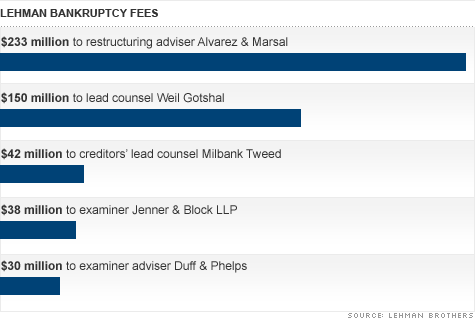 NEW YORK (Fortune) -- Unraveling the biggest-ever U.S. bankruptcy case isn't cheap.
A report released Thursday by the examiner in the Lehman Brothers Chapter 11 case exposed the games the defunct investment bank's executives played to stay in Wall Street's good graces.
The report showed auditors at Ernst & Young were less than vigilant in their vetting of Lehman's financial reports, and that bankers including JPMorgan Chase (JPM, Fortune 500) hastened the firm's demise by aggressively seizing collateral.
The report, by Anton Valukis of Chicago law firm Jenner & Block, was 15 months in the making and cost at least $38 million, going by the latest fee schedule Lehman's estate filed with the Securities and Exchange Commission.
That's just a drop in what is shaping up as a very large bucket for the fees of professional services firms in the case. Through January, Lehman's bankruptcy estate had paid out $642 million to 28 law firms, advisers and consultants, according to a filing with the SEC last month.
Stephen Lubben, a law professor at Seton Hall University's law school in Newark, N.J., said the estate could end up spending $900 million or more on professional fees by the time its case wraps up.
At the same time, the Lehman report cost less than half as much as the examiner reports for Enron -- another large, complicated, high-profile case -- and was issued much sooner after Lehman's bankruptcy filing. That could help plaintiffs seeking to recover Lehman losses.
"The Lehman case is much like the Enron case," said Lynn LoPucki, a law professor and bankruptcy expert at UCLA, referring to the big energy trading company that filed for Chapter 11 protection in December 2001. "People were waiting for the examiner report in the Enron case, and it ended up serving as the basis for lots of civil suits."
The promptness of the Valukis report will give the many aggrieved parties in the Lehman case ample time to pursue claims against the company's officers, business partners and others, LoPucki said. The statute of limitations for claims filed by a bankruptcy trustee is two years, which means many Lehman cases will have to be filed in the next six months.
Lehman filed for Chapter 11 protection on Sept. 15, 2008, leaving creditors with billions of dollars in losses.
The biggest beneficiaries of the cleanup effort include the firm overseeing Lehman's restructuring, Alvarez & Marsal, and Lehman's lead counsel, Weil Gotshal & Manges. Alvarez & Marsal had received $233 million through January and Weil Gotshal $150 million, according to Lehman's filing.
Other big fee takers include Milbank Tweed Hadley & McCloy, the lead counsel for Lehman's creditors committee, with $42 million, and Duff & Phelps, which served as a financial adviser to examiner Valukis. It has received $30 million.
Lehman has also paid French investment bank Natixis $8 million for derivatives consulting, pay czar Kenneth Feinberg's law firm $568,000 for fee examination and art consultant Kelly Wright $47,000.
All those sums come out of Lehman creditors' hide, for now. But by establishing facts that can be used in both civil and criminal litigation, the 2,200-page report will likely more than make up for its costs.
Enron creditors recovered some $5 billion in the so-called MegaClaims litigation against big banks and brokerages. Those payments include a 2008 settlement with Citigroup (C, Fortune 500) for $1.66 billion and 2005 settlement under which JPMorgan Chase agreed to pay at least $982 million.
Banks, auditors and others can expect to face suits in the Lehman case, Lubben said. "The litigation could stretch on for years," he said.
Civil litigation isn't the only likely outcome of the report. LoPucki said it's reasonable to expect criminal charges against Lehman executives -- including former CEO Dick Fuld -- for possible violations of the Sarbanes-Oxley Act of 2002, which was passed by Congress in response to the accounting scandals at Enron and other companies.
The report suggests Lehman execs used accounting tricks to hide evidence of their massive leverage from the market. Sarbanes-Oxley holds executives responsible for the integrity of their firms' accounting, as Fuld acknowledged on a June 2008 conference call with analysts. "I am the one who ultimately signs off," he said then.
The existence of Sarbanes-Oxley and the quick production of the Lehman report could make it difficult for Fuld to escape charges, LoPucki said. He noted that the last of the four Enron reports by examiner Andrew Batson wasn't published until November 2003 -- just a month before the statute of limitations ran out on certain claims in that case.
The timing of the Enron reports, which cost $90 million, may have prevented some claims from being pursued, he said.
"Fuld signed under the new rules," LoPucki said. "It is going to be hard for the authorities not to prosecute."