Treasurys look ahead to Fed meeting
NEW YORK (CNNMoney.com) -- Long-term bonds dipped slightly, but U.S. debt prices were otherwise flat Monday, as investors weighed a mix of economic reports and await a Fed meeting Tuesday.
What prices are doing: The benchmark 10-year note fell 1/32 to 99-11/32 and its yield rose to 3.71%. The 30-year bond fell 5/32 to 99-27/32 and its yield rose to 4.636%. Bond prices and yields move in opposite directions.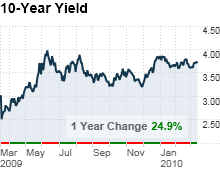 The 2-year note was flat at 99-28/32 with a yield of 0.956%. The 5-year note was flat at 99-27/32 with a yield of 2.412%.
What's moving the market: The New York Federal Reserve announced the Empire State Manufacturing Index fell 2 points to 22.86, but four of the index's key components -- new orders, inventories, shipments and employment -- surged.
New orders rose 17 points to 25.4 and inventories advanced above 0 for the first time in more than a year, to 4.9. The shipments component rose 10 points to 25.6. The employment component advanced 7 points to 12.4, its highest level in more than two years.
The report, which measures the health of the manufacturing industry in New York state, seemed to indicate a gradual economic recovery.
A separate report out by the U.S. Treasury Department on Monday showed foreigners sold $33.4 billion in U.S. securities, including Treasurys in January -- the reverse of December's $53.6 billion inflow.
China, the largest foreign owner of U.S. debt, reduced its holdings by $5 billion to $889 billion in January. It was the third straight month China traded in its U.S. holdings.
What analysts are saying: Relatively good news from the Empire State Manufacturing Index pushed buyers away from safe-haven trades like Treasurys on Monday, as did the Treasury Department's capital flows data, said Kim Rupert, a fixed income analyst with Action Economics.
Otherwise, Monday was a quiet day for Treasurys; trading tends to deaden out ahead of Federal Reserve meetings.
Investors are looking ahead to statements from the Federal Open Market Committee meeting on Tuesday.