Fed: Low rates will continue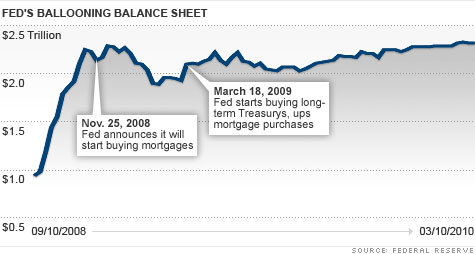 NEW YORK (CNNMoney.com) -- The Federal Reserve left its key interest rate near 0% once again Tuesday and said rates should stay this low for the foreseeable future.
Fed policymakers repeated their prediction that economic conditions are likely to result in "exceptionally low levels of the federal funds rate for an extended period." That promise of an easy-money policy has been in place since March 2009.
Some economists, including Kansas City Fed President Thomas Hoenig believe the Fed needs to drop that promise. Hoenig voted against keeping this language in place for the second straight meeting. He and some Fed critics worry that the central bank could be creating new bubbles in financial markets by keeping rates so low for such a long time.
Keith Hembre, chief economist at First American Funds, said he thinks the Fed could drop that language this summer and raise rates late this year or early next year.
"We'll have to see jobs are being created on a sustainable basis. But we think that's coming in the next few months," he said.
The so-called fed funds rate, a benchmark that determines the interest paid by consumers and businesses on a wide variety of loans, has been near 0% since December 2008, as the central bank worked to spur greater lending and economic activity.
Joseph Carson, chief economist at AllianceBernstein, said the Fed appears to be underplaying the recovery in the U.S. economy. For example, the Fed did not mention exports, one of the strongest sectors of the economy in recent quarters, in its statement.
Carson pointed out that the Fed's own forecasts now project about 4% growth for the U.S. economy in both 2010 and 2011.
"That growth expectation eventually has to follow through to their rate policy," he said. "Hoenig's arguments are well founded; staying at a 0% funds rate while the economy is starting to grow will eventually lead to imbalances."
Besides low interest rates, the Fed has pumped trillions of dollars into the U.S. economy over the last two years through the purchases of mortgage-backed securities, long-term Treasurys and special lending programs.
Most of those programs are at or near an end. The Fed said it is close to completing its planned purchases of $1.25 trillion in mortgage-backed securities which it started in November 2008. It has long targeted the end of the first quarter for the completion of this program.
Some economists are worried that mortgage rates will start to rise once the Fed is no longer buying mortgages.
The Fed did note that despite some signs of a recovery in the U.S. economy, "investment in nonresidential structures is declining, housing starts have been flat at a depressed level, and employers remain reluctant to add to payrolls."
The Fed also warned any improvement in the economy is "likely to be moderate for a time." It also said there is no threat of inflation in the near-term.
The central bank has a dual mandate to promote economic growth and keep prices pressures in check. If the Fed was worried about inflation returning, it could be forced to raise rates or withdraw some of the cash it has pumped into the economy sooner rather than later.
U.S. stocks shot up briefly following the Fed's announcement, but pared some of those gains later Tuesday. Bonds were little changed.